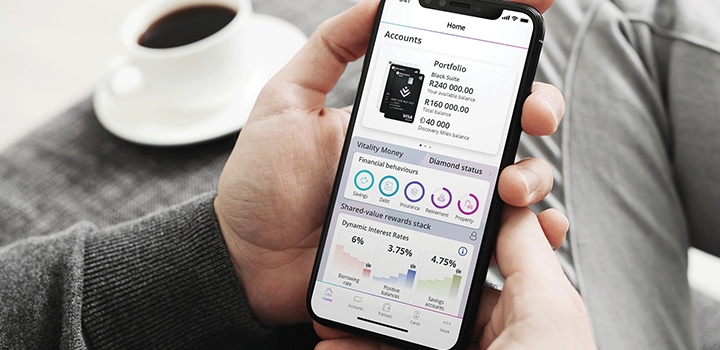 As a shared-value bank, we want to help you become financially strong enough to weather any storm. Data shows that we have the one of the best savings rates when compared to the biggest banks in South Africa, and we want you to use this to your advantage.
Discovery Bank does savings differently. We know that saving smart is a big part of building a strong savings profile. We know also that everyone's saves differently, so we've designed our savings accounts to give you value based on your needs. You can get instant access to your savings through a Demand Savings Account or let your money grow even more in a Notice Savings Account.
Take advantage of our Dynamic Interest Rates
You earn more interest based on how long you save for and based on a fixed time. The longer the term of the deposit, the higher the interest rate. Other banks base the interest rate they give you only on the duration of how long you'll keep your money with them and will offer you low interest earnings on accounts that give you the option to access your money at any time.
We, on the other hand, offer you Dynamic Interest Rates, which allows you to control the interest rates of any of our savings account by managing your money well and improving your Vitality Money status. In essence, you can save more and even pay less on credit!
Our Dynamic Interest Rates are designed to counter the effects of interest rate changes, and we always offer you market-leading rates.


We offer superior rates that are up to 1.2 times greater than the market across our savings products. With us, you earn up to 4.25% on demand savings today, while other banks only offer this rate on 12- or 18-month fixed deposits.
Make the most out of our competitive interest rates and saving products to secure your financial future today.
This article is meant only as information and should not be taken as financial advice. For tailored financial advice, please contact your financial adviser.
Whatever your future goals, Discovery Bank has the perfect savings account for you, and the tools to understand the financial behaviours that help you manage your money well. Explore our wide range of savings accounts to build your savings profile and earn rewards for managing your money well with Vitality Money.



5 tips to increase your Vitality Money status and rewards
With Vitality Money, you are equipped with the knowledge and tools you need to manage your money well. Use these five tips to stay on track to reach every target, improve your Vitality Money status and unlock more of the rewards of shared-value banking.