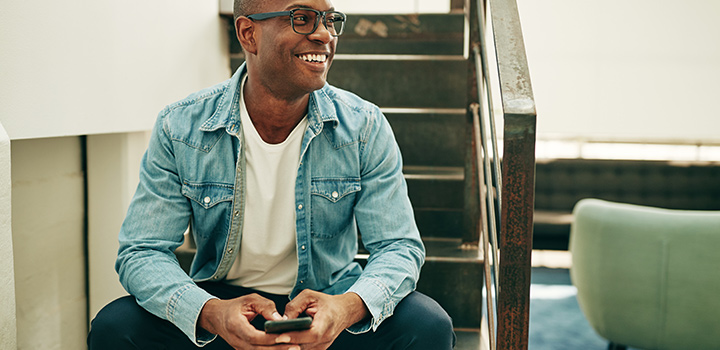 Feeling stressed or anxious? Worrying about money makes it worse. That's why taking care of your money matters is just as important as keeping your body and mind in good health. Don't know where to start? Start by building an emergency savings fund.
Financial uncertainty is one of the leading causes of poor sleep and contributes to higher stress levels. When we are stressed or anxious everything can seem out of control and we sometimes avoid facing problems altogether. A good place to start to deal with financial stress, is to have an emergency savings fund.
An emergency fund helps you breathe easier through stressed times, and having an emergency savings plan and taking small steps to implement it can do wonders to put your mind at ease. And when you have money saved, be sure to evaluate it regularly to ensure it is enough.
How do you know how much to save for emergencies?
Saving enough for emergencies depends on what you aim to cover. A useful rule of thumb is to have an amount that is equal to three months or more of your gross monthly income. This will help you not only cover unplanned expenses like a car repair, broken appliances or unexpected medical bills, but will also give you a buffer in case of something more serious like your salary is cut or you lose your job.
There is no one-size-fits-all approach. What you need as an emergency fund is unique to you and your situation. Ask yourself these questions to guide your goal. How much is my debt? How much are my monthly living expenses? How reliable is my car? What funds do I need for emergency veterinary bills?
Tips to start, and grow, your savings for emergencies
As you get started, multiplying your monthly income by three can look like a daunting amount of money. Break your goal into smaller actions and see every step as alleviating financial stress in the future.
Whether you're starting now or have savings already, here are some things to do:
Don't focus too much on the larger amount you have calculated as your emergency savings, just start. At least you know what you are aiming for while you reach smaller goals along the way. Start by saving an achievable amount every month and build on it.
Set up an automatic direct debit from your bank account. Start saving at the beginning of the month and make saving a priority in your budget. You can use your budget to help you save more without waiting to see what you have left after expenses.
Put any spare cash into your savings account immediately. No matter how little it is, it helps to see your money in a separate place to your transactional account and it's encouraging to watch it grow.
Choose a savings account that can help you meet your specific savings goals, such as paying higher interest than you earn in a transactional account. The account you choose should give you access to your money based on your needs and contribute meaningfully to its growth.
Set clear rules about what you want to use your emergency savings fund for and then don't touch it unless you need it for one of these reasons.
Don't think about the time it will take to accumulate the larger amount in your emergency fund. Rather, focus on the peace-of-mind you get from knowing that you are working on your plan to build up your emergency fund right now.
Whatever your situation, having emergency savings gives you the financial confidence to face life's ups and downs. Start with why you need an emergency fund, how much you need and then choose an account that helps to build your financial strength. Because when you are financially strong, it's good for your physical and mental health wellness too.
This article is meant only as information and should not be taken as financial advice. For tailored financial advice, please contact your financial adviser.
Whatever your goals for the future, Discovery Bank has the perfect savings account for you, and the tools to understand the financial behaviours that help you manage your money well. Explore our wide range of savings accounts to build your savings profile and earn rewards for managing your money well with Vitality Money.


How a budget can help you reach your savings goals
July is Savings Month, and this year the benefits of saving have been further highlighted as we face a global pandemic. Saving money is one of the most important things that can help you be financially secure under any circumstances. The first step towards getting where you want to be financially is to set SMART goals.