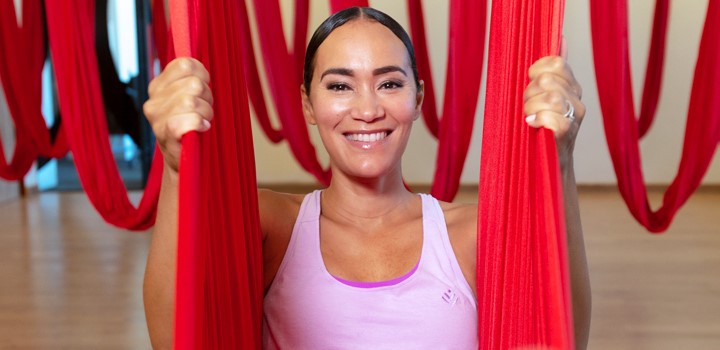 Women today are more financially independent than ever. Yet, how to work with money is something that we don't necessarily learn growing up, but rather from the first paycheque. We spoke to Jo-Ann about her philosophy when it comes to money.
"There is this sense that it is not appropriate to talk about money. As women, we have to change that so we are empowered to not only be financially healthier, but also to grow our wealth," says Jo-Ann Strauss.
"My main financial philosophy is that if you work hard, dreams do come true," she says. There are some things she believes that every woman should keep in mind.
Understand your behaviour around money. "It's important to learn as much about working with money as you can. As a Discovery Bank client, I have become more aware of the behaviours that are in my control when it comes to managing my finances, like not overspending, saving regularly, paying off property as quickly as possible, making sure to save for the future, and having the right insurance in place for unforeseen events."
Learn how to spend smartly. "The Insta-generation worries me a little. We seem to be caught up in buying things we don't need with money we don't have, to impress people we don't know. It isn't all about living for today. We have to slow down and think about what we really need."
Make saving part of your budget. "We are taught how to spend, not how to save. Even small amounts you spend and don't notice, can suddenly add up to a lot. No one says you cannot have lunch with friends or buy luxury items. You have to be aware of where your money goes and spend smartly, with money you have saved up. When you by expensive shoes, have them resoled to make them last longer, I do that when I need to."
Some financial choices may be tough now, but they pay off in the long term. "When I catch myself spending money on beautiful things, I have the perspective that what I'm spending could quickly add up to a deposit on a property. Evaluate what you spend and keep an eye on your future goals. I cried when I registered my first bond while my friends were partying up a storm and travelling. All these years later, I am glad I did it."
Lifelong learning and reinventing yourself is not a catch-phrase. "Keep investing in yourself. Invest in your wealth, in property, and in your mental and physical health. Never stop improving. It gives life meaning. Who knew that I would be presenting TV in German? We need to create more opportunities so that it's no longer about having the "safe job" and then retiring. In today's world, this concept isn't going to work out for everyone."
Something Jo-Ann believes is important, is to surround yourself with people who can help you manage your money. "I have someone who looks after my finances. No matter how much you earn, it's good to call in expert advice. Also make sure your bank becomes a trusted partner in your financial wellbeing. With my Discovery Bank account, I'm definitely motivated to manage my money well, because I get a lot in return. Like Discovery Miles to spend on travel, convert to cash on the banking app or to buy anything online. Essentially I am getting paid to be physically and financially healthy."
Watch some extracts from the interview with Jo-Ann
Jo-Ann Strauss shares her philosophy when it comes to money
Jo-Ann Strauss talks about her approach to spending money
This article is meant only as information and should not be taken as financial advice. For tailored financial advice, please contact your financial adviser.
Find
the perfect savings solution
for you
Whatever your goals for the future, we've got the perfect savings account for you. Explore our wide range of savings accounts to build your savings profile.


How a budget can help you reach your savings goals
July is Savings Month, and this year the benefits of saving have been further highlighted as we face a global pandemic. Saving money is one of the most important things that can help you be financially secure under any circumstances. The first step towards getting where you want to be financially is to set SMART goals.