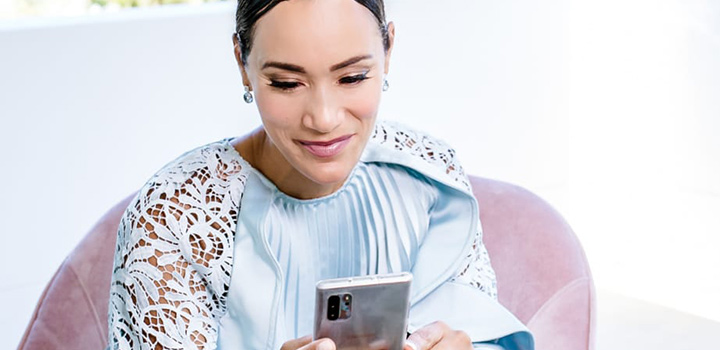 Jo-Ann Strauss is one of South Africa's most celebrated speakers and a businesswoman with a passion for entrepreneurship. A belief in lifelong learning and self-improvement has taken her life and career to great heights. She epitomises the strong spirit of a woman in motion.
Jo-Ann is a proud Discovery Bank client. We sat down with her for a quick Q-and-A session to find out how she, as a successful entrepreneur, approaches spending money.
While having a full schedule and working around the world, Jo-Ann prioritises her family and her health. She shares what she teaches her children about money, talks about her love for property investments, and has some words of wisdom on living in the age of social media.
What are some of the things that you value most?
"To me, the important things include living a healthy lifestyle, making sure I spend enough quality time with my family and ensuring that all our finances are well looked after for the future. When it comes to looking after your finances, you don't just do it for yourself, you do it for your family and sometimes your extended family. It's especially true for this generation who is responsible for children, parents and other family members."
What do you teach your children about money?
"I believe that it's important for my children to see the value of hard work that you enjoy. I want them to understand where money comes from and to know the value of money from a young age. It's natural that we want to spoil our children. But, I believe, one of the most valuable things you can teach a child is to save money. They need to understand that if you save the money that you would have spent on one Lego set now, you can actually get two Lego sets if you wait a little while. I want my children to know the value of saving for their goals and not just to focus on instant gratification."
If you could single out one thing for people to know about money, what would it be?
"Always try to spend less than you earn so that you have money left to save. That way, you are always prepared for the unexpected. So, definitely, I would say to not live an overly extravagant life or a life to impress others with material possessions. I often think that so many people spend money they don't have, to buy things they don't really need; all to impress people they don't really know. This is fuelled on by social media, of course."
While we are on the topic of spending, how do you spend your money?
"I won't lie, I like beautiful things. I sometimes shop for second-hand luxury items and always look for ways that I can get something extravagant but not at an extravagant cost. So, I like to be clever about how I spend money. Any money I save on items I buy, I put into property or something that has a more long-term financial benefit. I always try to remind myself that you don't have to spend money on what impresses other people. Try to keep in mind how it impacts your future."
What are some of the ways that you invest in your future?
"It's essential to think about and plan for a healthy physical and financial future. It's very important that you make your money work for you; not just that you work for your money. For example, I shop around to see where I can earn the best interest on my money. I have, in fact, seen that as a Discovery Bank client, I do earn some of the best interest in the market. I love the fact that the interest I earn adjusts and that I can actually earn more interest for implementing good financial behaviour. This, to me, explained clearly what Discovery Bank means when it talks about behavioural banking.
I am also keen on buying property and encouraging those around me to do the same. Property became a passion of mine after I read Rich Dad, Poor Dad by Robert Kiyosaki. In the book, he explains how to use property to generate income. The important thing is that you don't just buy the property but that you also pay it off as soon as you can."
Tell us about your experience as a Discovery Bank client.
"There are many things I love about my bank! I must say that I've really been impressed by the Discovery Bank app. The app is not only beautiful but it also works well. It was so easy to register with a selfie. I like that you can get a full view of your finances at any given time. Almost like a dashboard, if I can call it that. It helps me to plan my finances a lot better. The app gives me a clear view of my rewards and what I need to do to improve my status.
This is another thing that also works really well for me and for my family – the fact that I'm rewarded for my healthy choices. So, while I'm buying fruit and vegetables and other good things for my family, I am also earning rewards, which include flights and travel for my family's lifestyle."
Watch some extracts from the interview with Jo-Ann
Jo-Ann Strauss shares her philosophy when it comes to money
Jo-Ann Strauss talks about her approach to spending money
This article is meant only as information and should not be taken as financial advice. For tailored financial advice, please contact your financial adviser.
Find
the perfect savings solution
for you
Whatever your goals for the future, we've got the perfect savings account for you. Explore our wide range of savings accounts to build your savings profile.


Five things you can do for your financial health
Behavioural theory shows that we humans don't always make the most rational choices that serve us well in future. In uncertain times, we may also take more risks or make hasty decisions. Stop, take a moment and look these five behaviours and how you rate.