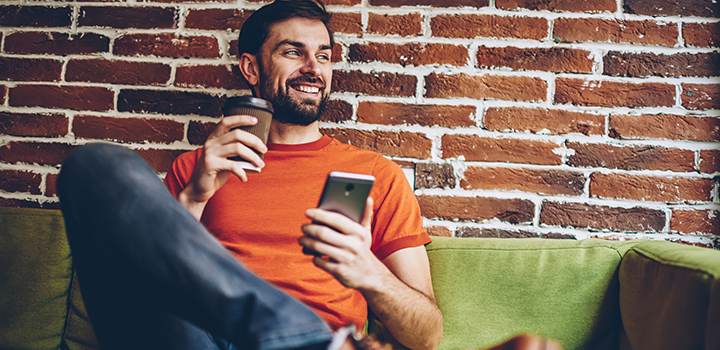 Ready for some great deals? Black Friday and Cyber Monday are just around the corner and Discovery Bank is here to help you to spend wisely, so you can make the most of it. Here's how.
Black Friday specials are difficult to resist, but if you have a plan beforehand, you're far more likely to get what you want at a great price – and not regret overspending afterwards! Here are four ways to get ready for the year's best deals:
Tip 1: Prioritise by planning a wish list
When it comes to mass sales, it's so easy to get distracted by all the hype and end up impulse-buying things you never needed in the first place. Avoid falling into this black hole of spending by writing a list of the specific items you want or need in advance.
Then take the time to price-check the average cost of all the items on your wish list in advance, so you have a fair 'anchor' to gauge how good of a deal you're getting over Black Friday weekend. By prioritising what you want to spend on, you'll avoid spending your hard-earned savings or racking up debt on unplanned purchases.
Tip 2: Only spend what you can afford
While Black Friday and Cyber Monday can be very useful in getting things you really need at a greatly-discounted price, make sure you're not dipping into savings or making short-term debt on something you can't afford.
Spend some time reviewing your current financials to judge exactly what you can afford to spend. If you plan to use your credit card for Black Friday specials, make sure you know what the repayments will be. Draw up a budget of what your expenses will look like afterwards and see what amount you can realistically spend without struggling to make payments in the following months.
Unsure where to start? Check out the Vitality Money calculator on the Discovery website, which gives you a detailed snapshot of how financially strong you are. Now that you have your amount to spend, stick to it so that you can enjoy your special purchases without any worry or regret.
Tip 3: Stock up on rewards now to fund your spending later
Why spend cash when you can use freely-earned rewards? By using Discovery Miles to help fund your Black Friday purchases, you won't impact your monthly budget as much. You can use Discovery Miles at a huge range of shopping partners, so make a point of earning and saving them now to have more to play with when you most want it.
And if the prices of your wish list items are similar between different retailers, favour shopping at Discovery Miles partners so that you can earn even more Discovery Miles when you pay using your Discovery Bank card!
You can even use your Discovery Miles on the Discovery app to purchase vouchers at various Vitality Active Rewards partners at a discounted rate and make your Discovery Miles go even further. So make sure to spend some time checking your balances and planning your spending.
Tip 4: Use one card to maximise your Black Friday savings
In general, it's safer to use a card over cash. Cards offer fraud protection and added security due to built-in verifications; payments are quick, easy and contactless; plus using a credit card can help build and maintain a good credit rating.
In particular, it's smart to use the same card over Black Friday weekend, as this makes it easy to track all your spending at a glance. Using your Discovery Bank card for all your Black Friday purchases also ensures that the Discovery Miles you earn accumulate faster. Learn more about the perks of using a single payment method here.
This article is meant only as information and should not be taken as financial advice. For tailored financial advice, please contact your financial adviser.
Get
even more Discovery Miles
with the enhanced Vitality Money programme
It's now easier than ever to earn Discovery Miles and other rewards, with the enhanced Vitality Money programme. Vitality Money now has smarter features and functionality that makes it even easier to track and manage your key financial behaviours to get the most out of your rewards. Because the better you manage your money, the higher your Vitality Money status will be, and the more Discovery Miles, and other rewards you'll earn.
Check out the enhanced Vitality Money programme on the Discovery Bank app


5 tips to increase your Vitality Money status and rewards
With Vitality Money, you are equipped with the knowledge and tools you need to manage your money well. Use these five tips to stay on track to reach every target, improve your Vitality Money status and unlock more of the rewards of shared-value banking.