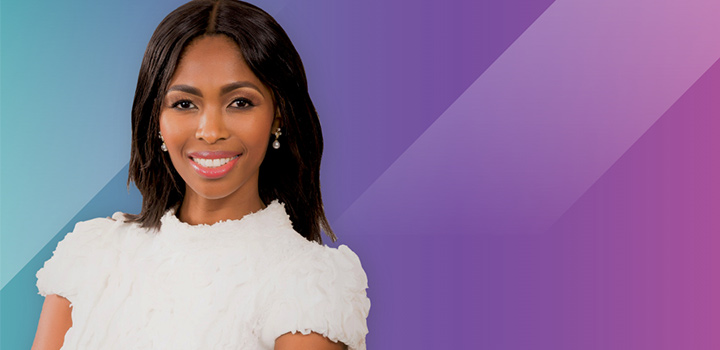 Mapule Mzimba is a #WomenInMotion with many passions in life. A top priority for her as the COO of Discovery Bank is to play a role in liberating all women to achieve their highest purpose.
"I want women to manifest the true greatness they already possess. Working together, women can awaken to what we need to do to break free from our fears so that we can become the best we can be," says Mapule.
As she manages fast-paced projects, Mapule never forgets that she is working with people. She believes leading with authenticity, clarity and courage is a powerful alchemist for results. "For me, it has always been about creating authentic bonds. These bonds bring people together to produce the best results. I get to see people for who they are and accept them, which liberates them to be at their best. I have seen amazing results from people who feel recognised and true to themselves. These are the moments that I will always carry with me," she says.
It's about connecting with people and doing it in an authentic way
There is a well-known saying that "life begins at 40". When Mapule turned 40, she used this time to serve other women by creating 40 for Impact. Mapule explains, "This programme provides a platform for women to be deliberate in manifesting their dreams. It's an opportunity to connect with like-minded women on stimulating topics, remain inspired to change the behaviours that don't serve their goals, and to adopt behaviours that open up their true abilities."
This programme and her many other projects show that Mapule has a mind that always pursues new ideas and ways to change things for the better. As a natural leader, she has inspired others to persevere in bringing change and innovation to life. Mapule says, "I have worked with so many great people in managing large-scale projects in management consulting, financial services and banking. I'm a scientist at heart and it has kept me motivated to look for solutions that bring positive change."
On her role as COO, she says, "Connection is one of the main reasons we are here. Be it to connect with our teams, stakeholders or customers. I believe that our ability to be successful in these challenging times, pivots on harnessing the power of collaboration across Discovery, our partners and Discovery Bank. My team is fundamental to the successful operation of Discovery Bank. We are responsible for serving our clients and we ensure they experience seamless onboarding, fulfilment of their product choices, and resolution of their product queries."
Let go of what people think you should be and focus on being who you are
Mapule's pursuit to liberate women through her involvement in various initiatives, including 40 for Impact, also weaves into the way she approaches her life. "I have learnt to focus on letting myself be who I am. This has made it possible to build authentic relationships. The more I embraced vulnerability and served people, the more my teams came to realise their strengths and how they contributed to greater business outcomes," she explains.
As a woman who understands the corporate ladder, Mapule pays it forward by mentoring women in the workplace; creating a safe space to share experiences that help them overcome the challenges they face and to find solutions that enable their growth and success. As an accomplished mentor, her professional profile is testament to a dedicated person that gives her all in everything she does, as it is brimming with academic, professional, and personal achievements. She says she stays motivated by the collective dreams of herself, her family and those at Discovery Bank.
"The human potential that I see around me and read about every day is incredible. I know that I am a source of inspiration for many women. It's a responsibility that keeps me humble and motivated," she says.
Mapule has a master's and honours degree in science and a postgraduate qualification in business management, all attained cum laude. In 2009, Mapule was a recipient of the Archbishop Desmond Tutu African Leadership Award and underwent leadership training at the Oxford University Said Business School. In 2016, the Payments Association of South Africa (PASA) awarded her the top student of the year, across Africa, for a foundational payments qualification.
This article is meant only as information and should not be taken as financial advice. For tailored financial advice, please contact your financial adviser.
It's
time to bank
healthier
Discovery Bank is the world's first behavioural bank. Our main goal is to improve your financial health by helping change how you work with your money. Through Vitality Money, you'll learn more about what it means to be financially healthy and you'll get rewarded for managing your money well. Track your progress easily on our app and steadily improve your Vitality Money status. You'll get rewarded as you get financially healthier. How much you get out is up to you.
Join the world's first behavioural bank that motivates and rewards you for banking well.

I believe all women are brave, creative, intelligent and tenacious
#WomenInMotion, Cheryl Ngobeni, believes that being in touch with our emotions is a strength that enables women to make a difference where it matters most. "We should stop being afraid of being sensitive or emotional. It's these traits that make it possible to empathise and develop workable solutions for our communities."