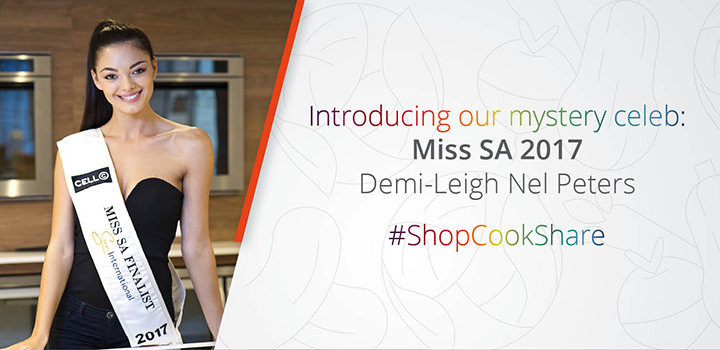 Have you been shopping for HealthyFood and cooking up a storm with tasty and healthy HealthyFood Studio recipes? The last month of #ShopCookShare is here, and we're prepping for our grand prize winner...
There's going to be a party and a beauty queen at the door - could it be your door?
That's right, our dinner party mystery celeb is none other than model and winner of Miss SA 2017, Demi-Leigh Nel Peters! Demi hails from Sedgefield in the Western Cape, and has a degree in Business Management and Entrepreneurship. She's also the 2017 goodwill ambassador and spokesperson for the Cell C Take A Girl Child To Work DayŽ campaign. Demi loves scrapbooking, being outdoors and getting creative in the kitchen.
Welcome Demi to your all-expenses-paid for dinner party
Soon, you could have the lovely Demi in your kitchen, as she joins you, friends and family for a dinner party to top them all! As the grand prize winner of our #ShopCookShare campaign, you'll receive a host of delicious HealthyFood Studio recipes, have all your ingredients paid for, and get live exposure on Facebook. Best of all, you get to host a truly memorable dinner party for family, friends and Demi, in the comfort of your home! How, you ask? It's easy - just follow the steps below to enter.
#ShopCookShare to win! Enter today:
Take a pic of a healthy meal you have cooked using HealthyFood items from either Pick n Pay or Woolworths.
(Hint: find tasty and nutritious HealthyFood recipes online at the HealthyFood Studio, or book a course at the Sandton-based studio to sharpen your kitchen skills.)
Send a photo of your meal using HealthyFood items to vitcomps@discovery.co.za along with your name, contact details, and a brief description of your healthy meal.
That's it - so get shopping, cooking and snapping today to enter the draw to win! You can also follow Demi for health tips and inspiration:
Twitter: @demileighnp
Facebook: @demileighnp
Instagram: @DemiLeighNP
And don't forget, if you haven't yet activated the HealthyFood benefit, do so here to start earning up to 25% cash back on HealthyFood items at Pick n Pay and Woolworths. If you do have the HealthyFood benefit activated but have not yet received your card, then not to worry because from 7 July 2017 you can go cardless! You can still get rewarded without using your HealthyFood card. Simply log into your Discovery profile to view your unique card number and SMS it to yourself. When purchasing your items, just present your card number at the till. It's that easy!