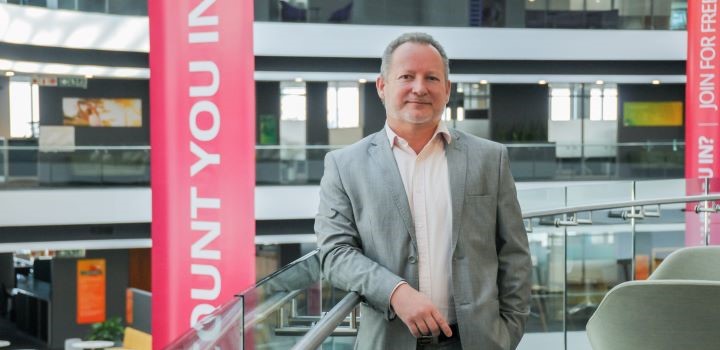 Across the world, business owners are implementing the systems and infrastructure required to safely bring employees back into the office during COVID 19. Here's part 1 in our two part interview with David Pierre Eugene, the person tasked with navigating this challenge for the Discovery Group.
As lockdown has eased from alert level 5 to level 3, more people have begun to return to their place of work. Employers are guided by the Department of Labour's regulations that outline the measures to be implemented in all working environments to slow the spread of COVID 19.
Discovery's headquarters is at 1 Discovery Place - both the address and the name of the building in Sandton, Johannesburg. It accommodates 8 000 employees. David Pierre Eugene has spent a significant amount of time over the past months contemplating the on site changes required to bring employees safely back into this building, and other buildings Discovery uses across the country, as lockdown restrictions ease.
In his role as head of Corporate Real Estate Solutions, he is responsible for all property (headquarters, regional offices and distribution channels), facilities and logistics services for the Discovery Group in South Africa.
Even before South Africa's first case of COVID 19, Discovery had considered the global experience and taken bold and decisive measures to protect the health of staff. This took the form of cleaning and sanitising all offices, providing alcohol based hand sanitisers throughout the building, displaying posters and signs informing staff of preventive measures, encouraging people to work from home if possible, and more. David oversaw this initial response.
Q & A with David Pierre Eugene on bringing people safely back into the workplace
How many of Discovery's people worked remotely during lockdown alert level 5?
Of Discovery's 12 000 or so employees, we averaged about 1 700 (14%) working from the office and the remainder worked from home.
How well have employees adjusted to working from home?
Some employees have reported increased efficiency and productivity working from home, and some have found it very difficult. We are social beings and need to physically connect with each other occasionally. Furthermore, innovation and problem solving often require collaboration and face to face connection. We are all working to adapt to a new reality. We now meet and collaborate virtually or face to face but while wearing protective masks so we lose out on facial expressions and other non verbal communication.
Resources for employers – COVID 19
How is Discovery phasing in the return of staff to the workplace?
We aim to bring 20% more of the staff complement back with each move to a lower lockdown alert level. However, our guiding principle will, for a while to come, be that businesses within the Discovery Group should equip and empower their employees to work from home if possible. As an employer, we are not only responsible for creating a safe working environment, but also for ensuring that our staff are aware of the government's regulatory guidelines.
What have you found most challenging about planning for Discovery people?
It has been challenging to coordinate the large number of people coming back in. We have so many varied jobs and functions as part of Discovery's businesses and each has specific requirements to consider.
How has Discovery gone about coordinating the business's COVID 19 response?
We established a COVID 19 leadership team. This team is responsible for addressing and implementing operations and policy solutions related to state regulations. Our efforts are evident in, among other points, our comprehensive return to work plan that:
We keep our staff informed through email, digital signage and our online staff portal. As soon as lockdown alert level 5 kicked in, we quickly established a series of internal webinars that took place daily. These have been integral to bringing everyone together. We congregated virtually each day and shared key information on COVID 19 on multiple levels. These webinars now take place weekly.
Discovery's marketing team very quickly created Discovery's COVID 19 information hub – a key source of credible information that features articles, podcasts, videos and more. It is aimed at the public at large, employers, financial advisers and healthcare providers – and of course, at our staff.
Do the protocols Discovery has adopted apply to any business?
Yes. Of course, any protocols must be fit for purpose. However, the regulations are very clear and simple enough to implement. At Discovery we are fortunate that we have a clinical team from Discovery Health to further advise us. To summarise, the requirements set out by government are:
Minimise contact between employees, as well as between employees and the public
Minimise the number of people in the workplace through rotation, staggered working hours, shift systems, remote working arrangements and similar measures
Ensure spatial separation throughout the workplace
Establish symptom and temperature screening before employees can enter the workplace
Employees presenting with symptoms should be asked to return home
Make sanitisers available throughout the building
Maintain a rigorous cleaning regime, disinfecting surfaces, restrooms, biometric devices and shared spaces before work
Support the Department of Health with contact tracing if an employee tests positive for COVID 19.
Increase how often kitchens, bathrooms and shared areas are cleaned.
How have workstation layouts been reconfigured?
Each business unit has been asked to consider its specific needs so we can design a shift system that limits the number of people on site at any one time to 30% to 40% of employees. This assists us to maintain physical distancing between workstations. As a rule of thumb, if there are 100 workstations, we allow 50 people to occupy the workstations at a time – one desk 'on', one 'off' – and we thoroughly clean the desks after they've been used. Desks in shared areas are marked with green (open for use) or red (desk not for use) stickers and keep people 1.5 metres apart. In this way we don't have to do major layout changes. We have also given client facing staff desk shields.
In meeting rooms, we have halved the number of occupants each room is allowed to accommodate. We encourage virtual meetings as far as possible.
Has Discovery brought on additional personnel to manage the COVID 19 response?
We have brought on one paramedic for each of our buildings. The regulations require that a Health and Safety Officer carry out the temperature screenings. The paramedics serve as Health and Safety Officers with our security guards to conduct temperature screening as staff arrive at the single entrance we have allocated for entry to each building. The paramedics have also trained our security staff to carry out a temperature screening for signs of fever. This happens at pedestrian and vehicle access points (we have limited parking entrances and building entrances). Robust sanitary procedures and appropriate spatial distancing are applied throughout this process.
How does Discovery do temperature screenings?
If a member of staff has a temperature of over 37.3°C, we ask them to go to a special waiting area. After ten minutes, the paramedic performs a second temperature scan and also assesses their symptoms. Staff are asked to declare any coughing, sore throat, shortness of breath or diarrhoea. If their temperature reads above 37.3°C for a second time, we ask them to go home and also arrange help with transport if needed.
We highly discourage the use of public transport if a member of staff has a fever and we assist staff who have no other way to return home with transport. The employee's particulars will be captured on a register and shared with Discovery's COVID 19 business support team for monitoring purposes. The employee must inform their line manager that they have returned home. They will only be able to return to work when a healthcare professional says it is safe to do so.
During the day, staff temperatures are recorded every four hours by on site paramedics who roam the floors. We have asked employees to leave access cards face up on desks to allow paramedics to take non contact readings even while the staff member is on a phone call, without disturbing them.
Manual non contact thermometers are used to screen entrants at our smaller buildings. However, due to the amount of people who will be coming to work at headquarters – 1 Discovery Place – each morning, we have purchased thermal cameras capable of scanning multiple people's temperatures at once.