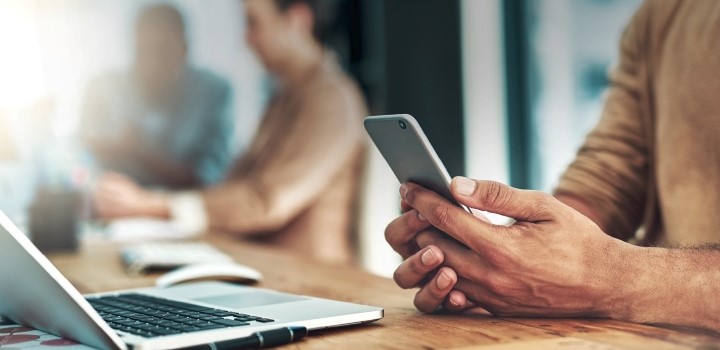 Niven and Susan had looked forward to their 21 March wedding for months. And, on 18 March, Niven would also celebrate his 41st birthday. The couple could not have imagined that neither celebration would come to pass.
Not only would their wedding be cancelled, but Niven would spend his birthday in a COVID-19 isolation facility in a private hospital in Durban
Niven experiences shortness of breath
Niven's test results confirmed he had acquired COVID-19 on 10 March, just three days after he arrived home from a week-long trip to Europe. Knowing that COVID-19 was spreading in Europe and the Middle East, Niven had worn an N95 medical mask throughout his transit time in Dubai.
"On 8 March, I woke up with fever and my muscles ached," he explains. "I had a very tight chest and shortness of breath." He has no pre-existing health conditions. He consulted with his GP telephonically and considering his travel history, he was sent to a local hospital to facilitate testing for COVID-19. He and Susan both wore N95 medical masks throughout. "We sanitised our hands as soon as we arrived and were sent to the emergency unit where Niven was taken into a consultation room."
Niven is tested for COVID-19
"Niven was given a prescription for antibiotics to help the tightness in his chest," says Susan. "He was advised by the doctor that he was low risk for COVID-19 as he didn't have a high fever. The travel history should have rung alarm bells, but it didn't. They took his first swab to test for COVID-19 and we left. Niven then took it upon himself to self-isolate. I dropped him off at home and went to the pharmacy, with my mask on, to get his medicine."
Niven's symptoms continued but didn't worsen. "The worst of all the symptoms was the tight chest and shortness of breath. The fever was ongoing but manageable," he says.
The couple takes every precaution to curb the spread of infection
Susan took care of Niven at home and arranged to work remotely. "He spent his time between the lounge and his bedroom, and I stayed in the study and only emerged to give him meals or medicine. We limited contact as far as we could. We were rigorous about cleaning. We have a three-bedroom house and shared only the shower. We used separate toilets and slept in separate bedrooms. We didn't go near each other without our masks on."
When Niven's results arrived on 10 March, they were shocked. "We had been told he was low risk and his symptoms were not progressing," says Susan. An hour after Niven's GP shared the results, the National Institute for Communicable Diseases (NICD) contacted him.
"It was extremely overwhelming," says Niven. "I am a Discovery Health Medical Scheme (DHMS) member and thought I could be taken care of in a private facility. Initially I had asked the NICD to give me until the following morning to try to get into a private facility with my GP's help, but the NICD was not willing to wait, and indicated that I needed to comply or they would contact the police. The NICD told me I would be arrested if I didn't comply with instructions to be admitted at either of the two state hospitals – Addington Hospital or Grey's Hospital (in Pietermaritzburg) that were designated for COVID-19 patients in KwaZulu-Natal. We were told there was no private hospital in KwaZulu-Natal accepting suspected or confirmed cases of COVID-19 at the time." The ambulance arrived early the next morning on Wednesday, 11 March to take Niven to Addington Hospital. Niven found the conditions at this hospital very stressful partly due to what he felt was a lack of nursing supervision for the COVID-19 ward.
"The NICD said they would arrange to have me tested but this didn't happen," says Susan.
Why was Niven taken to a state facility though he is a DHMS member?
Dr Noluthando Nematswerani, Discovery Health's Head of the Centre for Clinical Excellence explains, "The KwaZulu-Natal Department of Health had a strict protocol in place for admission and isolation of all confirmed COVID-19 cases to Grey's or Addington Hospitals. These facilities have designated COVID-19 isolation wards with infectious disease specialists overseeing the process. It is extremely important for infected individuals to be admitted in facilities where strict infection control measures are in place."
Wedding plans cancelled indefinitely
Niven's mind was racing: "To be told you have contracted COVID-19 and immediately thereafter that an isolation ambulance would be sent to take me to hospital was overwhelming. A more humane approach could have helped. We were not given time to digest it all. The fear of the unknown was huge and being treated this way was very scary."
Susan adds: "We immediately let the 200 guests who were coming to our wedding know that it had been cancelled. We also let family that was flying in from New Zealand know and their flights ended up being cancelled. It was all very distressing. The wedding has, for now, been postponed indefinitely."
Susan is admitted to hospital
37-year-old Susan spent Wednesday at home and, in the evening, presented with fever. By Thursday morning she was wheezing and had a tight chest. "I contacted our GP who advised me to go to an outpatient facility at a local private hospital as it was risky to be home alone and struggling to breathe. He also contacted the hospital, and staff dressed in protective gear were already waiting to attend to me outside the trauma unit. Within 45 minutes, hospital staff had taken swabs for COVID-19 testing, put up a drip, nebulised me and put me into an isolation ward."
"I made it known to the NICD that I was presenting with symptoms. They thought someone from the NICD had tested me the previous evening but that had not happened. They wanted to send someone to test me later that day but by then, I was already in hospital. There was a very high chance I had COVID-19," she says. "But I was more worried about Niven. I was in one hospital and he in another."
Susan was admitted from 12 March – one day after the couple were to have been married – to 22 March.
Two COVID-19 tests took place during her time in hospital and both returned negative results – the first result on 16 March and the second on 21 March. "Though I had tested negative, doctors maintained a high index of suspicion as I had the symptoms of COVID-19. My symptoms progressed and I was nebulised for at least eight days, twice a day."
"In the end it seemed I had contracted a bad flu or another viral infection. I think that Niven and I had done a good job of preventing the spread of COVID-19 between us. We took serious precautions at home. If people strictly abide by the self-isolation rules and follow preventive measures and proper hygiene and cleanliness, it is possible to contain the virus," she says.
Discovery Health facilitates Niven's transfer to a private healthcare facility
On Thursday, 12 March, a day after Susan was admitted, Discovery Health contacted her. "They began the process of finding a private hospital with facilities capable of dealing with Niven, so that we could have him transferred," she says.
Niven was treated at Addington from 11 March until 15 March when he was transferred to Netcare's Wembley House Sub-acute facility in Pietermaritzburg. "That was thanks to the team at Discovery Health," she says.
The reason Niven could be transferred was that he became asymptomatic at a point. "The Department of Health was reluctant to send him home to self-isolate as so many patients do not adhere to the self-isolation protocols and become unreachable so there is a risk of spreading the disease. There is clear data showing spread in family clusters where people don't isolate appropriately," adds Dr Nematswerani. "That is why he was able to be transferred to a sub-acute facility."
Susan continued: "While at Addington and Wembley House, I asked every nurse to please knock before entering my room so that I could put on a mask before they came in. Whenever they cleaned the room, I made sure to stand in a corner and face the wall to limit any chance of exposing them to COVID-19. I took every precaution to prevent their exposure to COVID-19."
Niven spent his birthday at Wembley House, where they spoiled him with a beautiful birthday surprise tray of food. He was discharged on 21 March.
Coming to terms with society's response to the couple's ordeal
Susan adds, "People had taken to social media to comment on our situation and unfortunately many of the comments were negative, stigmatising us. People had seen the isolation ambulance sent by the NICD when the driver had stopped to ask for directions en route to our home. People took pictures of the ambulance and posted them online. Extended family and neighbours posted comments on social media that Niven had tested positive, had to cancel his wedding and shared other terrible comments. We live in a small community. Social media was not kind to us at all."
Picking up the pieces and moving forward
"The fact that we were apart, both hospitalised, that we had cancelled our wedding, that Niven was recovering from a potentially deadly virus took a huge toll on our mental health," says Susan.
"It all felt surreal, like watching a film about someone else's nightmare," adds Niven. "It was very tough. I often cried while in Addington. I still break down when I think of it all. I have been battling to sleep and dreaming about the events."
"The moment of seeing each other again was the best thing ever," says Niven. "Our immediate family were very supportive and happy we were home and together again. Lockdown has given us a chance to ease back into our lives and we are both working remotely."
ALL MEDICAL INFORMATION FOUND ON THIS WEBSITE INCLUDING CONTENT, GRAPHICS AND IMAGES, IS FOR EDUCATIONAL AND INFORMATIONAL OBJECTIVES ONLY. DISCOVERY HEALTH PUBLISHES THIS CONTENT TO HELP TO PROTECT AND EMPOWER ALL SOUTH AFRICANS BY PROMOTING A BETTER UNDERSTANDING OF COVID-19.
Find a healthcare professional near you
Find a doctor or hospital near you online or by using the Discovery app.

Outbreak of the 2019 novel coronavirus
The 2019 novel coronavirus (2019-nCoV) has caused an outbreak of fatal respiratory illness first detected in Wuhan, China. This is a completely new strain with no vaccines available. The best way to prevent infection is to avoid being exposed to this virus.


Novel Coronavirus - wash your hands of the threat
As toddlers, we learnt to wash our hands. But, did we ever master the skill to the extent that is needed to wash pathogens off our hands, and save lives? Multiple studies show people don't wash their hands at the right times, in the right way or for the right amount of time. We contaminate the things and people we touch with the germs we carry on our hands.