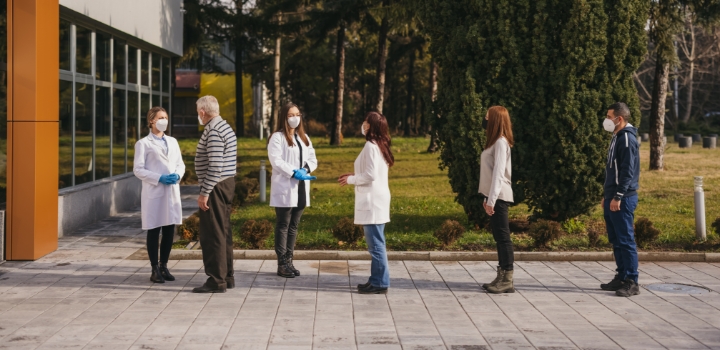 Welcome to Video 16 of our series on Understanding Vaccines with Dr Noluthando Nematswerani, Head of the Discovery Health Centre for Clinical Excellence. Here we learn what herd immunity is, and explore South Africa's likelihood of reaching it in the future.
Have you heard the terms 'herd immunity' or 'population immunity' and wondered what they mean? Herd immunity occurs when a large part of a community (the herd) becomes immune to a disease. This makes it less likely that the disease will spread from person to person.
How can vaccination help stop the spread of COVID-19?
According to the National Institute for Communicable Diseases (NICD), infectious diseases spread easily, and entire communities can quickly become infected. If a high percentage of the community is vaccinated, it is difficult for the disease to spread. This is known as 'herd immunity', and is especially crucial for those most vulnerable, who are unable to receive certain vaccines.
As a result, even people who are not vaccinated gain some protection because the disease has far less opportunity to spread within the community. Herd immunity is what makes it possible to protect a whole population from a disease - including those who can't be vaccinated, like new-born children or people who cannot take a vaccine for specific medical reasons.
Unlike the natural infection method, vaccines create immunity without causing illness or resulting complications. Using the concept of herd immunity, vaccines have successfully controlled contagious diseases such as smallpox, polio, diphtheria, rubella and many others.
Can South Africans actually reach herd immunity?
The more contagious a disease is - that is, the more easily it spreads - the greater the proportion of the population that needs to be immune to the disease. In order to curb the spread of COVID-19 in South Africa, it's crucial that a significant number of our population (made up of just over 60 million people) gets vaccinated.
Herd immunity in South Africa was initially estimated at 67% - but that was before the emergence of variants. With the Delta variant, which is highly transmissible, the target has moved closer to 90%.
While herd immunity seems unachievable because of highly transmissible variants, it's still important for as many people as possible to vaccinate. This will help prevent severe illness and death in individuals - sparing their families and communities much trauma, pain and loss - as well as reducing the strain on precious healthcare resources. Watch Dr Noluthando explain more here:
Do your part to help protect others!
Not yet vaccinated? Try Discovery's COVID-19 Vaccination Navigator to guide you through your journey. First register on the national Electronic Vaccination Data System (EVDS), then book a vaccination at a Discovery-managed site near you. Learn more about COVID-19 and vaccines here, and join the millions of South Africans who can proudly say, #IGotMyVaccine!