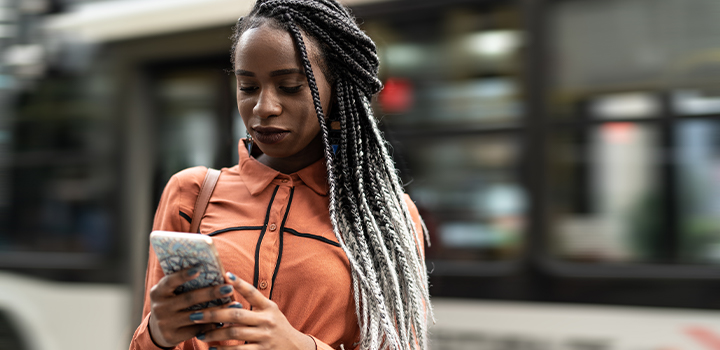 Technology is now playing a big part to protect everyone's health. That's why virtual consultations, now only takes a few minutes to update so you can book an appointment and get doctor advice from your device.
Listen to Azania Mosaka chat to 33-year old Matshepo Matlejoane about how a free COVID-19 online doctor consultation guided her when she developed symptoms of COVID-19. Azania also explores Discovery's partnership with Vodacom to bring all South Africans have access to free COVID-19 online doctor consultations, with Ana Endres, Head of Discovery Healthcare Services and GP, Dr Sudeshan Govender.
DID YOU KNOW THAT This podcast is one of many podcasts in the "Discover Healthier" podcast series? (If you want to see this podcast interview on the podcast page, go to the Discover Healthier series and scroll down to Episode 8, Part 2. The podcast series is also available on popular podcast players like Spotify and others). Start listening now:
All Discovery Health Medical Scheme members have access to virtual consultations with their doctors and if their doctor is not available, a dedicated COVID-19 Care Team of doctors are on hand to consult.
As the outbreak of COVID-19 continues to spread across the world, containment measures are becoming more important. Social distancing is one way help stop the virus spreading and "flattening the curve". We encouraging the use of virtual consultation services to ensure people can follow recommended guidelines on social distancing.
Get medical guidance during COVID-19 outbreak
When your doctor is registered on HealthID and DrConnect, you can book an appointment with your doctor and speak directly to them on a video call or messaging service. Your doctor can give you medical guidance about your risks and symptoms while you are at home and can direct you on your eligibility for testing, your need to self-isolate or to go for a face-to-face consultation if you need it.
Our DrConnect offering is a key part of our comprehensive support to medical scheme members and healthcare professionals during the COVID-19 outbreak. With its online consultation service, doctors can make appointments and assess their patients using the virtual consultation booking system through HealthID DrConnect.
Dr Noluthando Nematswerani, Head of Discovery Health's clinical policy unit, explain; With people accessing healthcare services through digital channels, they can follow recommended guidelines of social distancing that further prevent the possible transmission of COVID-19 virus to others. It also enables doctors to triage patients and identify those who need referral to medical facilities – assisting with not overloading certain healthcare professionals and testing or treatment centres."
Steps to get started?
The COVID-19 information hub offers a quick risk assessment questionnaire related to COVID-19 exposure. If you answer yes to certain of the scenarios, we recommend you immediately book a consultation with your doctor.
Click on consult virtually with a doctor
We will show you some additional information to get you started and then you can book a virtual consultation
You can choose to book and appointment with your own doctor, if they are available. While COVID-19 is a national health crisis, you now also have access to a dedicated COVID-19 Care Team of doctors to consult with.
Give these doctors consent to view your Electronic Health Record.
You can now consult virtually, using video or text, through our DrConnect platform.
Checklist for virtual consultations
Access the DrConnect functionality through the website or our app
Make sure you have a stable internet connection to book your appointment and to talk to your doctor on a video call or messaging service.
Give your doctors consent to view your health records
Book an appointment
Once you have made the appointment, you will get a reminder on DrConnect.
Other services available on the DrConnect app
Ask a doctor: a library of doctor-created responses to medical questions.
Check your symptoms: A system powered by artificial intelligence that checks your symptoms and gives you recommendations.
Virtual consultations are not recommended when people are experiencing an immediate medical emergency. For that, Discovery Health Medical Scheme members can contact the appropriate medical emergency services.
ALL MEDICAL INFORMATION FOUND ON THIS WEBSITE INCLUDING CONTENT, GRAPHICS AND IMAGES, IS FOR EDUCATIONAL AND INFORMATIONAL OBJECTIVES ONLY. DISCOVERY HEALTH PUBLISHES THIS CONTENT TO HELP TO PROTECT AND EMPOWER ALL SOUTH AFRICANS BY PROMOTING A BETTER UNDERSTANDING OF COVID-19.
Find a healthcare professional near you
Find a doctor or hospital near you online or by using the Discovery app.

Outbreak of the 2019 novel coronavirus
The 2019 novel coronavirus (2019-nCoV) has caused an outbreak of fatal respiratory illness first detected in Wuhan, China. This is a completely new strain with no vaccines available. The best way to prevent infection is to avoid being exposed to this virus.


Novel Coronavirus - wash your hands of the threat
As toddlers, we learnt to wash our hands. But, did we ever master the skill to the extent that is needed to wash pathogens off our hands, and save lives? Multiple studies show people don't wash their hands at the right times, in the right way or for the right amount of time. We contaminate the things and people we touch with the germs we carry on our hands.