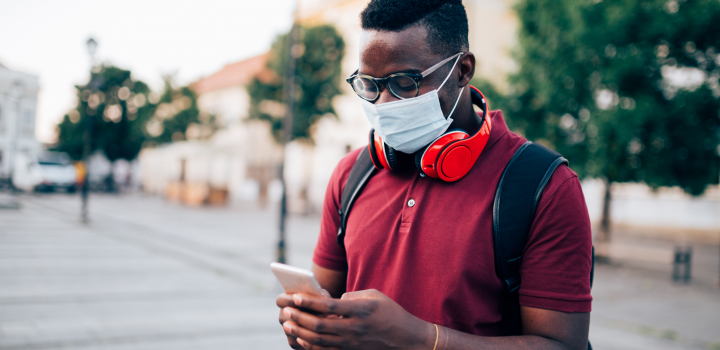 Welcome to Video 13 of our series on Understanding Vaccines with Dr Noluthando Nematswerani, Head of the Discovery Health Centre for Clinical Excellence. Here she busts the myth that getting vaccinated can infect you with COVID-19 or cause you severe illness.
There've been some concerns about people who have received a COVID-19 vaccine, then become sick with COVID-19 and maybe even died soon after. But people cannot get the COVID-19 from being vaccinated, as vaccines only contain inactivated forms of the virus, which cannot harm you.
The reason some people may become severely ill after being vaccinated is because they may have been infected with the actual virus either soon before, or soon after, getting vaccinated.
If someone is infected during this time, they are not protected because the immune system only starts developing antibodies after at least two weeks from being vaccinated. It's not yet known how the administration of a COVID-19 vaccination in a person who is already infected with the virus may impact their immune response.
If you get Coronavirus right before or after getting vaccinated, you're not immune
It's important to understand that if you are vaccinated when already infected with COVID-19 (even if you don't know it at the time), the vaccine will not prevent you from getting ill.
If you're taking a 2-dose vaccine like the Pfizer vaccine, be aware that once you're vaccinated with the first dose, your immune system takes a minimum of two weeks to develop antibodies. So immediately after that first dose, you have no protection, and you're only considered fully vaccinated two weeks after your second dose.
This means that if you contract COVID-19 around the time of your vaccination, you can still get ill, and you may even have severe symptoms. Remember that the incubation period for COVID-19 (that is, the time from exposure to the virus to the start of your symptoms) is around two to 14 days, though symptoms typically appear within four or five days after you're exposed.
Keep practicing the usual protocols even once you're vaccinated
Infection with Coronavirus around the time of getting vaccinated can happen in many ways, but especially when people don't adhere to the usual protocols right after getting their first dose. This is often because they have the false reassurance that they're already immune from infection.
So while it's true that being fully vaccinated will greatly reduce your chance of getting severely ill if you catch the virus, you still need to wear a mask, wash your hands regularly, and maintain physical distance to best protect yourself and others. Watch Dr Noluthando explain it here:
Learn more about COVID-19 and vaccines here, and join the millions of South Africans who can proudly say, #IGotMyVaccine!
All medical information found on this website including content, graphics and images, is for education and information objectives only. Discovery publishes content to help to promote a better understand of COVID-19 and COVID-19 vaccinations. The content covered is an overview of key concepts and is not exhaustive in nature. We encourage further reading from other credible sources where necessary.