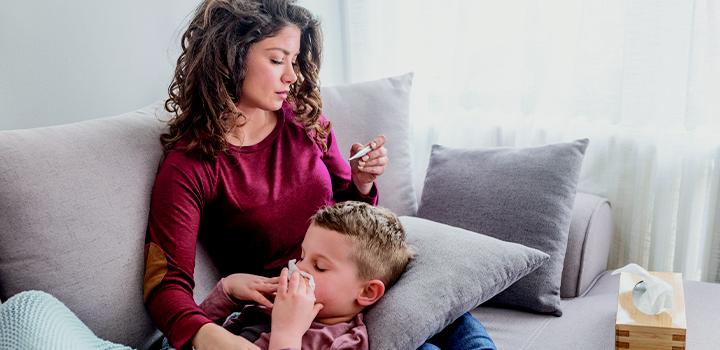 Current research suggests that young children may not be as susceptible to severe illness if infected with the COVID-19 virus. However, infants and children with pre-existing health conditions, may be at higher risk.
Which underlying health conditions should parents be mindful of?
Children with certain medical conditions may be unable to effectively fend off an infection. Therefore, they are at risk of severe illness if they contract COVID-19.
- Parents must teach their children about COVID-19 and also ensure that they understand the preventive habits that keep them healthy. Find out how.
Pre-existing medical conditions that have been identified as potentially high risk:
Cardiovascular diseases and heart disease
Chronic lung diseases and respiratory conditions such as asthma
Neurological conditions, including muscle disorders
Immunodeficiency conditions
Medical procedures that increase a child's risk of severe illness if they acquire COVID-19:
Organ transplants
Cancer treatments
Treatment with medicine that suppresses the immune system
What about children who have diabetes?
At this stage, children with diabetes have not been reported among the confirmed cases of COVID-19. Thus, children with well-managed diabetes are not high on the list of those who are at risk or who are expected to be more susceptible to infection.
"It's important to remember that diabetes, like any other underlying health condition, is best controlled in line with recommended treatment procedures," says Dr Noluthando Nematswerani, Discovery Health's Head of the Centre for Clinical Excellence.
"Uncontrolled underlying medical conditions can contribute to a weakening of the immune system, which will make a child more vulnerable to infection. In such as case, they become potential high-risk patients. Parents and healthcare professionals will want to avoid this happening as far as possible," she adds.
"In the context of the spread of COVID-19, any child with a pre-existing medical condition must be closely monitored by parents and their healthcare team to avoid reaching the point at which the child faces a medical emergency."
What should parents take into consideration if they have a child at higher risk of developing severe illness?
1. Medicine
"Any child that is under pharmacological treatment for any underlying health condition must continue to take their medicine as prescribed by their healthcare physician or specialist," says Dr Nematswerani. "Ensure that a child's dosage needs are discussed and appropriately adjusted as required, too."
Dr Nematswerani. "Ensure that a child's dosage needs are discussed and appropriately adjusted as required, too."
"Chronic medicine is often needed to better control a child's underlying health condition. This type of treatment helps prevents flare-ups and unnecessary hospital trips," she adds.
"Hospitals and clinics are under pressure to care for existing patients and all COVID-19 requirements. The more that parents can avoid needing in-hospital care or treatment, the better."
"Parents will need to ensure that all prescriptions are up to date and can be refilled so that at least a 2 or 4 weeks' supply is on hand, especially during days of isolation or quarantine."
"It's a good idea to cross-check any over-the-counter medication or medical supply needs too and ensure that you have sufficient stock," advises Dr Nematswerani. "Stock shortages can unfortunately happen, so, without hoarding all store supplies, it's a good idea to ensure that you have enough for your own immediate future needs."
2. Scheduled medical consultations
Children with existing conditions do require additional care, even during a global pandemic.
"It's a good idea to maintain close contact with your physician or healthcare team to discuss the protocol for these treatment needs. Where possible, you may need to keep scheduled clinic or treatment appointments, such as in the case of a child needing chemotherapy. These should be prearranged under special circumstances with healthcare professionals," says Dr Nematswerani.
"Pre-arranged consultations will be done taking into account all necessary precautions for the safety of a child. Non-urgent appointments may need to be rescheduled. My advice is to liaise with your healthcare team telephonically and ensure that you have an appropriate plan of action for your child."
"Healthcare teams will make sure that the treatment needs of an at-risk child are safely met. If a child develops any medical emergency needs or shows associated symptoms of COVID-19, like respiratory difficulty or a fever, phone your doctor immediately for guidance on what to do."
3. Follow the precautions as laid out by local government and health authorities
Everyday precautions for children with pre-existing or underlying health conditions are the same as for everyone else.
In particular, parents should help to ensure the following:
Wash hands thoroughly before and after providing care to a child, especially where contact is needed near the head or neck area.
Avoid touching the face, especially the nose, eyes and mouth
Practice hand hygiene and respiratory etiquette throughout the day as follows:
Children must…

Wash their hands with soap and clean running water or use a moisturiser that lathers
Dry their hands completely after washing
Moisturise the hands with a cream recommended by a skin specialist or pharmacist

Or…

Use an alcohol-based hand sanitiser (thoroughly rubbed in to the skin)
Moisturise the hands directly afterwards to minimise skin irritation (not at the same time, as the sanitiser's efficacy is reduced if used at the same time as a moisturiser)

Self-isolate and best prepare the home to ensure safe occupancy
Avoid contact with other individuals who are ill
Avoid crowds or large groups of people during periods in which stay-at-home containment measures are lifted
Maintain good exercise and nutrition, and take in enough fluids.
Do not share food or beverages, hygiene items or cutlery and crockery with others.
Ensure that all recommended vaccinations are up to date.
If my child has a skin condition, what can I do?
Skin conditions such as psoriasis or eczema can be problematic when hand hygiene efforts are increased.
"While regular hand washing is important, it can exacerbate associated physical symptoms and result in damage to the skin for people with pre-existing skin conditions," explains Dr Nematswerani.
"Many people with skin conditions may benefit from making use of handwashing agents that contain moisturising antibacterial ingredients like benzalkonium chloride or chlorhexidine," she adds. "It's not, however, entirely known whether these are more or less effective than normal alcohol-based hand sanitisers at ridding the skin of the virus that causes COVID-19."
"It's very important for children with skin conditions to dry their hands thoroughly after washing with soap and water. As is the case for all of us, viral pathogens are capable of being transferred between wet hands more easily."
"Water also, by default, has a somewhat drying effect on the skin. Natural oils are reduced during evaporation, leaving the skin barrier a little more vulnerable," she explains further.
Read more: COVID-19: How to live your life while you're self-isolating
All medical information found on this website including content, graphics and images, is for educational and informational objectives only. Discovery Health publishes this content to help to protect and empower all South Africans by promoting a better understanding of COVID-19.
Find a healthcare professional near you
Find a doctor or hospital near you online or by using the Discovery app.

Outbreak of the 2019 novel coronavirus
The 2019 novel coronavirus (2019-nCoV) has caused an outbreak of fatal respiratory illness first detected in Wuhan, China. This is a completely new strain with no vaccines available. The best way to prevent infection is to avoid being exposed to this virus.


Novel Coronavirus - wash your hands of the threat
As toddlers, we learnt to wash our hands. But, did we ever master the skill to the extent that is needed to wash pathogens off our hands, and save lives? Multiple studies show people don't wash their hands at the right times, in the right way or for the right amount of time. We contaminate the things and people we touch with the germs we carry on our hands.