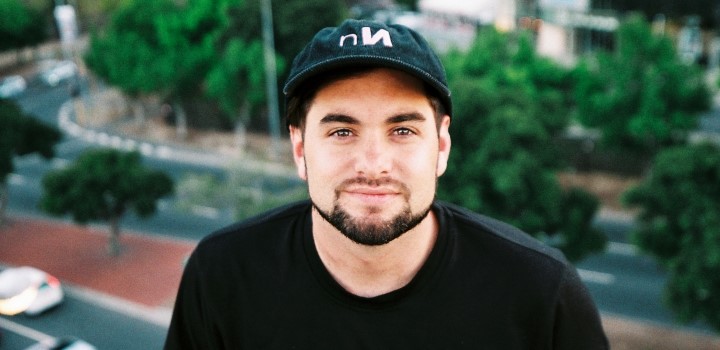 Dan Mace was diagnosed with COVID-19 on 21 March 2020 in Cape Town - on what would have been his wedding day. Is it possible that the 30 year old's symptoms began a month earlier on 19 February while Dan was in Los Angeles, United States?
Dan Mace's life story video, 'Getting to 368', posted in May 2018 got almost two million views. He starts, "People always told me I should write a book about the comedy of errors that is my life. I made a movie instead." His YouTube channel has 746 000 followers. Upbeat, offbeat videos are his thing. So, when he became the 67th person to test positive for COVID-19 in South Africa (on 21 March 2020, the day that his wedding would have taken place in Cape Town), Dan posted a somewhat chilling video about it all.
"I have decided to share my experiences, insights and my symptoms in an effort to help save lives, and to better the research on this disease," says Dan. He leads an active life, has no previous life-threatening illnesses and no allergies. He takes antidepressant medicine. He is also a Discovery Health Medical Scheme member.
Dan shares his story in his own words
I am here at home in Cape Town in isolation with my fiancée Gaby and my dog Joey. This is not really where I thought I would be, as I was supposed to get married on 21 March. The world out there looks like a movie to me right now. Things have happened so quickly.
Let me take my story back to the beginning. I was in my apartment in Los Angeles and on the morning of 19 February, I felt extremely fatigued when I woke up. Every time I tried to get up, I felt faint and I had no idea why. I lay down again. I called my business partner to say I would not be coming in. I thought it might be stress-related.
Dan's first symptoms: fever, headache, light-sensitivity, sore muscles and throat and a loss of taste and smell
I slept the whole day and, by early evening, woke up drenched in sweat. By the next morning, I had a severe headache, felt extremely dizzy and my eyes were light-sensitive. I thought I just needed to get out, as I still thought my symptoms might just be stress-related. The news coverage on COVID-19 virus wasn't as extensive at that time.
I was surprised that I was out of breath while trying to get my wetsuit on before going surfing. I didn't last long in the water and went home. I started thinking something else was wrong with me.
That night I woke up sweating – even worse than the night before. I decided to check my symptoms online. Nothing came up. At that stage the only symptoms of COVID-19 mentioned online were muscle pain and a croaky throat. I felt panicky, and I couldn't sleep.
What I hadn't realised at that point was that I had lost my sense of taste and smell.
According to Harvard Medical School , increasing evidence suggests that a lost sense of smell, known medically as 'anosmia', may be a symptom of COVID-19. On 22 March, the American Academy of Otolaryngology – Head and Neck Surgery recommended that anosmia be added to the list of COVID-19 symptoms used to screen people for possible testing or self-isolation.
On the morning of the fourth day, I woke up and my heart was racing, my head was spinning and my eyes were supersensitive to light. I was also sensitive to sound. I had a pain in my chest, and a dry cough, but no runny nose. When I fainted, I knew I had to see a doctor immediately.
What the doctors told Dan
I was too ill to go and see a doctor, so my business partner organised a doctor to do a home visit. While waiting, I phoned a doctor friend, and explained my symptoms. He asked whether I had been to China recently, which I hadn't. He said I couldn't have COVID-19 and that it was probably just a severe flu. Then the next doctor arrived. He also asked about having been to China and said that my symptoms weren't extreme enough to be tested. It was very difficult to get tested at that stage in the United States for coronavirus disease 2019. He did a normal flu test, which was positive, and warned that I might develop pneumonia. He gave me antibiotics, and paracetamol, told me to rest and not do any exercise. He told me I definitely did not have COVID-19.
I now realise that probably wasn't true. Things got worse in the next three days, and I believe I developed pneumonia. I was struggling to breathe and kept telling myself I had seen a doctor and they had assured me I was alright.
Dan starts to feel better
By 1 March 2020, I woke up and felt normal again. I got up. When I made breakfast I realised I couldn't smell or taste anything, and that I hadn't been able to for days. My life returned to normal. I made videos, I went snowboarding and surfing, and celebrated my birthday on 7 March 2020.
On 10 March, after consulting a doctor to find out if it was okay to do so, I flew from Los Angeles to Dubai and then to Cape Town. I felt everything was perfectly fine, but still covered up with gloves and a mask just in case. I was getting married in Cape Town on 21 March. On landing in Cape Town, they screened all passengers by taking everyone's temperature. My reading was normal. I spent time with my fiancée and friends and family. I felt as if I had recovered completely. I went on my bachelor's weekend with friends and on the Sunday I went to a music festival.
Dan's loss of smell and taste nudges him to ask, again, for COVID-19 test
By the Tuesday I realised I still had no sense of taste or smell. It was time to get tested. I got a letter from the GP and went down to the pathology lab on 18 March, where they took a swab. The results came on 21 March – the day I was supposed to get married. That afternoon I got a call from the doctor to say that I had tested positive. We had to cancel the wedding.
So where did I pick up the COVID-19 virus? In the States, or in South Africa? I really hope I was past the infectious stage when I got onto the plane. I have so many unanswered questions right now, especially since I am receiving mail from people telling me I am a germ and that I am spreading this virus around South Africa.
At home in self-isolation
Since my diagnosis, I have been in self-isolation in Cape Town for 14 days. I actually feel fine.
I just really hope my story can somehow help people out there. But I must say I feel rather overwhelmed by everything that's going on out there, such as the pictures of the military vehicles. I am happy to say that so far nobody who spent time with me since I came back has tested positive.
Gaby and I are sending you all our love, and I will keep you posted on any symptoms moving forward.
Stay safe everyone. Use this time to reflect. Read a book. Or here's a crazy idea: write one.
Just stay away from people.
Dan shares the last few days of his self-isolation and recovery!
On 31 March Dan posted on his Instagram profile that, 13 days since he tested positive, that the SA Covid29 Trace Team had tested 5 people he had been in contact with prior to knowing he had contracted COVID-19 and all tested negative. His relief is clear from his message. He also soon thereafter posted that his sense of smell and taste had returned.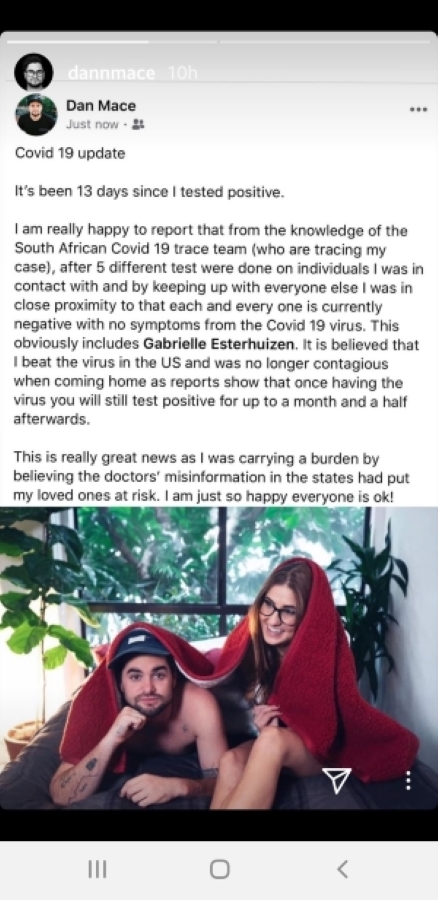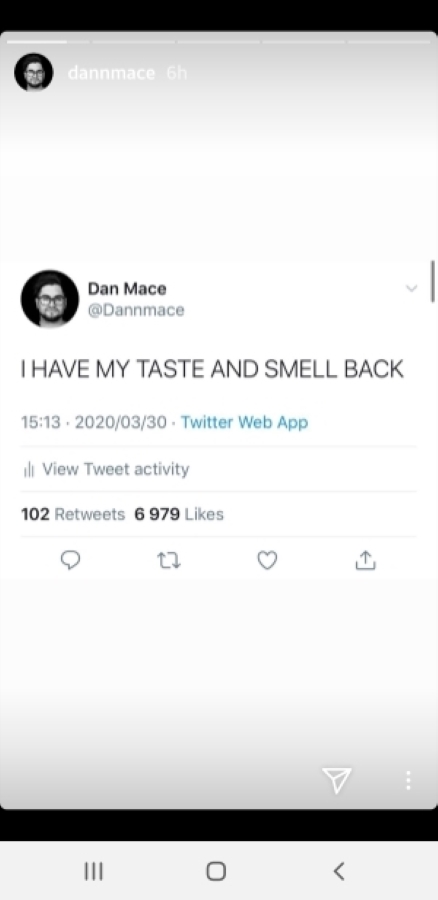 On 2 April 2020, Dan posted the following to his Instagram followers:
"I wanted to make sure that I have FULLY RECOVERED before posting again. I am super grateful to announce that it's been 15 days since I tested positive for COVID-19 and everything is now back to normal. My taste and smell are fully back, my breathing is regular and I have so much energy to just smack out new films! Even better news is that @gabiiesterhuizen is in perfect health as well as both my parents and everyone else I knowingly came into contact with before being tested are all currently negative with no symptoms. It is believed that before I flew out of LA I had beaten the virus and was no longer contagious. Such a relief! How are you doing in isolation? Any ideas on how to not go crazy? I have another 14 days in South African Lockdown. Lots of rad videos coming! The next one is possibly my favourite yet, been working on it all week."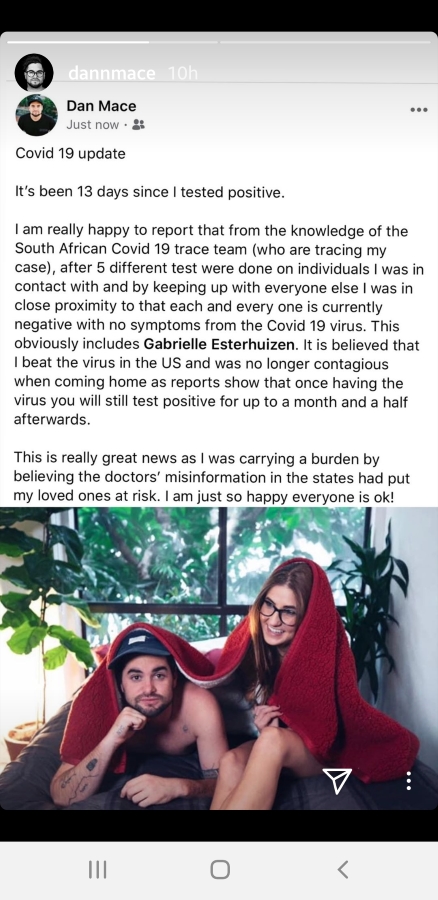 All medical information found on this website including content, graphics and images, is for educational and informational objectives only. Discovery Health publishes this content to help to protect and empower all South Africans by promoting a better understanding of COVID-19.
Find a healthcare professional near you
Find a doctor or hospital near you online or by using the Discovery app.

Outbreak of the 2019 novel coronavirus
The 2019 novel coronavirus (2019-nCoV) has caused an outbreak of fatal respiratory illness first detected in Wuhan, China. This is a completely new strain with no vaccines available. The best way to prevent infection is to avoid being exposed to this virus.
Feeling the flu? Why and when to taper back on training
Feeling under the weather? There's a reason doctors always prescribe rest when you're ill. Here's how to be mindful of your body's needs, plus an easy way to earn 1 000 Vitality points for keeping the flu at bay with a flu vaccination.