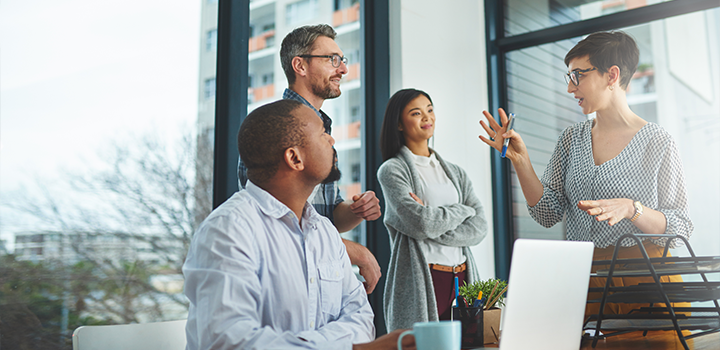 As the country follows the strict containment measures put into place to protect the health and wellbeing of us all during the active COVID-19 pandemic, you will continue to enjoy the same covers and benefits and you will get even more enhanced benefits during this time.
Here's how you can still enjoy comprehensive cover in rewarding ways
1. Use your Vitality Drive for Business rewards to pay for premium
Normally, the Vitality Drive for Business cash back rewards offered to companies are payable after a 12-month period. These rewards provide a cash back of up to 30% of the company's vehicle insurance premiums.
During the COVID-19 containment period, we recognise that premium payments may be a difficult commitment for some businesses. That's why we've taken the decision to give our clients an advance on the cash back they have earned so far. Clients can request that their cash back earned so far is used to pay all or part of their premium, provided that their policy is within 6 months of the next anniversary.
Clients must request this advance cash back benefit by contacting dqvitalitydbi2@discovery.co.za. Brokers can also request this benefit on behalf of their clients.
2. Enhanced Active Rewards
During the current restrictions, not all businesses are deemed eligible as essential services to the public. For business clients, this means that there will be fewer drivers out on the roads.
Drivers employed by our clients are thus less likely to accumulate 100 kilometres (with a score of 70 or higher) each week during much of the month of April.
As of Saturday, 28 March 2020 the following will apply during the lockdown period
If a driver does not drive at all during the week…

If a driver drives less than 100 kilometres during a weekly period…

If a driver drives more than 100 kilometres during a weekly period…

An Active Reward will be earned provided that at least one goal has been completed in the last 3 months – either during the month of December 2019, January or February 2020.

Newly joined clients within the past 3 months can also receive a weekly reward under this criteria, even if none have been earned during that period as yet.

An Active Reward will be earned if a driver achieves a driving score of 70 or higher during each week.

The normal criteria applies – An Active Reward will be earned if at least 100 kilometres are clocked and a driving score of at 70 or higher is achieved.
Things to note:
Active Rewards weeks run from Saturday (00:00) through to Friday (23:59) every week.
Drivers will receive an SMS notification when they achieve their Active Rewards goal for the week.
The expiry date of earned Active Rewards will be extended in order to allow drivers more time to redeem them. All non-expired Active Rewards issued on or before Wednesday, 25 March 2020, and those issued in April and May 2020 will now expire after 60 days from the date they were selected. Drivers still need to make sure they select their Active Rewards within 14 days of the issue date.
Get cover for electronic equipment temporarily removed from the office
In order to remain operational, many of our clients may need to implement work-from-home protocols which allow employees to temporarily remove certain electronic equipment items from the business premises.
Cover is thus needed for the value of these items during the removal process and while being used remotely. It is also needed in the event items are lost or damaged during the transit, loading and unloading process.
The Discovery Business Insurance Plan offers wide cover under the electronic equipment section, making sure that our clients remain protected for electronic equipment that employees temporarily remove from the office to allow them to work from home. We also cover this equipment for losses occurring during transit, including loading and unloading.
Clients will get this cover for the 21-day period of the national lockdown, starting from Friday, 27 March 2020 (including any extensions that may be announced), plus two weeks. This is to allow enough time for employees to return the insured items back to the business address noted in the Policy Schedule.
***Please note that this cover is subject to the normal terms and conditions stated in the Plan Guide.
Car hire extender
Given the national lockdown, most businesses nationwide will be closed. Therefore, clients' vehicle repairs may take longer than expected. To assist our clients whose vehicles are in for repairs, we will enable them to keep their hired cars for the duration of the lockdown period.
We will pause the client's car hire cover, so that the number of days that they have already used the car hire benefit for, before the lockdown do not increase. Once the lockdown is lifted, the client will still have the remaining number of car hire days allocated to them.
What about Discovery Business Insurance services?
Discovery Business Insurance will remain open during this containment period as we do qualify as an essential service, and so will be able to continue providing you with some assistance as needed.
Our servicing channels are active even though many of our staff are currently working from home.
Our online channels, email (DBINewBusiness@Discovery.co.za) and 24-hour emergency services call centre are well set to provide you with the quality of service you expect, at this time, as you would at all times.
We urge you to make use of these preferred channels so that we can ensure to provide you with the assistance you require.
"Essential business insurance services" we are permitted to provide include assistance with:
Burst water pipes and geysers
Electrical emergencies
Vehicle breakdowns and accidents
Vehicle theft
The 24-hour emergency services call centre can be reached on 011 529 6620.