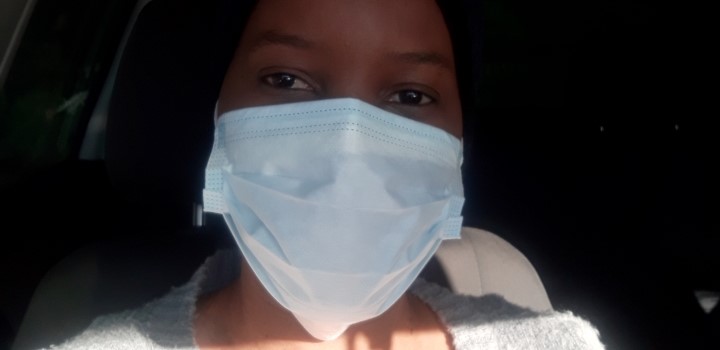 Scientist Matshepo Matlejoane has a very good understanding of the COVID-19 virus and disease. However, the depth of her insight has also fuelled her anxiety that symptoms she has felt could indicate she has COVID-19. She accessed the DrConnect online doctor consultation platform to assess her risk.
Matshepo Matlejoane is a scientist who works in Onderstepoort. "All in all, the pandemic has been a very challenging time for us," says the 33-year-old. "We are essential workers, and have to ensure that we maintain the country's food security in my line of work."
She has an excellent understanding of the COVID-19 pandemic. In fact, she knows much more than the average South African. "I was wearing a protective face mask before there was widespread awareness of the need to do so," explains Matshepo. "But my awareness of the disease also came with a good deal of anxiety. I knew that one could have COVID-19 and be asymptomatic. That made me very anxious. I also couldn't get away from news about the pandemic. Eventually I had to limit my exposure to the news to cope."
In early March, Matshepo developed a scratchy throat and was unsure whether she had developed a symptom of COVID-19 or not. "I had read about the Discovery and Vodacom partnership to make online doctor consultations available to all South Africans for free. I am not a Discovery Health Medical Scheme member, but this partnership allowed me access to the service anyway. I downloaded the DrConnect app and was able to chat, via text messages, to one of the doctors who were available at that time."
"Considering my symptoms, he said it was unlikely that I had COVID-19. I signed off from there, feeling relieved. A week later I saw my GP. I called ahead first, waited in the car until it was safe to enter the practice and then had my consultation. My doctor also confirmed that I did not fit the criteria to be tested for COVID-19 after the screening. The doctor treated the sore throat and encouraged me towards healthy living: eating healthily and exercising. That seems to have helped. We are all dealing with an unknown situation now and coping as best we can."
Matshepo is accustomed to wearing personal protective equipment (PPE) at work. "But we have increased the extent to which we wear PPE at work to curb the spread of COVID-19. I work close to Shoshanguve where there have been a number of COVID-19 cases. Many of my colleagues live out that way." In mid-May, Shoshanguve was declared an emerging hotspot for COVID-19.
Did access to an online doctor consultation assist Matshepo? "Yes," she explains. "Access to DrConnect was my first step towards allaying worries that I had contracted COVID-19 at a time when I felt extremely anxious. I needed to know that it was safe for me to continue to go to work and live my life. I appreciated the free access, as this sort of interaction with doctors is key to limiting the spread of COVID-19."
Benefits of online doctor consultations
Protect everyone's health. Book a doctor consultation from your home. If you feel unwell or think you may have COVID-19, stay home.
Keep in mind:
You can have the COVID-19 virus and give it to others before you feel sick.
Booking an online consultation from your phone or computer on the website is a safe way to speak to a doctor – and it will also help your doctor to stay healthy.
The COVID-19 online doctor consultations platform makes it possible for South Africans to access a healthcare professional without having to travel to a healthcare facility.
Being able to connect people to healthcare through this virtual channel limits exposure to COVID-19 and; therefore, safeguards the health of our doctors and healthcare workers who are providing care to patients with COVID-19.
What the online healthcare platform is for and who qualifies for free consultations
The platform offers a dedicated COVID-19 information hub and consultation platform from a computer, laptop or smart device. You can access the service from both the Discovery and Vodacom websites.
This platform is specifically for screening and consultations for COVID-19. Discovery and Vodacom fund consultations for South Africans who are at high risk of COVID-19, and who urgently need to consult a healthcare professional. If you are not at high risk, a consultation with a doctor will not be recommended.
Read up on free COVID-19 Online Doctor Consultations available to all South Africans through the Vodacom and Discovery partnership.
Find out more about DrConnect and download the DrConnect app today.
All medical information found on this website including content, graphics and images, is for educational and informational objectives only. Discovery Health publishes this content to help to protect and empower all South Africans by promoting a better understanding of COVID-19.
Find a healthcare professional near you
Find a doctor or hospital near you online or by using the Discovery app.

Outbreak of the 2019 novel coronavirus
The 2019 novel coronavirus (2019-nCoV) has caused an outbreak of fatal respiratory illness first detected in Wuhan, China. This is a completely new strain with no vaccines available. The best way to prevent infection is to avoid being exposed to this virus.


Novel Coronavirus - wash your hands of the threat
As toddlers, we learnt to wash our hands. But, did we ever master the skill to the extent that is needed to wash pathogens off our hands, and save lives? Multiple studies show people don't wash their hands at the right times, in the right way or for the right amount of time. We contaminate the things and people we touch with the germs we carry on our hands.