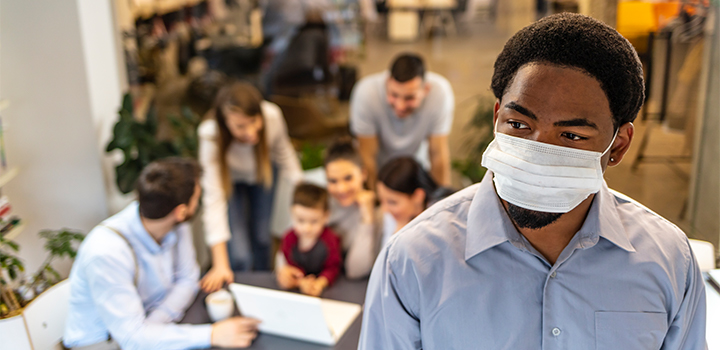 The World Health Organization has moved to dispel the myth that COVID-19 is an airborne virus. This and many more myths about COVID-19 virus are spreading in South Africa and globally.
In recent days, there have been reports online that COVID-19 is airborne. These reports were based on a misinterpretation of the results of an experimental study that was recently published in the New England Journal of Medicine, where aerosolised droplets were examined in a clinical trial setting.
Fact Check: COVID-19 is not airborne.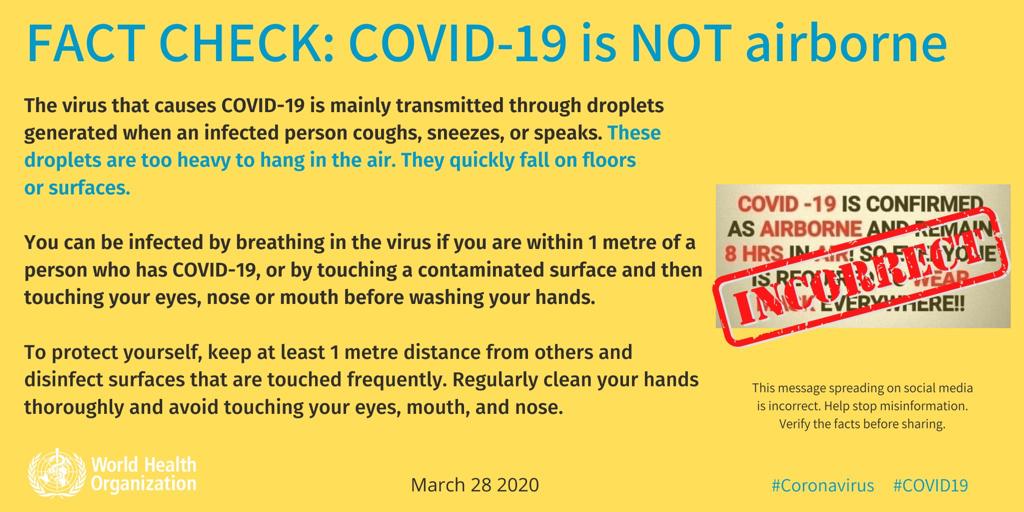 The World Health Organization explains: "The message spreading on social media that COVID-19 is airborne is INCORRECT. Help stop misinformation. Verify the facts before sharing."
What does it mean to be airborne?
You can only get COVID-19 through droplets. This happens when an infected person coughs, sneezes, or speaks. These droplets are too heavy to hang in the air. They quickly fall from the air and land on floors or surfaces.
How does the COVID-19 spread?
COVID-19 spreads very quickly through:
droplets generated when an infected person coughs or sneezes. You can get COVID-19 if you are standing within one meter of a person who has the illness by breathing in particles they cough out or exhale
Close personal contact, such shaking hands or hugging
Touching a contaminated surface and then touching your eyes, nose or mouth before washing your hands For example, if an ill person coughs on a telephone, then if you handle the telephone before washing your hands and your touch your mouth, nose, or eyes
Faecal contamination, very rare
Protect yourself with these preventive habits
These eight simple, powerful habits can protect you against many viruses:
Wash your hands often with soap and water for at least 20 seconds or use an alcohol-based hand sanitizer that contains 60% to 95% alcohol. Use soap and water if your hands are visibly dirty.
Keep at least 1 metre distance from others
Avoid close contact with sick people. There are a number of conditions that affect your nose, throat or lungs and keep you from breathing normally.
Avoid touching your eyes, nose, and mouth with unwashed hands.
Practise cough etiquette:

When you cough, maintain your distance from others
Cover your mouth and nose with clothing, a flexed elbow or a tissue
Throw away the tissue immediately and wash your hands afterwards.

Avoid spitting in public.
Clean and disinfect objects and surfaces that you or others touch often. The virus that causes COVID-19 can survive on common surfaces such as plastics, ceramics, glass and stainless steel for three days or longer.
All medical information found on this website including content, graphics and images, is for educational and informational objectives only. Discovery Health publishes this content to help to protect and empower all South Africans by promoting a better understanding of COVID-19.
Find a healthcare professional near you
Find a doctor or hospital near you online or by using the Discovery app.

Outbreak of the 2019 novel coronavirus
The 2019 novel coronavirus (2019-nCoV) has caused an outbreak of fatal respiratory illness first detected in Wuhan, China. This is a completely new strain with no vaccines available. The best way to prevent infection is to avoid being exposed to this virus.


Novel Coronavirus - wash your hands of the threat
As toddlers, we learnt to wash our hands. But, did we ever master the skill to the extent that is needed to wash pathogens off our hands, and save lives? Multiple studies show people don't wash their hands at the right times, in the right way or for the right amount of time. We contaminate the things and people we touch with the germs we carry on our hands.