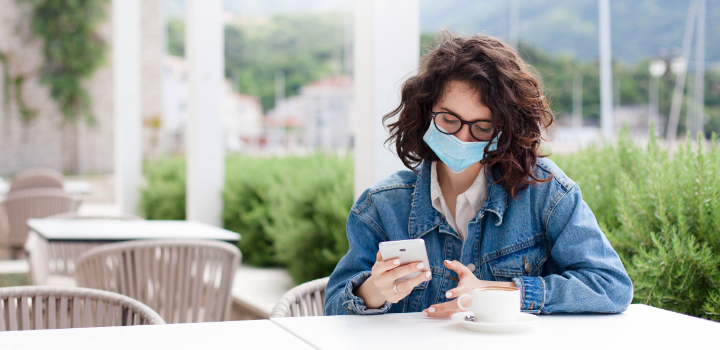 Is the fear of exposure to COVID-19 keeping you from seeing your doctor? Waiting too long to get help when we need it allows healthcare issues to escalate, some to the level at which they can cause serious complications or become life-threatening.
"Across the world and in South Africa, we have seen a decline in visits to GPs (general practitioners) as well as to emergency rooms," says Dr Noluthando Nematswerani, Discovery Health's Head of the Centre for Clinical Excellence. "Doctors are very worried that patients are ignoring their symptoms and delaying life-saving treatment, over fears they may contract the COVID-19 at their rooms or in hospitals."
"Many of us are wrongly equating a visit to our doctor with increased risk of exposure to COVID-19," says Dr Nematswerani. "We're waiting too long to get help when we need it and allowing our healthcare issues to escalate, some to the level of threatening our health and quality of life in the long-term, some to the point of becoming life-threatening."
Discovery's data shows that:
Medical scheme members have decreased visits to general practitioners (GPs) and specialists, including gynaecologists and psychiatrics. This has raised concerning implications for women's health and mental health, both areas which are known to carry a disproportionately higher burden of disease, nationally and globally.
There's also been a significant reduction in oncology registrations which can indicate that people are not being screened for cancers. Advanced cancers are far more complex to treat and are associated with poorer outcomes.
Compared to the same period last year, there has been:
A 30% decrease in GP consultations related to chronic care over the level 5 lockdown period.
A 42% decrease in wellness tests and broader screening activities leading to fewer diagnoses of chronic conditions
A 44% reduction in breast cancer diagnoses and a 51% reduction in mammograms performed (with advanced cancers far more complex to treat and associated with poorer outcomes)
A 51% decline in members registering for treatment for depression
"Missing a check-up with your doctor can mean serious down-the-line complications that can be difficult to manage too. For example, people who have unmanaged diabetes put themselves at high risk of devastating long-term complications ranging from heart attack and stroke to kidney failure, amputations, blindness and more. Or, ignoring symptoms of heart failure, like shortness of breath or swelling in the legs, can put your life at risk. By avoiding our routine visits to the doctor, we miss the opportunity to assess any new symptoms we have and to nip future complications in the bud."
Keep in mind - seeing your doctor on time will help to reduce your risk of severe illness linked to COVID-19
"The COVID-19 pandemic has made it more important than ever to make sure our chronic conditions are well managed," explains Dr Nematswerani. "That's because those who have poorly controlled or unmanaged chronic illnesses or who are immunocompromised in any way are at heightened risk of severe illness if they contract COVID-19."
Did you know that:
Members of medical schemes administered by Discovery Health who have chronic conditions make up 88% of recorded COVID-19 hospital admissions across all schemes (data up to 6 August 2020).
Their case-fatality rate ranges from 1.3% for people who have one chronic condition, to 12.5% for people with five or more chronic conditions. This can be compared to a 0.5% case-fatality rate for scheme members who have no chronic conditions.
Start by calling your doctor
"I cannot stress enough, that if you're experiencing a medical issue of any sort, any kind of change in your health or if you are due for a routine check-up relating to a chronic illness, please call your doctor and talk through your symptoms - on the phone at the very least," says Dr Nematswerani. "They will be able to identify which problems can be dealt with telephonically and which require a visit to their rooms or to an urgent-care facility or emergency department."
When should you see your doctor?
It's important to take the necessary precautions and stay at home as much as possible during the COVID-19 pandemic. However, it is extremely important that you attend your follow-up consultations, your annual health check, and visit your doctor when you experience any new symptoms.
Don't ignore symptoms that show that something's not quite right, whether these are symptoms you have had in the past, or new symptoms.
Anytime you are concerned about your health, reach out to your doctor by calling them and get their advice on whether to stay at home or access healthcare services.
Avoiding important doctor visits for fear of contracting the COVID-19 virus could be more harmful to your health.
Keep in mind that if you have one of these illnesses, it's especially important to keep your regular doctor's visits:
Hypertension (high blood pressure)
Diabetes
Asthma
Cancer
Heart conditions
Kidney disease
High cholesterol
Thyroid-related illnesses
HIV
Auto-immune conditions
Cancer and other chronic conditions, including diabetes, asthma, chronic lung disease, and high blood pressure, should be monitored regularly by a healthcare professional to ensure the condition is well managed.
If you have an existing chronic condition, make sure you have a check-up with your doctor at least every six months.
If you are taking chronic medicine, be sure that you adhere to your doctor's prescription, and that you are refilling your prescription medicines on time. Activate medicine tracker in the Discovery app to get reminders to collect your medicine from the pharmacy before you run out and to take your medicine as prescribed.
Is your medicine still working as it should?
Patients who have chronic illness, not only need to consistently take their medicines, they also need to go for regular check-ups with their doctors to continue monitoring their conditions with specific blood tests. This is important in ensuring that their medicine is still effective and that they are not experiencing harmful effects relating to either their illness or the treatment that they are taking.
"Seeing the doctor routinely allows for early identification of potential issues and early intervention, preventing any irreversible damage," says Dr Nematswerani.
Book a virtual consultation
Virtual consultations allow you to connect with your doctor while also lowering your risk of COVID-19 exposure.
Ask your doctor if they can assist you with a virtual or telephonic consultation. You can prepare for your appointment by having any monitoring blood tests done beforehand so that your doctor can review your results with you.
Safety during your in-person appointment
If you need to have an in-person consultation where you physically go to the doctor's rooms for a check-up, there are a few safety measures that you and your doctor will need to adhere to, to ensure your safety:
Always wear your cloth face mask while waiting to be seen and during the consultation.
Your doctor and the practice staff should also wear appropriate personal protective equipment, such as medical masks and gloves during the consultation.
Maintain physical distance of at least one metre while interacting with staff members and other patients.
Avoid touching surfaces as much as possible. If you do touch anything, don't touch your face and use an alcohol-based hand sanitiser to sterilise your hands. Wash your hands with soap and water as soon as you are able to for at least 20 seconds.
Collecting your medicine from a pharmacy
If you need to fill a prescription for medicine, wear your cloth face mask and maintain a physical distance from other people of at least one metre. You can also refill your prescription medicine online using MedXpress, and have them delivered to your home so that you do not have to visit a busy pharmacy.
Download the COVID Alert SA app
Add your phone to the fight and help prevent the spread of COVID-19 by downloading the National Department of Health's COVID Alert SA app today.
We'll keep you up to date
Please visit our dedicated COVID-19 information hub for the latest information, guidance, and more on what you can do when living with a chronic illness.
Stay informed and stay healthy!