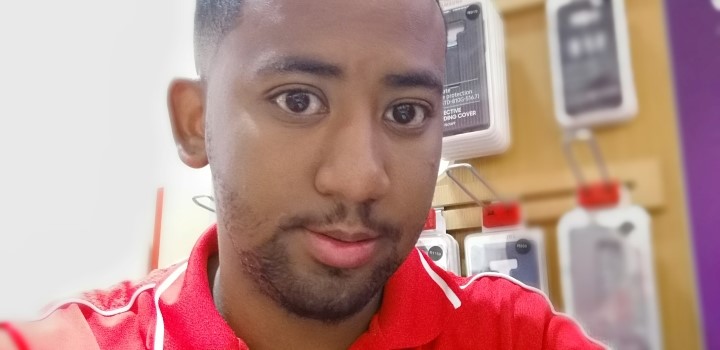 Lorenzo Delate works at the Vodacom store in Westgate shopping centre on Johannesburg's West Rand. During the South African lockdown level 5, he was required to continue to work from the store but worried about a sore throat that had lasted for two weeks.
"I was concerned it might be a symptom of COVID-19 and found it difficult to take time off work to see a doctor," he explains. "Then, I got an SMS from Vodacom regarding the partnership between Discovery and Vodacom and offering free access to COVID-19 online doctor consultations through DrConnect." Lorenzo doesn't have medical aid.
"The SMS contained a link to the Vodacom website where I could click on Online doctor consultations. I typed a question about my symptoms into the search field and a doctor called me back on my phone within five minutes. I explained that I had a sore throat and a cough. He asked if also had a headache, fever or any other symptoms. Then, he asked who I live with to see if there is anyone in the household who is at high risk of severe illness should they contract COVID-19. I live with a person who has asthma and another who has chronic illness and he told me that had I contracted COVID-19, they would have also contracted it very soon after me. The combination of my symptoms and the fact that they were healthy, led him to believe I had the flu. He said that I should monitor my symptoms and use DrConnect for more help if they got worse, but my symptoms improved soon thereafter. I am very grateful to have had the advice and support I could access through the DrConnect platform when I needed it most."
Benefits of online doctor consultations
Protect everyone's health. Book a doctor consultation from your home. If you feel unwell or think you may have COVID-19, stay home.
Keep in mind:
You can have the COVID-19 virus and give it to others before you feel sick.
Booking an online consultation from your phone or computer on the website is a safe way to speak to a doctor – and it will also help your doctor to stay healthy.
The COVID-19 online doctor consultations platform makes it possible for South ;Africans to access a healthcare professional without having to travel to a healthcare facility.
Being able to connect people to healthcare through this virtual channel limits exposure to COVID-19 and; therefore, safeguards the health of our doctors and healthcare workers who are providing care to patients with COVID-19.
What the online healthcare platform is for and who qualifies for free consultations
The platform offers a dedicated COVID-19 information hub and consultation platform from a computer, laptop or smart device. You can access the service from both the Discovery and Vodacom websites.
This platform is specifically for screening and consultations for COVID-19. Discovery and Vodacom fund consultations for South Africans who are at high risk of COVID-19, and who urgently need to consult a healthcare professional. If you are not at high risk, a consultation with a doctor will not be recommended.
Read up on free COVID-19 Online Doctor Consultations available to all South Africans through the Vodacom and Discovery partnership.
Find out more about DrConnect and download the DrConnect app today.
All medical information found on this website including content, graphics and images, is for educational and informational objectives only. Discovery Health publishes this content to help to protect and empower all South Africans by promoting a better understanding of COVID-19.
Find a healthcare professional near you
Find a doctor or hospital near you online or by using the Discovery app.

Outbreak of the 2019 novel coronavirus
The 2019 novel coronavirus (2019-nCoV) has caused an outbreak of fatal respiratory illness first detected in Wuhan, China. This is a completely new strain with no vaccines available. The best way to prevent infection is to avoid being exposed to this virus.


Novel Coronavirus - wash your hands of the threat
As toddlers, we learnt to wash our hands. But, did we ever master the skill to the extent that is needed to wash pathogens off our hands, and save lives? Multiple studies show people don't wash their hands at the right times, in the right way or for the right amount of time. We contaminate the things and people we touch with the germs we carry on our hands.