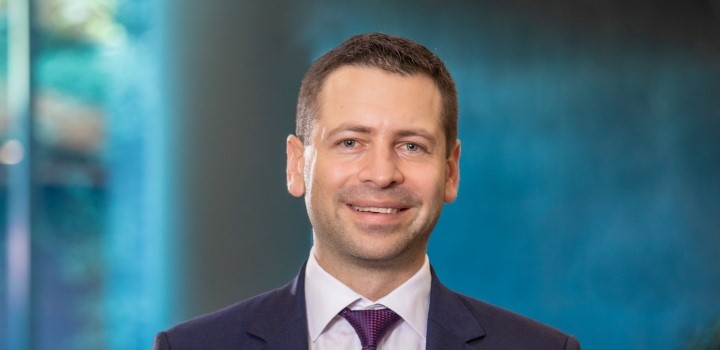 Can using cutting-edge technology help to shape life insurance in modern times? Gareth Friedlander, Deputy CEO of Discovery Life shares some of his thoughts.
What does it take for life insurance to meet present and future needs?
There are various reasons why so many South Africans are significantly underinsured. Can a non-traditional life insurance model better secure people's futures in more affordable ways?
Creating value and encouraging a healthier society
Societies today have ever-changing, complex needs. Discovery Life uses a less traditional approach to help meet these dynamic needs while providing innovative long-term insurance products.
When Discovery joined the life insurance market in 2000, the market was commoditised with little innovation. Discovery's Shared-value Insurance model has allowed for the creation of a wealth of innovations to meet the complex and evolving needs of our clients.
This approach is based on the accumulated data that forms the very foundation of the business's Shared-value Insurance model both for the insurer and policyholders.
Friedlander makes the point that more than 50% of deaths worldwide are actually caused by poor lifestyle choices. "In particular, three poor lifestyle behaviours contribute to early death: smoking, poor nutrition and physical inactivity," he explains.
Encouraging healthy behaviour and sharing the effects of improved outcomes form the basis of Discovery's health and wellness insurance model that aims to drive continuous shared value between the company and its clients. Discovery Life uses incentives and behavioural economics so clients can make dramatically healthier choices – both now and well into the future.
"We've actually found that the clients that engage in Vitality and make these healthy choices tend to live significantly longer. In fact, our Diamond-status clients are living about 24 years longer than the average South African."
The value of this improvement in longevity can be channelled to policyholders through earned incentives such as life insurance premium discounts and the PayBack benefit, which returns up to 50% of a policyholders qualifying premiums in cash.
Discovery Life's insurance model is geared towards lowering the number of claims made by encouraging healthier lifestyle behaviours. This generates the intended positive effects.
"The Shared-value Insurance model is delivering exceptional value, with clients saving over R1.9 billion per year through Integration discounts. In addition, over R5 billion has been returned to clients to date through the PayBack benefit, and R2.2 billion in Cash Conversion payments are projected to be paid over the next five years." says Friedlander.
Empowering the modern individual with innovative insurance solutions
1. Using data to inform enhanced product development
Backed by scientific analysis and big data accumulated through health channels, Discovery Life's benefits are crafted to stay up to date with technological trends and remain ahead of the curve.
Life is dynamic and when unexpected events have a dramatic impact, insurance cover needs to be supportive. Friedlander points out that "more clients are actually using medical assistive devices when they have a disability. We've used that trend in designing our disability product," he adds.
The Capital Disability Benefit is designed to provide a lump-sum payment to help cover the loss of income and increased expenses after a dramatic disruption. The benefit also pays out for the latest cutting-edge medical technology and assistive devices that are linked to that disability.
"We believe that our data-backed analysis helps us to produce relevant, sustainable and comprehensive products for people. We're proud to have been recognised for these efforts with the receipt of several accolades," says Friedlander.
Some awards received to date include:
#1 Long-term Insurer – received from Sunday Times 21 Top Brands 2019
#1 Most Innovative Life Insurance Product – received from Efma for Global Education Protector 2018
#2 Most Innovative Underwriting – received from Efma for Managed Care Integrator 2018
Best Cancer Coverage – received from Icon for LifeTime Severe Illness Benefit 2017
"So, using data in conjunction with technological trends shows us that it is an effective means to best provide and enhance product offerings for people in ways that really matter to them," he adds.
2. Using technological advances to enhance long-term insurance cover
"Technology is a wonderful enabler. It is really transforming the experience of insurance," says Friedlander. "We are able to interact with clients, literally on a daily basis".
Using digital technology, such as the Discovery app, policyholders receive real-time feedback. As insurers, this data informs how to better enhance plans for clients.
"Big data is everything to us," says Friedlander. Technological trends, such as AI "are things that we're investing heavily in," he adds.
To remain relevant in the future, Friedlander suggests that insurance should be following the trends and "using big data to change the game".
To do this, insurers have to be proactive. One way Discovery Life proactively uses technology and data is to determine which clients, who also have a qualifying health plan administered by Discovery Health, qualify for a life insurance claim before they submit a request themselves. This ensures that clients receive the benefits they signed up for.
"I think that's really how this type of data and technology can be used to take the whole industry forward," says Friedlander.
3. Taking advantage of portfolio diversification
Friedlander advises policyholders to consider diversifying their risk insurance. With a diversified risk-cover portfolio, "you're protecting potential needs for your family in 30, 40 years' time."
Even for individuals who have no intention of living anywhere else, currency movements around the world have an impact on us all. "All the more reason to have real, hard diversification in global currencies."
That's why Discovery Life has developed an offshore Dollar Life Plan, denominated in US dollar.
Life insurance during times of uncertainty
Globally, societies have been jolted into having to make numerous adjustments as a result of the COVID-19 pandemic. For life insurance policyholders, these uncertain times may cause concern over existing plans. Is this unexpected health crisis something insurance policies cover?
Friedlander offers some reassurance. "All valid claims related to COVID-19 will be paid as our policies provide full cover for illnesses like this."
Claims still need to meet set criteria according to existing benefit policies in the event of death, severe illness or disability as a result of a COVID-19 infection.
"We know that this [pandemic lockdown period] has had a massive economic impact on clients too," he adds. Cash-flow constraints are a very real dilemma for many at the moment. "So, we've come up with options that allow qualifying clients to almost leverage or borrow against their future good health to help them keep their cover in force today."
Qualifying clients can make use of future PayBack payouts to fund three months' worth of premiums while the country is under lockdown, helping to place less strain on cash flow. In this way, Discovery Life can help to provide clients with some "real relief without having to sacrifice any of their cover at a time that they need it most," concludes Friedlander.
Discovery Life Limited, registration number 1966/003901/06, is a registered long-term insurer, and an authorised financial services and registered credit provider. NCR Reg No. NCRCP3555. Product rules, terms and conditions apply.
All medical information found on this website including content, graphics and images, is for educational and informational objectives only. Discovery Health publishes this content to help to protect and empower all South Africans by promoting a better understanding of COVID-19.
Find a healthcare professional near you
Find a doctor or hospital near you online or by using the Discovery app.

Outbreak of the 2019 novel coronavirus
The 2019 novel coronavirus (2019-nCoV) has caused an outbreak of fatal respiratory illness first detected in Wuhan, China. This is a completely new strain with no vaccines available. The best way to prevent infection is to avoid being exposed to this virus.


Novel Coronavirus - wash your hands of the threat
As toddlers, we learnt to wash our hands. But, did we ever master the skill to the extent that is needed to wash pathogens off our hands, and save lives? Multiple studies show people don't wash their hands at the right times, in the right way or for the right amount of time. We contaminate the things and people we touch with the germs we carry on our hands.