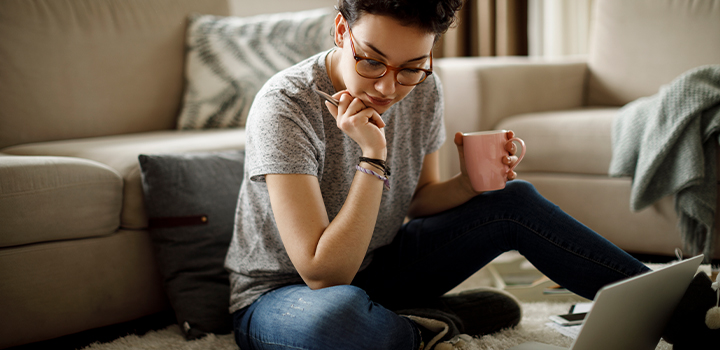 You're already staying at home and following the latest government measures to combat the spread of the COVID 19 virus. Even so, if you're suspected of having, or have COVID 19, you will need to self isolate within your home to avoid spreading the disease to others.
You've read up on what it means to self-isolate and you've considered every element of the three-week escalated containment plan announced on 23 March 2020 (to run from 26 March to 16 April).
The measure put in place are an emergency protocol that requires South Africans to stay at home except if they go out to perform an essential task. All non-essential activities have to stop and several businesses have to close. Grocery stores, pharmacies, banks and other essential industries remain open. These measures are essential to disrupt the spread of COVID-19.
Over and above staying at home, people who are suspected of having, or who have, COVID-19 need to self-isolate. This means staying inside your home and avoiding contact with those you live with (and with any pets) for at least 14 days, even if you don't have any symptoms of COVID-19.
A note on pets: The CDC makes it clear that at this point there is no evidence that companion animals, including pets, can spread COVID-19. The CDC suggests that people who have COVID-19 should limit interaction with pets and other animals and avoid direct contact with pets, including petting, snuggling, being kissed or licked, and sharing food.
However, if you aren't feeling too sick, you may still need to manage work-related, personal or family responsibilities when you're self-isolating. How do you go about this?
Keep in mind that if you feel you need additional medical care at any stage, while in self-isolation, you can call your doctor or arrange a virtual consultation to ask them what to do next. It's very important to avoid exposing others to COVID-19. Your doctor will tell you what to do if you need to come in.
How to manage family responsibilities while in self-isolation
Your first responsibility when you're self-isolating is to take care of yourself and to follow your doctor's instructions. This means separating yourself from others (if you live with other people). Where possible use a separate bedroom and bathroom, or part of the house that other people are not using. It's ideal to and isolate yourself entirely, otherwise isolate yourself as much as possible.
If you live with your partner, spouse or other family members and have children, decide on a plan of action around who will assist with any home schooling, do any shopping (while strictly following the containment measures in place), cook meals, and also decide on how food will be brought to you without the need to interact physically at all. That means deciding on how you will dispose of any paper or plastic utensils and plates or cups you drink or eat from so that there is no risk of anyone else getting COVID-19 through these items. You also need to discuss how to deal with any other ongoing responsibilities.
If you're well enough, ask for cleaning supplies and regularly clean and disinfect of all the surfaces you come into contact with. You must be rigorous about cleaning all surfaces, and especially the objects that you frequently touch. If you are not able to isolate yourself from the others that you live with entirely, make disinfecting of frequently touched objects an absolute priority.
Stay in contact – but do it digitally. It's important to ensure your mental wellbeing while in self-isolation. This means you have to make sure you connect and receive support from others. Communicate using your cellphone or via video calls. Do not to have any physical contact with anyone while self-isolating.
Your main goal is to reduce anyone else's risk of getting the COVID-19 virus from you. Keep in mind that during this time, those who live with you will be primarily confined to the home. If everyone practises the strict preventive measures that curb the spread of illness, the chances of passing the virus on to others remains low.
Working while self-isolating as a result of COVID-19
For many South Africans, working from home is becoming the new normal. Businesses are also having to quickly adapt to managing remote teams effectively.
If you are well enough, you can continue to work from home while self-isolating. Email and other tools like Skype, Slack or even WhatsApp have made it easier than ever to work remotely. In the context of the national initiative to stay at home, both small and large businesses have been tasked with assisting their employees to work from home as much as possible. Non-essential businesses may also close for the duration of this period. If you are not well enough to work, put in sick leave and ensure that you communicate with your employer to keep them up to date on your recovery.
Love your pets from a distance
Self-isolation unfortunately also means staying away from your pets. Although we're not yet sure if domestic animals can contract or pass on COVID-19, the US Centres for Disease Control and Prevention (CDC) recommend that you limit your contact with animals until we know more about the virus.
When you divide up the household chores, remember to decide who will feed and take care of your pet if you can't. If you live alone, ask a family member or friend to look after them. If you do come into contact with your pet accidently, wash your hands very thoroughly before and after handling them. If there's no one else to take care of them, wear a face mask when you take care of your pets.
Maintaining your mental wellbeing is critical during self-isolation
The COVID-19 pandemic has brought many uncertainties to our lives in a short space of time. Not only are we concerned about the effects of the illness on us or our loved ones, but also about the economic consequences of global containment measures aimed at flattening the COVID-19 curve. Being confined to our homes, and further facing self-isolating, can challenge our ability to maintain a positive outlook on life. Our personal situation also determines how we will cope as older people, children, teens, healthcare professionals, people with chronic illnesses or who are otherwise at high risk face particular stressors in the face of COVID-19.
It's more important than ever that we nurture healthy habits that maintain our mental wellbeing. Here are some tips on how to do take care of your mental health while staying at home, or in self-isolation:
Connect with others. Stay in contact with friends and family using digital channels and social media. Join an online support group and virtually meet up with others.
Hearing about the pandemic repeatedly can be difficult. Take breaks from watching, reading, or listening to news stories about COVID-19, including social media.
Eat healthily.
Keep exercising while at home.
Meditate, do yoga or practice mindfulness.
Ensure good sleep quantity and quality.
Avoid using alcohol, tobacco, or drugs to cope.
Start an online course to improve your skills.
Keep a journal about your experience – who knows, it could turn into a bestseller! You could also start a blog about your experience and share advice with others around the world who are in self-isolation.
Make a list of all the things you want to do when you're out of isolation and stick to your goals.
Read all the books you've long meant to get through or listen to audio books.
People with pre-existing mental health conditions should continue with their treatment plans and keep an eye out for any new symptoms.
Call your healthcare provider if mental stress or feeling low gets in the way of your daily activities for several days in a row. Also remember that the South African Depression and Anxiety Group is a phone call away.
The South African Depression and Anxiety Group (SADAG) is a non-profit organisation that can give support for various challenges. They offer support groups as well as free telephonic counselling 24 hours a day, 7 days a week. Call them toll free on 0800 12 13 14 or send an SMS to 32312.
Sources
All medical information found on this website including content, graphics and images, is for educational and informational objectives only. Discovery Health publishes this content to help to protect and empower all South Africans by promoting a better understanding of COVID-19.

Outbreak of the 2019 novel coronavirus
The 2019 novel coronavirus (2019-nCoV) has caused an outbreak of fatal respiratory illness first detected in Wuhan, China. This is a completely new strain with no vaccines available. The best way to prevent infection is to avoid being exposed to this virus.


Feeling the flu? Why and when to taper back on training
Feeling under the weather? There's a reason doctors always prescribe rest when you're ill. Here's how to be mindful of your body's needs, plus an easy way to earn 1 000 Vitality points for keeping the flu at bay with a flu vaccination.