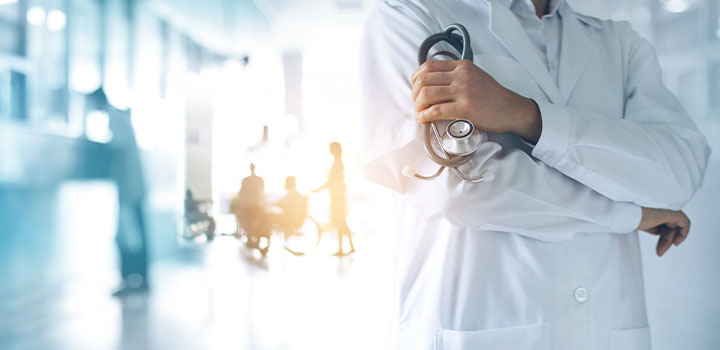 Dr Nicky Longley works at a London hospital emerging from the brunt of the COVID-19 onslaught in the city that faced most of the UK's infections and deaths. She has much to share with her South African colleagues.
Clinicians and hospital staff facing the first flood of COVID-19 patients often felt helpless, scared and overwhelmed, reminiscent of the beginning of the HIV and AIDS epidemic.
This was the message Dr Nicky Longley shared on 14 May 2020 in addressing a webinar attended by 1 500 South African clinicians and healthcare workers. Listeners were eager to glean knowledge and insights from Dr Longley in advance of South Africa's expected surge in hospital admissions that would inevitably accompany local lockdown relaxations over coming weeks and months.
Dr Longley is a former infectious diseases Fellow who has been based at University of Cape Town. She is also an associate professor at the London School of Hygiene and Tropical Medicine, and a consultant at the Hospital of Tropical Diseases.
She worked for several years in the field of infectious diseases in South Africa. She currently works at a London hospital emerging from the brunt of the coronavirus disease 2019 onslaught in the city that has had to face most of the UK's infections and deaths.
The webinar in which she addressed medical colleagues is part of a series hosted by Discovery Health with MedicalBrief, the Desmond Tutu HIV Foundation, the SA Medical Association, the SA Private Practitioners Forum and the Unity Forum for Family Practitioners.
This particular webinar was facilitated by Professor Linda-Gail Bekker, Deputy Director of the Desmond Tutu HIV Centre at the Institute of Infectious Diseases and Molecular Medicine at UCT.
COVID-19: This is not a sprint; it's a marathon
"Since we can remember, we have been working like ants," James says. "Employees waking up at five, going to the gym, taking the children to school, having a nanny or aftercare look after the children while you were in meetings, boardrooms or at our desks in open-plan offices until we collected our children, went home, cooked dinner, helped with homework, watched TV and slept, only to hit the repeat button the next day."
"But then we encountered an obstacle – COVID-19 – and it changed every aspect of our lives: how we live, work, eat, sleep and interact with other human beings."
"Employers who had previously encouraged in-office, open-plan, socially interactive work environments had to change completely," he adds. What steps did employers take to keep their employees safe from the virus? "The answer was to wear masks, sanitise [your hands], physical distancing and eventually, to work from home. Tools that have always been available like Zoom, Skype, teleconferencing and email now became the way to communicate and manage our business environment."
The impact on the employee
With 233 151 COVID-19 cases and 33 600 deaths in the United Kingdom when she presented her thoughts, Dr Longley said things were finally slowing down. This, after a dramatically effective but limited lockdown that allowed for exercise, movement and shopping – with social distancing, hand hygiene and masks strongly encouraged.
At the time of her address, her hospital went from almost overflowing (with operating theatres converted into ICUs with extra beds) to being 25% full, which was lower than normal for this time of year.
Quoting the clinical chief at her hospital, Dr Longley said doctors had to realise that, "this is not a sprint; it's a marathon. We have to be kind to our teams and ourselves."
Dr Longley added: "As clinicians we won't get it right all the time. We can step away. We're used to being able to deal with (everything) and know what we're doing. Yet we've only been around this disease for some months – in some ways we feel helpless. It's super important to realise that psychological impact.
"Our intensivists say this is not the normal thing they know. Your staff and patients are frightened. They've been told to stay away and self-isolate, and now they're coming in. It's reminiscent of the beginning of the AIDS epidemic. Nobody wanted to touch these people.
"There's also fear from patients, ancillary staff, and your own staff and their relatives when they're ready to go home."
Dr Longley said people in isolation felt vulnerable being confronted with doctors and nurses suited up in intimidating personal protective equipment.
"They don't see your smile. Instead they see your worried eyes. They're without familiar things. We set up a library in the COVID ward, because they're there for a long time," she added.
Mental health impact on healthcare workers
She said she and her colleagues felt guilt over being away from their families, and scared they'd bring the virus home, fall ill and have to abandon their colleagues. A significant percentage of her colleagues were asymptomatic or quasi-symptomatic, or as she put it, "slightly under the weather".
When stressed or tired, they were never sure whether they had the virus or if they were suffering psychosomatic symptoms. An irony was that while healthcare workers were afraid of entering COVID-19 wards, these were probably the least risky because everybody was on guard and took precautions. The danger came when working in so-called "clean" zones where you least expected a threat.
COVID-19: Feedback on clinical presentation
Dr Longley's presentation included her explanation of the way in which COVID-19 presented with many unexpected non-pulmonary symptoms, which made for a steep learning curve. A snapshot of 35 ICU patients showed that 60% had acute kidney injury. Others had inflammation and direct invasion of the tubular system, needing continuous electrolyte replacement, after losing large amounts of phosphate, sodium and potassium.
One third of scans showed pulmonary embolisms and some deep-vein thrombosis. Those requiring high-flow oxygen in ICU or on continuous positive airway pressure (CPAP) needed more anti-coagulants, though plasma-exchange studies were ongoing.
Nervous system symptoms included a dramatic loss of smell, hypo-active delirium with deregulation of the autonomic nervous system, and strokes. Other unexpected variations included (towards the end of the epidemic) a Kawasaki-like syndrome among a handful of children and young adults (treated with steroids and biologic therapy), myocarditis, diarrhoea and vomiting – associated with hepatitis, not respiratory symptoms.
Dr Longley's advice was to treat conditions associated with COVID-19 normally, as if they were presenting in isolation.
"Don't forget to be a doctor – it's not all COVID!"
She emphasised that results were still pending from a 6 000-person London-based study comparing all the world's highly debated drug therapies suspected to mitigate COVID-19. There was currently no significant evidence to say any worked. Biologicals were looking more promising than anti-viral treatments, but nothing had yet succeeded as a prophylactic.
She said the good news was that their HIV-positive patients that were virologically suppressed, with good CD4 counts, displayed no greater risk than the general population. She warned colleagues to be on the lookout (especially in elderly patients) for straightforward presentations like a urinary tract infection.
"Don't forget to be a doctor – it's not all COVID!" she said, citing two malaria-related deaths that occurred because the London-based travellers had tragically self-isolated at home with fever or flu-like symptoms, thinking they had COVID-19.
ALL MEDICAL INFORMATION FOUND ON THIS WEBSITE INCLUDING CONTENT, GRAPHICS AND IMAGES, IS FOR EDUCATIONAL AND INFORMATIONAL OBJECTIVES ONLY. DISCOVERY HEALTH PUBLISHES THIS CONTENT TO HELP TO PROTECT AND EMPOWER ALL SOUTH AFRICANS BY PROMOTING A BETTER UNDERSTANDING OF COVID-19.
Find a healthcare professional near you
Find a doctor or hospital near you online or by using the Discovery app.