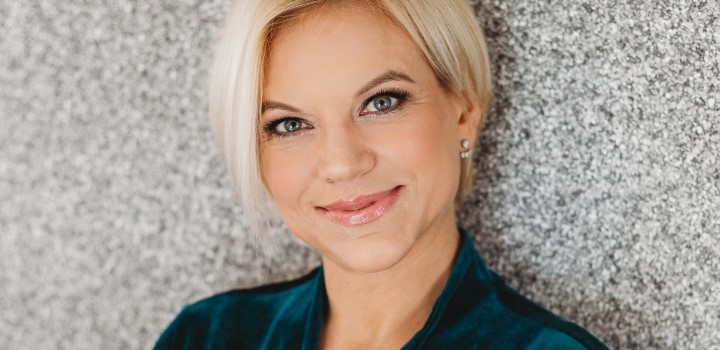 When you're pregnant, your mental wellbeing is of the utmost importance. But how do you stay positive when the stress and worry about COVID-19 affects us all? Professor Renata Schoeman, new mom and psychiatrist, shares her experience and insight.
Professor Renata Schoeman is a psychiatrist and Head of the MBA in Healthcare Leadership at the University of Stellenbosch Business School. She is also an alumna of the Discovery Foundation and has contributed extensively to mental healthcare in South Africa.
In this podcast, she shares her experience of giving birth during the COVID-19 pandemic and gives advice to new mothers.
Listen to the podcast:
COVID-19 brings additional anxiety for new moms
Prof Schoeman recalls the last few weeks of her pregnancy. "Everything went well in the pregnancy and then suddenly I developed preeclampsia and HELLP syndrome within a week," she says. "And then also having been faced with the COVID-19 situation, there was a lot of additional anxiety on top of the normal anxiety I would have had as a new mom."
Prof Schoeman explains what it was like to be pregnant during a global pandemic. "As the lockdown came, we realised all normal plans were down the drain. There wasn't going to be a maternity shoot or a baby shower," she says.
For her, the most difficult challenge was giving birth alone as partners and family members are not allowed to be in the delivery room according to COVID-19 regulations. "It was my first little one and I think in many cultures it's so normal to have your mom near you, especially if you're a new mother," she says.
Giving birth during a pandemic
Prof Schoeman's baby was born prematurely at 33 weeks and 6 days and weighed 2.475 kg. "After he was born by C-section he was taken away to ICU and the first time I saw him again was the next day, 25 hours later. It was not because he was severely ill – he was premature but he was a strong, big healthy boy – but because of the regulations," she explains.
"The next day I was allowed to breastfeed once or twice but it's very difficult to establish breastfeeding. You have anxiety, you don't have contact with your baby, you don't have the skin-to-skin contact as you would under normal circumstances," she adds. "There were some gems in the nursing staff who were so patient and helpful, especially with breastfeeding. It's still difficult for me – it's much slower than if it had developed naturally from the stimulation and contact."
How can COVID-19 affect a pregnant woman's state of mind?
"We know that it's normal for women to be anxious in pregnancy. There are many new things coming up and you have uncertainties, and there's also the risk for postpartum and postnatal depression," Prof Schoeman explains.
"With the stress of a pandemic and lockdown, the isolation makes you more prone to developing mental health problems because you don't have your normal support structure," she adds. "And in women and healthcare workers who have multiple roles there's an increased risk for pathological anxiety and depression."
Prof Schoeman's advice to anyone experiencing anxiety and depression right now is to know that they are having a "normal reaction to an abnormal situation".
"This past week I have never cried so much in my life. I had to keep on checking in with myself: you're having a normal reaction to an abnormal situation. Because I'm a psychiatrist, you keep scanning yourself for postnatal depression, and what you're really experiencing is that frustration and powerlessness and the fatigue of going up and down to hospital and worrying during the night."
Her advice? "Try to focus on your sense of normality. Speak to your doctors and keep contact if you are at all concerned."
Mental health of mothers diagnosed with COVID-19
Prof Schoeman says mothers experience many different emotions during and after childbirth. "We want to stay healthy and be the best incubator for our little ones. So, when something goes wrong, we can feel very guilty," she says. "With COVID-19, there's the additional unknown factor of my health: What will happen to me? Will I get mild illness or severe illness?"
"It's very important that a mom, whether she tests positive or negative for COVID-19, pre-empts the isolation of physical distancing and put things in place," she advises. "It's important to have a contingency plan: What are my options if my partner or mother can't be there? Luckily, now we have technology. Make sure your phone is charged so you stay in contact with your family and friends even though you're on your own."
"Make sure that you have video-call facilities, that you do have data, and that you have the skills to use it," she adds. "Bear in mind that a large part of our population does not have access to such technology."
Prof Schoeman's advice for new moms
"Treasure every moment and take photographs. Try to maintain contact with your mother and your partner and speak about the uncertainties upfront: how will you manage it? If you don't have technology access, get your significant others to write you letters of encouragement that you can take with you to hospital so you can hear their voice and don't feel so lonely," she says.
"It's not easy to have a premature baby, but we are now safe at home. And I want to tell all mommies out there whether your babies are here or not here yet, stay home and keep yourself and your little one as healthy and safe as possible."
Visit the Discovery COVID-19 information hub for more news and insight on COVID-19.
All medical information found on this website including content, graphics and images, is for educational and informational objectives only. Discovery Health publishes this content to help to protect and empower all South Africans by promoting a better understanding of COVID-19.
Find a healthcare professional near you
Find a doctor or hospital near you online or by using the Discovery app.

Outbreak of the 2019 novel coronavirus
The 2019 novel coronavirus (2019-nCoV) has caused an outbreak of fatal respiratory illness first detected in Wuhan, China. This is a completely new strain with no vaccines available. The best way to prevent infection is to avoid being exposed to this virus.


Novel Coronavirus - wash your hands of the threat
As toddlers, we learnt to wash our hands. But, did we ever master the skill to the extent that is needed to wash pathogens off our hands, and save lives? Multiple studies show people don't wash their hands at the right times, in the right way or for the right amount of time. We contaminate the things and people we touch with the germs we carry on our hands.