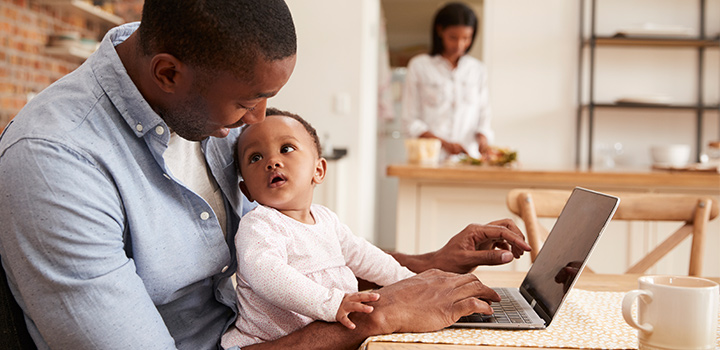 We may be using particular household items more frequently than we normally do. Here we share some tips and pointers for how to best take care of our insured valuables during this stay-at-home period.
Electricity use and power outages
It goes without saying that we're all most likely using a more electricity in our homes throughout the day than we normally do. Phones, tablets, televisions and various other electrically charged items are also being used for entertainment and general connectivity purposes. Kitchen and laundry appliances may be used more frequently too, as are air conditioning units or even heaters.
To save on your bill and general wear and tear, switch off electrical items or appliances that aren't needed or are seldom in use. The geyser, for instance, doesn't need to be on all throughout the day - this can be switched on for family use for just a few hours a day. If you have a geyser blanket, this can also be used to maintain heat for a longer period of time without having to rely on electricity supply.
Increases in electrical usage may from time to time cause interruptions in service. For your valuable items, this can result in a damage. Many smart devices, such as phones, TVs, refrigerators or tablets are built with micro-processors that may turn off but require correct shutdown processes in order to avoid damage. Power spikes or surges can typically cause these failures once supply is restored, so it is best to unplug such items in the event of a power interruption.
Other ways you can protect certain items from power interruption damage include:
Make use of a surge protector. These monitor the flow of electricity that can reach your device or appliance, acting as a buffer between the electrical socket and the item. It can be set up to direct power surges away from the device or appliance, protecting it from potential damage.
An uninterruptible power supply (UPS) functions as a back-up battery system that can provide power to specific items for as little as a few minutes or several hours at a time. If needed, a UPS also allows for an items to safely be powered down in the correct way.
Make use of back-up batteries or solar power, which can work well for electric gates or fencing, security lights and geysers.
Correctly disinfecting regularly used valuables
Some surfaces we're all currently using regularly could include computers, laptops and cellphones. With an increased need to disinfect certain items, how can we best protect insurable items we frequently use without causing them damage?
Computers, smart devices, TVs and cellphones: A lint-free cloth can be lightly moistened with some soap or disinfectant wipes can be safely used for these items. Too much moisture applied to these electronics will cause damage, which can be permanent.
Remember phones should not be submerged in water or other cleaning solutions as this can cause permanent damage to the device. Spray cleaners should not be used directly on the device either. Abrasive cleaning agents such as bleach and alcohol-based disinfectant can be used in place of soap, but may affect the display screen of the device for a short period of time.
While wiping, take care to avoid getting any moisture in the device openings, like the charging port, speaker and camera.
General tips for home maintenance
The stay-at-home period is a good time to check on the overall condition of your home and see if you can spot any overlooked areas that could use a little TLC before they become problematic.
Some things worth checking on can include:
Taps and cisterns around your property which may be leaking
Drains or gutters that may be accumulating leaves or other debris
Walls, the driveway or walkway paving and roof tiles for cracks or damage and damp.
Locks and seals around your property.
The condition of doors and hinges, exhaust fans, stove extractors and gas heaters
Smoke detectors or alarms, fire blankets and extinguishers
Fireplace or wood burners (with a fireguard to prevent sparks from hot embers) and chimneys
Electrical systems and wiring – check on plug sockets and ensure none are overloaded or at risk of overheating (which can happen with plugged-in heaters or electric blankets, and adaptors or extension leads with outdated current ratings)
Tumble dryers – remove lint if this hasn't been done in a while to avoid damage and allow for better ventilation
Discovery Insure at your service during lockdown
As an essential service, Discovery Insure is open during the lockdown period and can provide any assistance that you may need.
"Essential car and home insurance services" include:
Burst water pipes and geysers
Electrical emergencies
Vehicle breakdowns and accidents