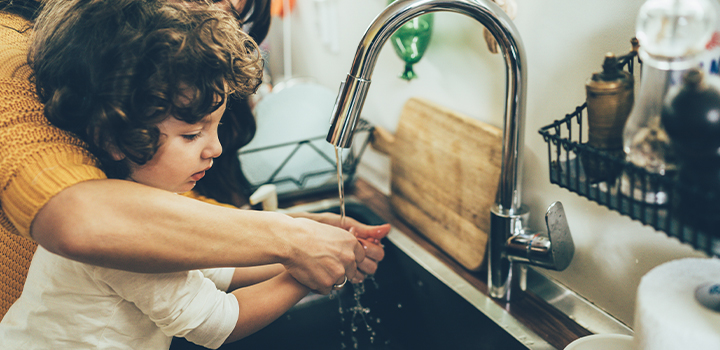 With news of COVID 19 transmission numbers increasing globally by the day, and confirmed cases in South Africa, growing concern is understandable. As medical researchers work towards discovering all there is to know about this new infectious disease, how can the general public best protect themselves in their homes in the meantime?
Clinical researchers are continually gathering information about the COVID 19 outbreak. The details about its origins, how and why it appears to spread so easily and quickly, and how best to treat individuals who fall ill, are still somewhat limited. At this stage, it's not clear when this disease will stop spreading - it could take some time to control completely as more cases emerge around the globe.
Public health authorities have made strong recommendations that err on the side of caution as the best protective measure until more conclusive information becomes known.
"These recommendations are in place in order to achieve the best possible outcomes," explains Discovery Health's Head of the Centre for Clinical Excellence, Dr Noluthando Nematswerani.
"Given what is known and what is yet to be determined, reducing exposure as much as possible is vital. In this way, the number of infections can be slowed down and COVID-19 contained as quickly as possible. If the public understands the importance of their role in this, and implement protective measures in a responsible way, it will help authorities to achieve their goal," she adds.
So, how should we all best respond? We've listed some things to take into consideration as responsible citizens to best protect ourselves, those we love and care for, and the public at large.
Tips for your household
A household plan of action can factor in the following:
Awareness among family members. Make sure all of your family members are aware of COVID-19, understand what it is and how it can impact them if they are exposed. It's important for everyone to stay up to date with any new developments and be well informed about the signs and symptoms, and preventive practices. Everyday preventive practices must be well understood and practiced by everyone, both at home and everywhere else.
Take note of all risk factors as laid out by healthcare authorities. Is anyone in your household potentially at greater risk of falling ill if exposed to the 2019 coronavirus? The elderly, those with pre-existing medical conditions as well as anyone with compromised immune systems have been identified as potentially at greater risk of severe complications, including respiratory difficulties and organ damage.
"If you or a family member in your household falls within a higher risk category, it's best to keep up to date with any authoritative information that is publicly released, as well as to consult your healthcare provider for guidance on how to best protect yourselves, especially if there have been any confirmed cases within your immediate area," says Dr Nematswerani.
Plan for any emergency needs with all members of your household and neighbours. Ensure that everyone within your immediate circle – family and any neighbours you trust to assist if needed – are well informed about what to do if you or another person in your area require medical assistance.
Prepare a list of telephone numbers to call as and when needed:
Healthcare providers (like your GP)
Emergency contacts, such as the dedicated COVID-19 hotline in South Africa (08 000 29999)
Family members and neighbours
Employers
Teachers, and so on.
If your neighbourhood has a WhatsApp or social media group where important information can be shared among neighbourhood members, it may be a good idea to join.
Prepare a room in your home you can use for self-isolation. If anyone in your household develops symptoms associated with COVID-19, it is a good idea to ensure that there is a clean and separate environment for them to isolate themselves in for safe recovery.
"A separate bedroom and bathroom are important for this purpose," advises Dr Nematswerani.
Discovery Vitality follows local and global guidelines on COVID 19 developed by the National Institute for Communicable Diseases and the World Health Organization. We are not in a position to advise our members on exercising at the gym; only that in general you shouldn't be exercising if you have a fever or suffer from a respiratory illness. Please contact your gym to find out what measures they have in place to prevent the spread of COVID 19. Read more here.
Find a healthcare professional near you
Find a doctor or hospital near you online or by using the Discovery app.

Outbreak of the 2019 novel coronavirus
The 2019 novel coronavirus (2019-nCoV) has caused an outbreak of fatal respiratory illness first detected in Wuhan, China. This is a completely new strain with no vaccines available. The best way to prevent infection is to avoid being exposed to this virus.


Novel Coronavirus - wash your hands of the threat
As toddlers, we learnt to wash our hands. But, did we ever master the skill to the extent that is needed to wash pathogens off our hands, and save lives? Multiple studies show people don't wash their hands at the right times, in the right way or for the right amount of time. We contaminate the things and people we touch with the germs we carry on our hands.