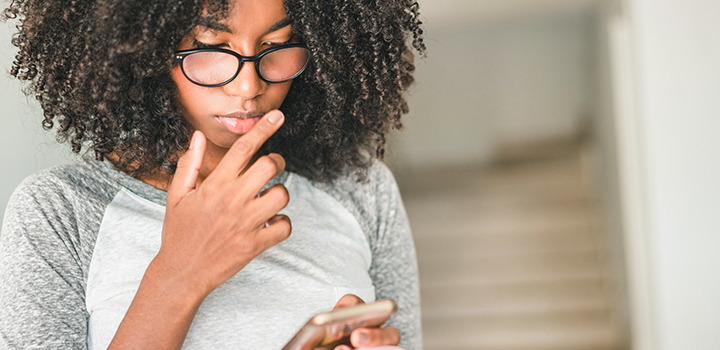 Avoid close contact. Don't go to your doctor's rooms. So what are your options? Globally, people have been slow to take up consulting doctor using digital and social platforms. But, with COVID-19 now in 100s of countries, the number of people spending time with doctors through screens is increasing just as fast.
Listen to Azania Mosaka chat to 33-year old Matshepo Matlejoane about how a free COVID-19 online doctor consultation guided her when she developed symptoms of COVID-19. Azania also explores Discovery's partnership with Vodacom to bring all South Africans have access to free COVID-19 online doctor consultations, with Ana Endres, Head of Discovery Healthcare Services and GP, Dr Sudeshan Govender.
DID YOU KNOW THAT This podcast is one of many podcasts in the "Discover Healthier" podcast series? (If you want to see this podcast interview on the podcast page, go to the Discover Healthier series and scroll down to Episode 8, Part 2. The podcast series is also available on popular podcast players like Spotify and others). Start listening now:
By the beginning of April, the number of COVID-19 infections had exceeded a million and the number increases daily. So are the number of people using telemedicine technology. With good reason.
Using your computer or smartphone to see a medical professional is not new. Virtual consultations and treatment have been available in most healthcare systems and through medical schemes, including Discovery Health Medical Scheme, for some years. But, given the traditional preference for face-to-face consultations between doctor and patient, virtual consultations and remote care were mainly for the future, for tech-savvy generations.
This view is changing fast as the world responds to COVID-19. Dr Peter Antall, the chief medical officer for AmWell, was quoted saying "telehealth is being rediscovered" as health systems are racing to adapt and even develop virtual services that can serve as their front line for patients. (Doctors and patients turn to telemedicine in the coronavirus outbreak).
Virtual care is the first line of defence
Technology-based consultations and remote contact with patients through virtual platforms are fast becoming the norm. As people connect virtually, healthcare professionals manage overcrowding of consultation rooms, ensure appropriate referral for care, and help prevent the highly infectious COVID-19 virus from spreading. More importantly, virtual care keeps the worried calm, and those who need immediate care are prioritised.
"In South Africa, we're raising awareness and taking appropriate precautions to help to minimise the spread of COVID-19. We must continue to do everything possible to minimise the chance of uncontrolled spread.
Applying learnings from around the world in managing COVID-19, show access to and using telemedicine and virtual consultations are of critical importance. It has been an effective healthcare tool to ensure appropriate care while making sure infection rates are controlled by avoiding direct contact with others," says Dr Noluthando Nematswerani, Discovery Health's Head of the Centre for Clinical Excellence.
The power of social distancing, part of which is offering virtual healthcare, has been invaluable in the success of China and South Korea in containing COVID-19. Promoting virtual consultations prevents medical facilities from becoming overcrowded with people, possibly spreading infection to others. Doctors from around the world agree with this approach and are praising telemedicine technology for helping to successfully manage COVID-19.
Virtual consultations through DrConnect: reaching more people virtually
Since 2017 Discovery Health Medical Scheme has had a virtual consultation platform called DrConnect. This digital platform, supported by artificial intelligence (AI) machine learning, gives members of the Scheme access to virtual consultations with healthcare providers they have visited in the past 12 months. Through the Discovery app, this platform also offers free trusted medical information from a worldwide network of doctors.
"It's natural that people may be concerned and would want to see a medical professional. Your first choice when any signs or symptoms of COVID-19 are present, should be to stay away from others. Contact your doctor, either telephonically or through virtual consultation channel, like DrConnect (that's available through Discovery Health Medical Scheme). Accessing virtual consultations, especially now as a measure to contain COVID-19, ensures that people receive the correct care and that we protect the health of others," says Dr Nematswerani.
In response to COVID-19 infections in South Africa, Discovery Health Medical Scheme has a benefit to support the diagnosis and treatment of the illness. Going forward, Discovery Health is looking at opening a basic version of DrConnect to a broader segment of healthcare professionals and people. Commenting on this, Dr Nematswerani says, "With more people having access to and using virtual consultations, we can employ this as another method to contain the spread as well as minimise the accompanying health and other environmental effects of COVID-19."
Telehealth platforms are helping experts and medical professionals around the world to map cases and to distribute messages of prevention and appropriate care. Through effective prevention and encouraging virtual care, we can contain COVID-19.
All medical information found on this website including content, graphics and images, is for educational and informational objectives only. Discovery Health publishes this content to help to protect and empower all South Africans by promoting a better understanding of COVID-19.
Find a healthcare professional near you
Find a doctor or hospital near you online or by using the Discovery app.

Outbreak of the 2019 novel coronavirus
The 2019 novel coronavirus (2019-nCoV) has caused an outbreak of fatal respiratory illness first detected in Wuhan, China. This is a completely new strain with no vaccines available. The best way to prevent infection is to avoid being exposed to this virus.


Novel Coronavirus - wash your hands of the threat
As toddlers, we learnt to wash our hands. But, did we ever master the skill to the extent that is needed to wash pathogens off our hands, and save lives? Multiple studies show people don't wash their hands at the right times, in the right way or for the right amount of time. We contaminate the things and people we touch with the germs we carry on our hands.