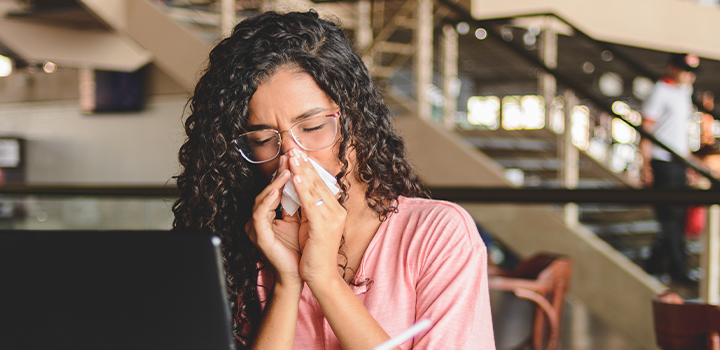 What's novel coronavirus 2019 and how does it compare to flu? We're a month away from flu season, and with the novel coronavirus 2019 on everyone's mind, here's what you need to know about the virus that causes respiratory illness, and the influenza virus that causes flu.
Coronavirus 2019 and influenza - what you need to know
"Every South African has a fundamental role to play in curbing the spread of novel coronavirus 2019," says Dr Noluthando Nematswerani, Discovery Health's Head of the Centre for Clinical Excellence. "We all have the power to protect ourselves and each other against infection. We must, as a nation, focus on one approach that is prevention.
Why? "Novel coronavirus 2019 has spread at an unprecedented rate resulting in many cases of mild disease with a small percentage of severe disease that has resulted in deaths. At the same time, we're a month away from the start of this year's influenza season. So South Africans should use this opportunity to vaccinate against influenza to prevent a double viral shockwave this year," explains Dr Nematswerani.
What is novel coronavirus 2019 and how does it compare to flu?
Novel coronavirus 2019 (that causes COVID-19) was first detected in Wuhan, China, and is the virus identified as the cause of an outbreak of respiratory illness. Between late December 2019 and the end of February 2020, almost 76 000 people worldwide contracted novel coronavirus 2019, with almost 3000 people dying from COVID-19, which in its most serious form, can be a fatal respiratory illness.
"While these figures are worrying," says Dr Nematswerani. "We shouldn't forget about the effect of the flu virus, considering that up to 650 000 people die of respiratory disease caused by the flu virus each year."
"Your yearly flu vaccination is more important than ever before"
Dr Nematswerani puts the figures into perspective. "Severe illness and deaths due to influenza infection can be prevented," she adds. "Both influenza and COVID-19 are viral illnesses so basic prevention methods are similar, and very simple and cost-effective to implement, these include thorough and regular handwashing. For starters, it's more important than ever that people have their 2020 flu vaccine at the start of the flu season, or as soon as possible thereafter." The flu vaccine is expected to be available in South Africa at the end of March or latest early in April.
Antibiotics do not cure viruses
"It's critical that we all understand that antibiotics do not work against novel coronavirus 2019 or the flu virus," Dr Nematswerani concludes. "They only work on bacterial infections, so antibiotics should not be used as a means of prevention or treatment in the case of these illnesses."
For more insight into flu, antibiotics and surviving a superbug, listen to the two podcasts:
All medical information found on this website including content, graphics and images, is for educational and informational objectives only. Discovery Health publishes this content to help to protect and empower all South Africans by promoting a better understanding of COVID-19.

Outbreak of the 2019 novel coronavirus
The 2019 novel coronavirus (2019-nCoV) has caused an outbreak of fatal respiratory illness first detected in Wuhan, China. This is a completely new strain with no vaccines available. The best way to prevent infection is to avoid being exposed to this virus.


Feeling the flu? Why and when to taper back on training
Feeling under the weather? There's a reason doctors always prescribe rest when you're ill. Here's how to be mindful of your body's needs, plus an easy way to earn 1 000 Vitality points for keeping the flu at bay with a flu vaccination.