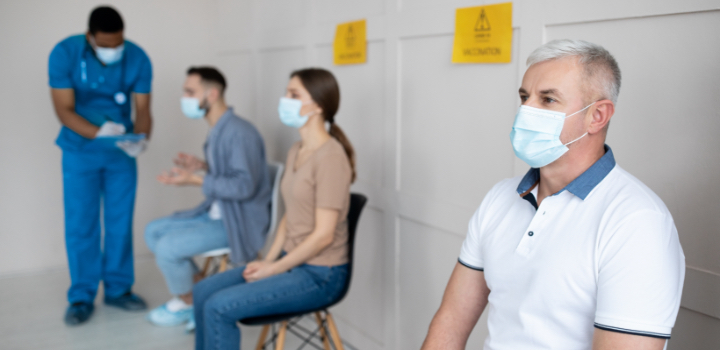 The first positive case of COVID-19 in South Africa was confirmed in March 2020. The disease is caused by the severe acute respiratory syndrome coronavirus 2 (SARS-CoV-2) and different variants have been identified worldwide. Learn what some are and how vaccination helps.
The four SARS-CoV-2 variants that have been classified as variants of concern around the world are Alpha, Beta, Gamma, and Delta. The Beta variant was discovered in South Africa in September 2020, while the Delta variant is driving the country's third wave, and is responsible for infection surges across various countries.
What are variants and how are they formed?
Viruses can change form (mutate) when they multiply. A changed virus is called a variant of the original virus. Variants can differ by one mutation or many. "Variants only emerge when a virus is allowed to copy itself: the process of multiplication can create errors - and these 'mistakes' are what creates variants," says Dr Noluthando Nematswerani, Head of the Discovery Health Centre for Clinical Excellence.
"Variants will not emerge if the virus does not pass from person to person, so the more vaccinated people in a population, the safer it is for everyone."
What is a variant of concern?
A variant of concern is one that has been shown to:
Spread easily
Cause more severe disease (evidenced by increased hospitalisations or deaths)
Evade the immunity generated during a previous infection or vaccination
Reduce the effectiveness of treatments or vaccines
Potentially be more difficult to pick up from tests.
How do vaccines slow the spread of the COVID-19 virus?
Vaccines work by training your immune system to recognise and fight viruses or bacteria. Everybody should be vaccinated, including people who have already had COVID-19. However, if you've been infected, wait at least for 30 days after you've recovered to get vaccinated. If you have any health problems or allergies, speak with your doctor or nurse before getting a jab.
Do your part - get vaccinated to protect yourself and others!
Remember, when a high percentage of a community is vaccinated, it is difficult for the disease to spread. And the more people are vaccinated, the less the chances that variants emerge. COVID-19 vaccines protect us against infections and the spread of the virus to others - so if you haven't yet, register or book your slot today!
Anyone can use Discovery's COVID-19 Vaccination Navigator
Remember, Discovery's COVID-19 Vaccination Navigator is here to guide and support you on your vaccination journey. After you register on the national Electronic Vaccination Data System (EVDS), use our navigator to book for your vaccination at a Discovery-managed site near you. Learn more about COVID-19 and vaccines here, and join the millions of South Africans who can proudly say, #IGotMyVaccine.
All medical information found on this website including content, graphics and images, is for education and information objectives only. Discovery publishes content to help to promote a better understand of COVID-19 and COVID-19 vaccinations. The content covered is an overview of key concepts and is not exhaustive in nature. We encourage further reading from other credible sources where necessary.
South African organisations:
International Organisations: