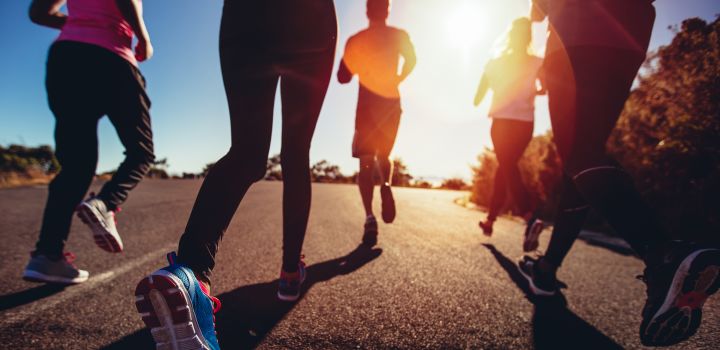 "Using a fitness device helps me track my fitness progress." - Mishqah Parthiephal
Most of your fitness results are determined by the intensity of your pulse rate which indicates your heart's intensity in pumping oxygen to your muscles. Whether you walk, run, play a sport or you're dedicated to the gym - knowing the performance of your heart rate is the quickest way to track your improvement.
Vitality Active Rewards Device Booster forms part of our new range of fitness boosters exclusive to Vitality members. By activating the benefit, you will get up to 75% cash back on a heart rate fitness device from Sportsmans Warehouse or Totalsports.
Not sure how a heart rate fitness device would work for you?
Vitality caught up with Mishqah Parthiephal from the hit movie, 'Keeping up with the Kandasamys' on her experience using her Fitbit Charge 2 while exercising.
Mishqah's hectic travelling schedule means that finding time to go to the gym is not always easy, so her go-to fitness workout is hiking. "Any chance I get while traveling, I try to find an awesome hiking spot. It's a workout, some downtime and relaxation all rolled into one. I'm actually much fitter than I thought I was!".
Mishqah's experience of monitoring her heart rate intensity, while doing simple activities such as walking, has made her more in-tune with how her body is constantly working.
"When I got the device, it was like I had a new toy! I thought that fitness devices had to be worn only when working out. I didn't know that you could sleep while wearing the device so that it can monitor your sleeping pattern."
For Mishqah, a heart rate fitness device is a way of competing against her own limits and exceeding them. "I see it as a mental game. I push myself harder and harder just so I can better my times and goals. It's so interesting to see your body strengthen and change for the better."
Activate Device Booster
Whether you're a seasoned athlete or starting your journey towards a fitness lifestyle, Device Booster is perfect for you to get active in a variety of ways. Plus we will help you fund your device.
Give your fitness a boost with a new suite of Vitality Active Rewards Fitness Boosters
Get cash back on a new road or mountain bike, a heart-rate fitness device or a pair of running shoes with Vitality Active Rewards by activating one of these Vitality Active Rewards booster benefits: Bike Booster, Device Booster or Shoe Booster.