Gonam Naidoo, 67, has been a gym fanatic for two decades, and she says the effect of exercise on her arthritis has been profound.
"I've been a Vitality member from the days of the Health and Racquet Club that preceded Virgin Active," says Mrs Gonam Naidoo from Reservoir Hills in Durban.
"I have always been quite health conscious, but I developed rheumatoid arthritis and osteoarthritis a while back and I have found my gym benefit has really helped me," she says.
Initially prescribed a number of medication options, including anti-inflammatories, she signed up for water aerobics and learning to swim in her late 50s. "I also do the yoga and Pilates classes regularly. That is a treat for me, even if it is a 06:45 class, I enjoy doing it by myself."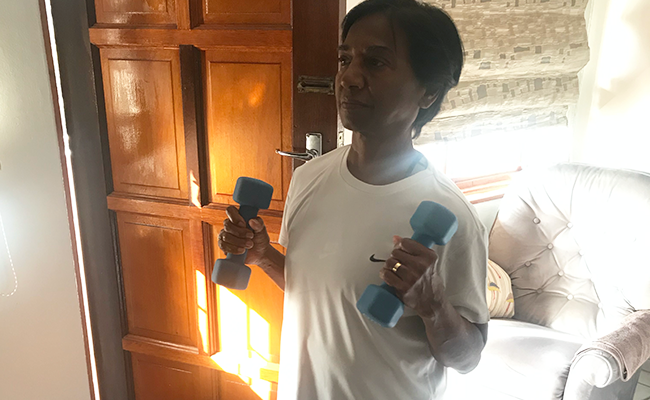 Vitality 65+ member, Gonam Naidoo, uses exercise to help with her arthritis. A gym fan, she has been working out at home during lockdown.
During the COVID-19 pandemic, she has moved her classes online with the Vitality-at-Home programme that offers yoga and other fitness classes. "Otherwise, we have a beautiful promenade and we walk at the beach on the weekends."
In spite of her underlying conditions of diabetes and hypertension, Gonam believes she is managing her health well and has reduced the amount of medication she has to take. "I am on a mild, natural product and I haven't taken anti-inflammatories for two years," she says.
Making the best of her screening benefits
"I am very particular about my health. I do all my health checks regularly, as well as mammograms, bone density checks and the Vitality Health Check. It does keep my points going so we get to Diamond status quite early in the year. But I always believe anything detected early rather than ignoring it is important," she says.
She also maintains a moderate and balanced diet, and doesn't shy away from the occasional cheat day. "I use my HealthyFood benefits with Pick n Pay. I also make sure I have a green juice every day," she adds.
The rewards for her Diamond status also include cheaper airfares for local travel that she uses to visit her sister in Pretoria.
But she says that the health benefits are her biggest motivator. "I encourage anyone, especially the ladies at gym. We get time together in the sauna and I always encourage them to join me for classes. Once you get into the groove of it, it really is a lot of fun."
Don't just live. Live it up with Vitality 65+. Find out more.
Not a Vitality member? Join today and get rewarded for staying healthy.
Call us on 0860 000 628 or leave your details and we will call you back. You can also log in to activate Vitality yourself.