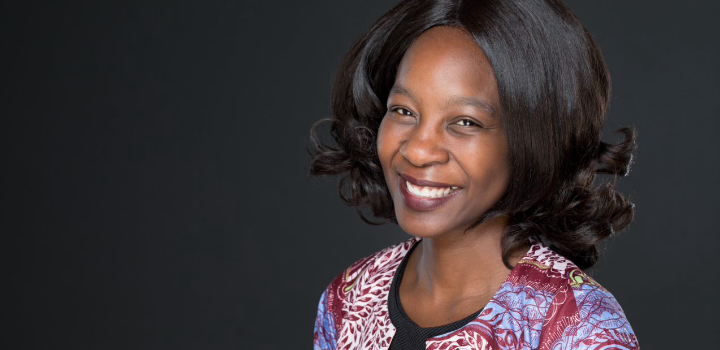 Professor Salome Maswime shares the profound sense of relief and hope being vaccinated against COVID-19 brought to her and her parents. And, she reminds us that our elderly loved ones, and those in our communities need our help to access their vaccines.
Listen to Professor Salome Maswime's top reasons for getting the COVID-19 vaccine:
Salome Maswime is an Associate Professor and the Head of Global Surgery at the University of Cape Town, an obstetrician and gynaecologist, a World Economic Forum Young Scientist, and the president of the South African Clinician Scientists' Society.
-In 2018, she received the prestigious Discovery Foundation MGH Fellowship Award to further her training and studies at the Massachusetts General Hospital Center for Global Health in Boston, United States.
"Get vaccinated"
Named one of South Africa's most powerful women by the Mail & Guardian, Professor Maswime is a brilliant young scientist with a clear message for all of us: "Get vaccinated."
"These are people we love and respect that play an important role in our lives"
"I'd really like to encourage everyone to get vaccinated," Prof Maswime says. "At this point the vaccine is our biggest source of hope. It's one of the main ways in which we can reduce the impact of the virus. It's important that we get vaccinated."
"It doesn't matter what you do or where you work," she adds, "We've seen the loss of lives and we don't want more people to die. We want to get to a point where life can go back to normal - if many of us are vaccinated, we can get a new sense of normal."
She encourages all of us to help our elderly loved ones get the vaccine. "The elderly are not just numbers. These are our parents and our grandparents. These are people we love and respect that play an important role in our lives," she says.
"My parents were vaccinated in mid-May and it gave me a deep sense of hope and joy to know that at least I don't have to be as worried and afraid that something serious could happen to them should they contract COVID-19 going forward."
"Getting vaccinated gave me a sense of hope"
"I had my vaccine at the beginning of May 2021 and it was an exciting moment to be part of the first group of people in the country that had the vaccine," says Prof Maswime.
"The vaccine provides a level of safety. During the second wave people we know were dying on a daily basis. I think everyone lived with that fear, what if I'm next? If I get sick what will happen to me? Getting vaccinated gave me a sense of hope that even if I get the virus, I have a certain level of resistance against it."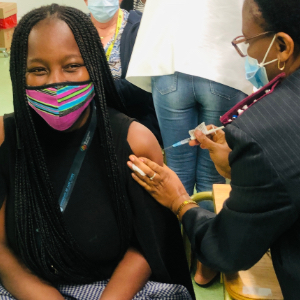 "The pandemic has changed the way I do my work completely"
Prof Maswime reflects on the impact the pandemic has had on her career and her personal life.
"On a professional level, the pandemic has changed the way I do my work completely. Before the pandemic I used to travel a lot, I was invited to speak in various countries. When the pandemic started all my international meetings were cancelled," she says.
"My work is centred around research and health system strengthening, so I can do a lot of it without having to leave the house," she explains. "Doing talks and having meetings virtually has given me more time with my family."
"Personally, I'm a mother and a wife, and in the beginning, helping my children with home-schooling while trying to do my own work was a huge struggle and shift," she says. "I have also lost some family members during this time."
How does she cope with the pressures of the pandemic?
"It's been interesting to see the world uniting against one disease," Prof Maswime says. "It's been encouraging and motivating to see us all working together to stop this disease from spreading further."