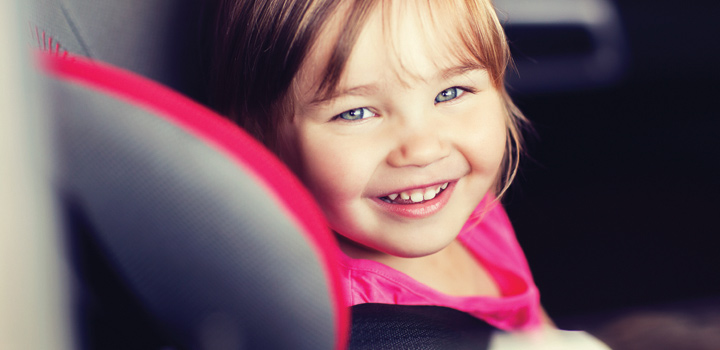 Discovery Insure is excited to announce its partnership with child car seat expert Peggie Mars of NGO Wheel Well, to raise awareness of the critical difference that an appropriate and correctly installed car seat makes in keeping a little one safe on the road.
The May 2017 World Health Organisation fact sheet on Road traffic injuries advises that, correctly installed and used, child restraints reduce deaths among infants by approximately 70% and deaths among small children by between 54% and 80%.
Wheel Well and the Car Seats for Kids campaign
In 2013 the Child Advanced Safety Project for European Roads did research into motor vehicle accidents where children were killed as passengers in cars. It was found that two thirds of children who died were either not restrained, inappropriately restrained (such as with a seatbelt in place of a car seat) or restrained but in a car seat that was misused, or incorrectly installed.
"Clearly, car seats are designed to keep children safe during a crash. See yours as insurance you take out in the interest of your child's safety," says Peggie Mars, child car safety expert and founder of NGO, Wheel Well. "It's vitally important that an appropriate and correctly installed child car seat is used when children travel on our roads."
CEO of Discovery Insure, Anton Ossip, applauds Peggie for her tireless work to ensure the safety of children. "Discovery Insure's ongoing focus is on making South Africa's roads safer, aligned with Discovery's core purpose of making people healthier and enhancing and protecting their lives. We are proud to join forces with Peggie to continue our efforts to educate society to the harsh reality of the impact of motor vehicle accidents - in this case, on unrestrained children, travelling in a car."
Mars, a teacher by profession, exudes warmth and compassion. She's the sort of person who vividly experiences life, lending her an extraordinary level of empathy. "I have always been the odd one out," she says, playing with a long, double string of scarlet beads hanging from her neck. "I've never blended into the crowd." Mars loves animated films - Cars in particular. Is it any surprise that the NGO she founded and runs (with her operations team, from a store at Johannesburg's Brightwater Commons) is called Wheel Well. She explains: "Wheel Well is the name of the motel in Cars visited by Lightening McQueen and his little Porsche 911 love interest, Sally Carrera."
Running Wheel Well has allowed Mars to turn the devastating loss of her baby daughter into a life-giving force, so saving other children who face danger. "Jessica died aged one year, one month and one week and would have been 24 years old in 2016. I am still not over that," says Mars. Jessica drowned when Mars was seven months pregnant with her third child - Theresa (who is today very involved in the running of Wheel Well). Peggie's first daughter, Catherine, was three-years-old at the time. "When you lose a child, you also lose innocence you had before their death, a feeling that everything is going to be fine and that you're bullet proof," she explains. Mars has channelled the pain of knowing what it means to lose a child into Wheel Well, to fight for awareness of child safety on the road and ensure that other parents don't go through the same pain she has.
Wheel Well, the only NGO and non-profit organisation that focuses exclusively on road safety for children in South Africa - through its Car Seats for Kids campaign - has, since inception in 2012, handed out 6700 second-hand child seats at a reduced cost. "We understand that car seats are an expensive necessity and that not everybody can afford to purchase a car seat new. We ask for a donation that a person can afford," explains Mars. "The value in a car seat is not in the market value, but rather the priceless value of keeping a child safe." Wheel Well takes in donated car seats, puts them through a thorough check for safety, expertly cleans and services them. "Seats that do not meet our high standards are sent for recycling," says Mars. She recalls a man from a poor community called Joseph: "He came to us in his old Citi Golf, and left with a child car seat that he paid for with the coins in his pocket. After that he saved up money to come and get child seats for other people in his community. Every parent also gets a complete Car Seat 101 lesson on how to use and install the seat." Wheel Well survives thanks to ongoing fundraising.
"Are you, as a parent, willing to prioritise your child's safety?" asks spokesperson for the AA, Layton Beard. He adds: "We encourage people who have car seats, and no longer need them to make them available to other people. Our research shows that less than 7% of people are using them - which is extremely low. It's both a question of ignorance and poor attitude to safety. Even if you are an excellent driver, someone else may crash into you, a tire on a car next to you could burst, someone else can be intoxicated or their brakes can fail, and your child could bear the brunt of the consequences."
8 out of 10 child car seats are not installed correctly
Rene Grobler, Trauma Programme Manager at the Netcare Milpark Hospital has worked closely with Mars. "I wish there were more people like Peggie. Like her, I am very passionate about injury prevention and any platform to promote awareness. When it comes to child car seats, parents think, it won't happen to me, I am just going three blocks down to the crèche or popping off to the local store, so why should I strap the kids in?". Grobler developed Netcare's National Trauma Injury Prevention Programme. "We look at crash dynamics - the best way to position yourself in a vehicle to respond to a crash. While it's excellent to have a child in a car seat it must be age-appropriate and ideally rear-facing as this prevents 92% of severe injuries linked to crash dynamics (how a baby's body moves in a car)."
"Unfortunately, the norm is that children are not strapped in," says Paramedic and Head of Clinical Leadership at Netcare 911, David Stanton. "Any paramedic will tell you that if a child is in a car seat they generally do not get hurt. Even where cars have crumpled, we may well find a smiling baby in a baby seat. A child car seat is life and death thing." Stanton knows that an unrestrained child will either collide with an adult and result in bad damage to both or collide with the interior of the car. "We have been to a number of scenes where they go straight through the windscreen and almost never survive."
"On average 8 children die on our roads every single day and this makes road deaths the leading external cause of death for our children through all ages," says Mars. "At Wheel Well, we have found that 8 out of 10 car seats we have checked were not installed correctly," says Peggie. "Car seats are designed to keep your child safely within the vehicle and help them "ride down" the forces of the crash. A badly installed car seat will become a projectile along with your child, in the event of an accident." Mars' top advice to parents: Buy the best car seat you can afford and use it correctly every time you are in the vehicle.
"We are very alarmed at the high death rates of children on our roads," says Ossip. "Our partnership will see us run several awareness programmes aimed at educating society about of child safety in vehicles. We further encourage our members to donate child car seats that they no longer require to Wheel Well," he adds. "We look forward to the fruit of this new partnership, one that strengthens Discovery Insure's ongoing efforts to make our roads safer for all South Africans - our children in particular."
The secret to staying safe on the road
Motor accidents are one of the leading causes of death in our country. Although you can't control other road users, you can control how you anticipate, identify and avoid hazards on the road.
Road skills 101: Why and how to change a tyre
Given that the only contact between you and the road when driving are the postcard-sized surfaces of your tyres, their importance can't be understated. Here's a look at how to maintain and change your tyres.