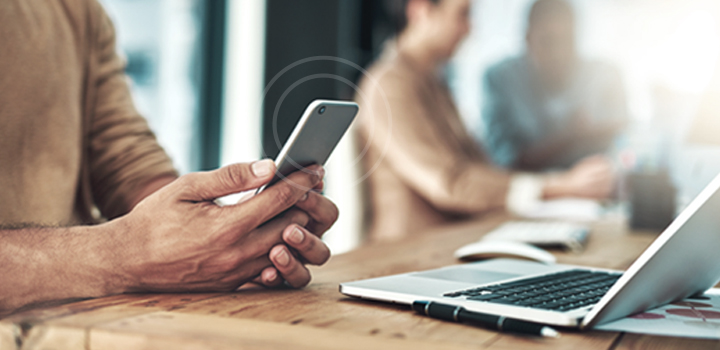 In his opinion, Dr Sudeshan Govender, a General Practitioner in Tongaat, KwaZulu-Natal, believes the digital revolution will improve healthcare for both patients and healthcare practitioners
No time to stop by a clinic or doctor? Trusted help is just a tap away
Admin and traffic are a pain – and both are made worse when you have a medical niggle and aren't sure whether or not it's worth a trip to your GP. Get peace of mind fast through a virtual consultation and other easy-to-use digital tools on the Discovery app.
Virtual, 24/7 doctor consultations sound like a thing of the future, but with Discovery Health's digital tools, the future has arrived early in South Africa. Did you know that you can do everything below, quickly and easily on your smartphone?
View your medical aid membership card
Manage your health plan
Find a doctor close to you
Order medicine online
Submit your claims simply by uploading a photo
Connect with your doctors through a follow-up virtual consultation
Find a wealth of valuable, trusted resources on caring for your new child through the My Pregnancy and My Baby apps.
How to use your smartphone to connect and consult
Once you've downloaded the Discovery app to your smartphone, you can find a network GP that is close to you and give your doctor consent to view your health record. The process is safe and secure – only these doctors can access your history and medical details. Your health record is necessary to help them make a more accurate diagnosis and to provide you with the best quality care. You can have a follow-up virtual consultation with this GP. Your virtual consultation can happen by video, voice message or text message – whichever is most convenient for you.
You can also use the app to order your medicine online. Ask Discovery is another service that saves you a call. Any questions you have about your medical cover will be answered right away. All this, any time of the day, from the convenience of your home or office.
Can you trust an 'online' doctor?
If you have ever turned to Google for medical advice, you know how confusing the answers can sometimes be. The Discovery app gives you access to DrConnect which provides online trusted medical advice from over 105 000 doctors. Besides facilitating virtual follow-up consultations with participating doctors who you have seen in the past 12 months,
Ask a doctor, which gives you personalised answers to your medical questions from a doctor, at no extra cost.
A library that holds over 5 billion answers from doctors.
Health goals with doctor-created tips and checklists to help you meet health goals and manage any chronic conditions.
Virtual consultations are becoming increasingly popular in first-world countries, especially in the place of follow-up consultations for monitoring a condition your GP initially saw you for in person. Virtual consultations are simple to access and available from any place at any time. So, next time you have the sniffles or just want to check something with your doctor, embrace the future and give a follow-up virtual consultation a try!
Get extensive cover for chronic conditions
Suffering from a chronic health condition like asthma or bronchiectasis? Discovery Health Medical Scheme members living with a chronic illness get the best care at all times through our suite of quality care programmes.
The Chronic Illness Benefit covers you for a defined list of chronic conditions. You need to apply to have your medicine covered for your chronic condition. You can then get full cover for approved chronic medicine on our medicine list.
Using technology to manage your health
Life is easier, you have choices that are best suited for you, you save costs and valuable time. These benefits of technology are now also changing healthcare and how you interact with doctors – and it is all available on your smartphone with Discovery Health's Smart Series.
Changing South Africa for the better: turning rural youth into talented doctors
For almost two decades, the Umthombo Youth Development Foundation (UYDF) has given bursaries to rural youth to study medicine or health sciences. Once destined to herd cattle or work on the mines, these graduates come home uplifting communities served by the local hospitals and propelling economic growth. Is this replicable, scalable model a solution to transforming communities while providing quality healthcare services?