Our goal is a workplace culture where our people are valued and developed, and where ethics consciously inform decision making

Building a strong and healthy organisation is a vital part of Discovery's ambition to be a force for social good. Healthy companies are a combination of their philosophy, strategy, systems and culture. While these are often more abstract concepts and goals than personal wellbeing, we believe they are no less critical and require conscious investment. We are working to build a culture that is inclusive and accountable, where our people are valued and developed, and where ethics consciously inform decision making.
The deep work of transformation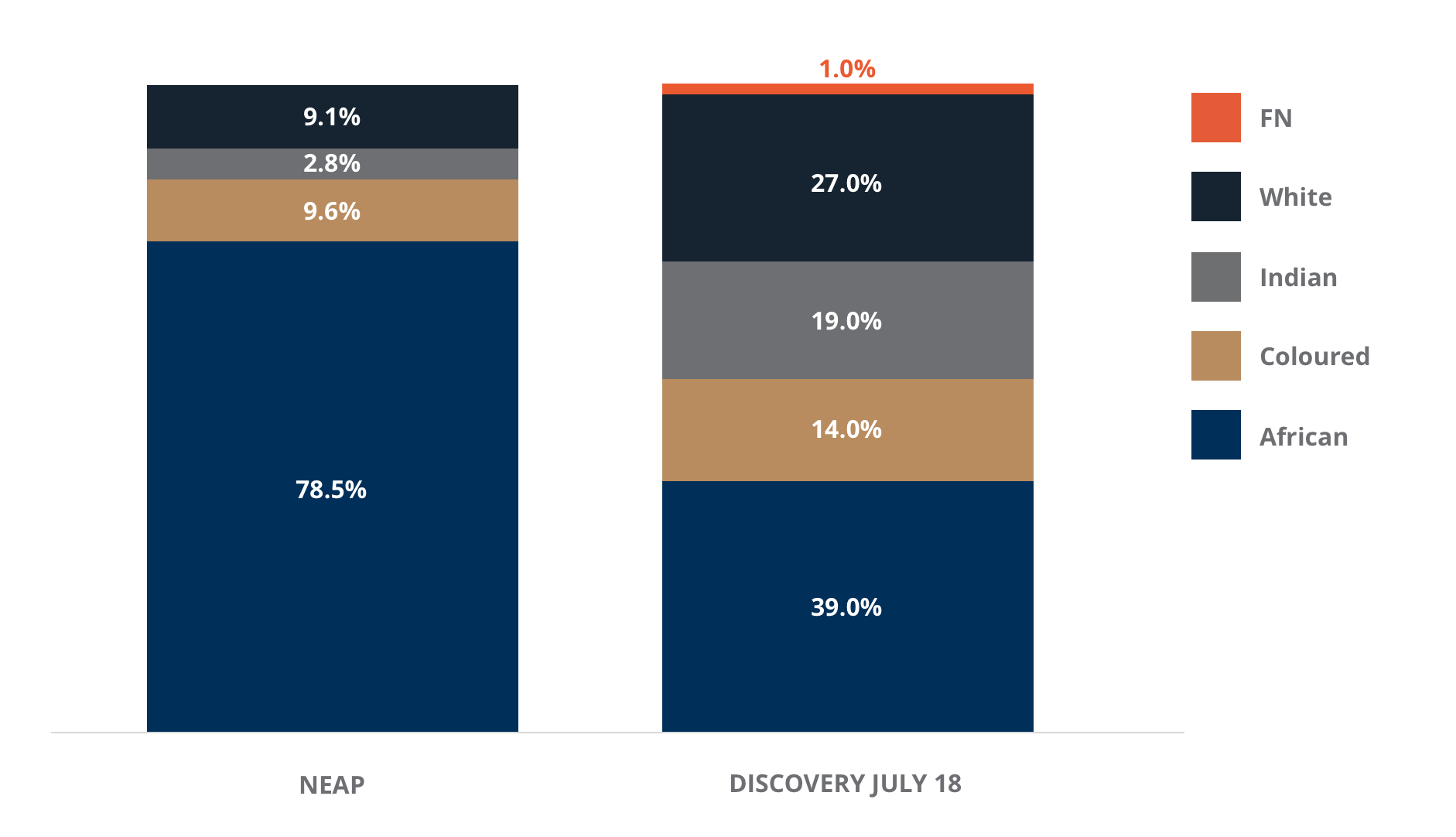 In South Africa, a top priority for Discovery is hiring, retaining and promoting black South Africans and particularly people defined in the Employment Equity Act as 'African'. This is to ensure that our employee profile better reflects South Africa's economically active population and also to ensure that we have the best people working in Discovery.
Discovery has been looking closely at issues around workplace culture and the recruitment process. The move into 1 Discovery Place, with its open plan design and encouragement of shared spaces, has been another important step to building a collaborative and inclusive culture. Achieving our transformation goals requires practical strategies to build a welcoming and nurturing workplace culture along with raising managers' awareness about the opportunities in promoting diversity and inclusion and the risks of unconscious bias.
Improvements in recruitment practices, including targeted selection, the use of psychometric assessments and dedicated training for managers and recruitment specialists are promoting the number of African managers being recruited as a proportion of all managers being recruited. At General and Deputy General Manager level the percentage increased from 9.5% in 2017 to 20% in 2018.
Using employee networks offers Discovery an opportunity to source exceptional talent through networking. This is particularly useful given the increased focus on identifying African candidates to participate in Actuarial and IT graduate programmes.
Our challenges form part of an ongoing company dialogue. Discovery recognises the urgency in achieving a more accurate gender balance in our workplace, particularly in senior leadership positions across all our businesses. The #MeToo and #TimesUp movements have served to highlight some of the most stubborn problems which persist in workplaces across the world, including gender pay differentials, lax management around workplace harassment and a dearth of women in senior management and on boards. At present 49% of senior management and 15% of the Discovery Board are women. Vitality UK also reported on its gender pay gap in 2018 for the first time, making the results public results at this link.

Growing the next generation of outstanding leaders
We are encouraging a culture of self-driven
learning and lifelong engagement
Discovery is committed to growing generations of distinctive and outstanding leaders. To realise this, we are shaping a culture of selfdriven learning and lifelong engagement with our employees. Through critical talent and group-wide programmes aimed at developing leaders at all levels of the business, we give particular focus to creating an environment that is both diverse and inclusive of dynamic backgrounds, invites cross-functional collaboration and leverages innovative platforms driven by our shared-value model.
At the core of accelerated learning journeys, employees are accountable for their own development. They are encouraged to take joint responsibility with their teams and managers. By taking active responsibility for their professional development, our employees can take up the opportunities offered by Discovery to adapt to a rapidly changing world, and prepare themselves for future skills. 860 of our employees completed a leadership development course during the year, and on average each of our employees received 27 hours of training.
Two areas of focus in leadership development in 2018 have been micro-learning and the development of 'EQ' or emotional intelligence skills. Micro-learning allows employees to pause their work for short, highly focused learning or training interventions. These might be 90-minute 'Master Classes' on particular topics or digital learning. Sharpening EQ skills ensures that we have balanced and holistic leaders, who are not only above average in their skills and intelligence, but capable of navigating the social and emotional complexity often demanded of leaders.
In 2017, we committed to launching a Discovery Leadership Index to support our ambition of growing leaders for Discovery and beyond. The Leadership Index is currently underway, with six months of benchmarking now complete. Discussions are being held at ExCo level on how to define fair and accurate measures of Discovery's leadership 'signature,' for our people, practices, leadership behaviours, attraction, promotion and retention.
We also committed to prioritising mentorship as an effective channel through which senior Discovery leaders can model exemplary values-based behaviours. Our mentorship programme was introduced during the 2018 financial year, and was designed to help younger black employees engage in direct conversations with senior managers, with a view to increasing recognition and participation in decision making. In the 2019 financial year, we will look to expanding the mentorship programme to include other race groups.
South Africa benefits from a progressive legislative skills framework which requires companies to invest in their employees. Inspired by our ambition to be a force for social good, Discovery has taken the decision to extend skills programmes beyond employees to include their relatives and dependents in Grades 10 to 12 as well as students studying at South African tertiary education institutions. By focusing on individuals and their unique development goals, Discovery is building a pipeline of talented individuals who can contribute to South Africa more broadly in the future.
2018 therefore saw the introduction of employee relative bursaries for Discovery employees to support the education of their identified dependents. Initially these bursaries were available to employees below a certain annual income threshold, but that ceiling has now been raised in acknowledgement of the so-called 'missing middle' income group. Bursaries for secondary education are permitted up to a total of R20 000, and tertiary education bursaries are permitted up to R60 000 in 2018, provided these caps do not exceed the actual amount due to the educational institution in question. To date, 48 employees have made use of the newly launched scheme to the value of R1 709 137, with numbers expected to rise.
We commit to the following skills development targets for the 2019 financial year:
65 Learners to be hosted on learnerships across four provinces

30 Learners on Internships

At least 70% Of learners who participated in learnerships to be absorbed into Discovery

Accredited Leadership Development training to be provided to 135 Discovery leaders across all levels and Accredited Senior Leadership Development Training to 30 senior leaders
Discovery continues to expand its opportunities for young people. Our learnerships and internships are carefully designed and executed to avoid the exploitation or inefficiencies which sometimes characterise these programmes.Ensuring that line managers are suitably prepared and capable of giving learners and interns the requisite time and attention is key to the approach. Between 2004 and 2017,
Discovery's average absorption rate for learnerships was 82.5%.
In recognition of the sobering challenge of youth unemployment in South Africa, Discovery is in the process of signing up to participate in the YES Initiative which was officially launched by President Cyril Ramaphosa in March 2018. The YES Initiative aims to provide one million opportunities for unemployed youth between the ages of 18 and 35 to prepare them for entry into the world of work, over the next three years. It is a business-led collaboration, with support and financial incentives from government.
Building a highly ethical workplace culture
We will undertake a formal and rigorous ethics risk assessment across the business
In our 2017 report, we highlighted the importance of ethics and compliance, and the unique challenges that we face in our insurance business, for example in relation to billing abuse, which imposes a financial and reputational toll on clients and providers alike. In 2018 alone, we made total savings and recoveries in fraud of R605 million. Ethical behaviour is essential for a healthy organisational culture. To be a force for social good we need to set our bar higher than simply doing what is required for legal compliance. Discovery's Ethics and Integrity Framework, together with our Leadership Charter and core company values, guide our expectations for decision making and help us consider what is right and ethical to do as well as what is legally compliant.
The Ethics Office is mandated to focus on the culture of Discovery. The office is structurally independent, reporting to the Chairperson of the board's Social and Ethics Committee, an independent director. The mandate of the Ethics Office covers the full spectrum of Discovery's business activities, requiring ethical considerations to be incorporated from the product design stage to implementation and right through to customer feedback.
Discovery has a whistleblowing hotline, managed independently by Deloitte, which is always available for employees to report ethical violations.
Discovery's Ethics Office will undertake a formal company-wide ethics risk assessment partnering with specialist third parties. The detailed assessment will assist in identifying the spectrum of ethics-related risks and opportunities for the organisation, which will inform our ethics management strategy for the next three years.
Discovery's ongoing commitment is to responsibly manage the environmental impact of our products, and minimise the use of natural resources in our business.
The first step to making a positive contribution to combatting climate change is knowing our impact. Discovery has measured its greenhouse gas (GHG) emissions for its South African operations since 2009 and in 2017 took the step of including its offices located in the United States and the United Kingdom too. Our GHG emissions are generated primarily through electricity consumption and gasses released from refrigeration and air conditioning, and include the carbon footprints of our employees' travel into work each day.
Looking to the future, our goal is to offset emissions for all our offices so that we have a 'zero emissions' carbon footprint for Discovery.
By design, 1 Discovery Place has played a significant role in reducing our environmental footprint, and we have already been awarded a Green Star rating of five for the building. We will be targeting 'Green Star AS Built V1 certification' in 2019. Discovery's Cape Town office was also relocated into a new five-star accredited building, Sable Park, in May 2018.
Raising awareness among Discovery employees about climate change and the environment is an ongoing process, overseen by an environmental forum which is responsible for managing environmental impacts. Sensitising employees to the need to reduce electricity consumption and waste is supported by campaigns around events such as Earth Hour, Arbour Day and World Food Day.
1 Discovery Place's energy and water efficiencies earn a five-star rating case study.
Value-added statement
One measure of a healthy organisation is whether it is delivering value to shareholders, its other stakeholders and society more broadly. Discovery's value-added statement provides a snapshot of the revenue generated by the company in 2018 and how this wealth is distributed among our stakeholders