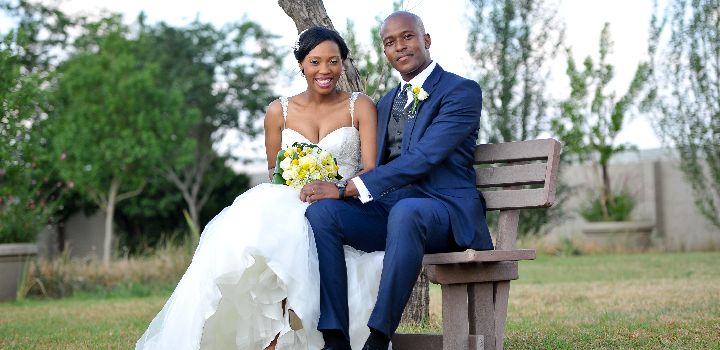 When long-time sweethearts Benjamin and Linda Nxumalo married in 2016, they never imagined that a severe illness diagnosis would render her paraplegic just a few months later. With their promising careers curbed, the life insurance cover helped them overcome some of the financial difficulties they experienced.
When Linda and her beau Benjamin, both 36, were married, they had already been dating for nine years and were excited to start wedded life together. But the couple, who live in Leondale, Germiston, were dealt a tragic blow as newlyweds, four years ago.
When Linda and her beau Benjamin, both 36, were married, they had already been dating for nine years and were excited to start wedded life together. But the couple, who live in Leondale, Germiston, were dealt a tragic blow as newlyweds, four years ago.
"Linda is an internal auditor and I work as an accountant. We had just gotten married, and then a few months later, Linda started to get sick. We saw many doctors about it. They diagnosed neurosarcoidosis, which we had never even heard of," Benjamin says.
Sarcoidosis is a long-term inflammatory disease, while neurosarcoidosis affects the nervous system. "It is a complicated condition, but it basically left my wife paraplegic. She was in-and-out of the hospital often, and she eventually could not walk. She is now in a wheelchair," says Benjamin.
When hope is lost, there is still help
While Linda's condition worsened, her life insurance policy came to the couple's assistance. She had not been able to work since 2016. Benjamin said the couple went over their policy documents when they became concerned with the medical bills that started to pile up. "We saw with our life policy from Discovery that we had MedicalAccess cover which meant that in situations where you have a particular illness like Linda's, we were able to convert her life cover into a payout."
Linda's MedicalAccess cover, which is a benefit unique to Discovery, allowed the couple to withdraw a portion of her Life Fund. She says, "The process went smoothly, and it all happened while I was in hospital. We managed to do alterations at home, for the house to be wheelchair-friendly. We had a ramp installed and changed the main bathroom so I could use it easily."
With a bright career on hold, Linda says the emotional aspect of her illness has been trying. "I cannot go to work, I am on temporary disability even though I am hoping to go back in a year. It has been difficult, I won't lie, it has been hard to adjust. The policies did provide support. That is a bit of relief because you have things taken care of, so on top of everything else you don't have to worry about finances."
Benjamin says the Discovery Life insurance policy allowed them to take care of their immediate responsibilities. "The payout helped a lot. For example, we had accumulated a lot of medical bills over the years and managed to pay those off. At home, we could employ a caregiver."
He added, "Our medical scheme provided rehab which really helped Linda learn skills to cope in her situation. Everything from how to transfer from the wheelchair to the bed, to self-catheterisation. She is doing well even though we are not sure how life will be from now onward. It is a complicated situation. We have attended counselling to help us both, and we will take this day-by-day".
Discovery Life Limited. Registration number 1966/003901/06, is a registered long-term insurer, and an authorised financial services and registered credit provider, NCR Registration number NCRCP3555. Product rules, terms and conditions apply. This article is meant only as information and should not be taken as financial advice. For tailored financial advice, please contact your financial adviser.
Discovery offers a collection of customisable benefits covering the full range of possible life-changing events from death and disability to severe illness, loss of income, and much more. It is a comprehensive offering that ensures no matter which stage of life you find yourself in, you will be covered, rewarded, and financially secure. One of the biggest advantages of having a life insurance policy from Discovery is having access to a benefit structure that rewards you throughout your policy term for managing your health and finances.
The Life Fund is the funding mechanism from which your life cover and selected supporting benefits are paid. We pay out a lump sum in the event of your death to protect your family's future financial security.
The AccessCover Benefit is automatically included and allows you to convert your life cover into cash on a number of qualifying life-changing events while you are still alive.
Kids' education secure despite dad's Parkinson's
For Gavin and Colleen Clackworthy, of Vredehoek, Cape Town, a quality education for their children is a non-negotiable. So, they set about putting their beliefs into action. Read their story here.
Top-grade education secured for my daughter
Arie Roos's leg was severed below the knee after a traumatic 2005 motorbike accident. Here is his story about how having the Discovery Life Global Education Protector benefit ensured his daughter's private school education.