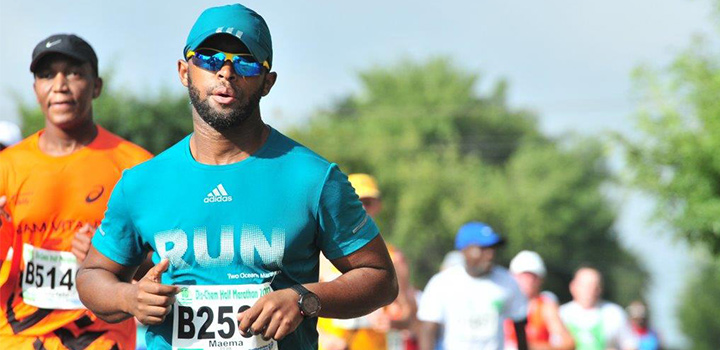 For Maema Morake, 35, having a wide array of Discovery products motivates him, supports his lifestyle and saves him heaps of money.
Having worked in financial services for over a decade, he has a passion for creating opportunities for young people and teaching them about savvy investing. "I grew up in Lesotho and saw people passing away and leaving heavy financial burdens. Their funeral policies came nowhere near to covering their needs and I soon realised the need for proper financial planning from early on in life."
"I check out my own heart rate and consciously calm myself down"
Considering his passion for exercise and fitness, it's no surprise that Maema's Vitality Age is 32 - as opposed to his chronological age of 35. Vitality Age is calculated by considering the effects of lifestyle behaviours on quality of life and mortality. These include smoking, physical activity, fruit and vegetable intake, alcohol use and more. A person who lives a very healthy lifestyle will have a lower Vitality Age than their actual age, highlighting the years of life added by healthy behaviours.
Maema is a seasoned marathon runner and distance cyclist with a Kilimanjaro climb and London Marathon under his belt (amongst other events). His passion for helping children manifested during the London Marathon in 2017 when he fulfilled a promise to former Miss South Africa and former colleague, Peggy-Sue Khumalo to support the Teddy Bear Foundation - one of Peggy-Sue's adopted charities that helps abused children. He gave the Foundation international exposure by wearing their logo on his running shirt and raising funds for his London Marathon run.
"Little kids need opportunities and often have to get out of really abusive environments. I won my entrance to the London Marathon after five years of entering a company raffle that offered entries to the race and I wanted to use that opportunity to the best possible effect," he says.
"I also visualise different race points before I start"
The first-born son of a Harvard-educated economist mother and entrepreneur father (his-31-year-old brother, Noné-Louis is his business partner), Maema's 'ultimate motivational video' serves as his morning wake-up mantra and to which he listens en-route to major races.
"I also visualise different race points before I start and imagine how relaxed and confident I'll feel," he adds. He wears a Garmin 235 running watch, which he purchased at Sportmans Warehouse at a 25% discount using his Vitality HealthyGear benefit card. To enjoy his 25% discount, all he had to do was find out his Vitality Age and go for a Vitality Fitness Assessment. He says the device motivates him to keep reaching his personal fitness goals and allows him to easily earn Vitality points. "But, I also use it in a unique way. During business and board meetings when the emotional temperature in the room gets high, I check out my own heart rate and consciously calm myself down."
Maema's active lifestyle enhances Discovery Life, Invest, and Discovery Card returns
Maema's annual guaranteed Discovery Life PayBack is the result of the Integration of his Discovery Life policy with Discovery Vitality, which Maema has access to as he is a Discovery Health Medical Scheme member. Maema receives annual guaranteed PayBack of at least 12.5% which can increase to 20% should he spend a certain amount on his Discovery Card on average each month. "My numerous physical activities go directly towards enhancing my Discovery Life Plan and PayBack benefits. Besides consistently achieving my fitness goals and being rewarded for that, the way I spend on my Discovery Card credit card also brings me rewards," he enthuses.
Maema's Discovery Life default Cash Conversion Benefit means he'll receive a lump sum pay-out at age 65, which he'll almost certainly increase by maintaining his current Vitality Diamond status (the highest Vitality status possible, requiring three consecutive years on Gold status).
When it comes to covering any illness, Maema has the LifeTime Severe Illness Benefit, meaning he can get up to 115% of his sum assured at the time of claim, for a host of severe illnesses. A key element of the benefit is a minimum payment of 100% for Stage 1-4 cancers and qualifying mild to severe heart attacks.
Maema also has policies with Discovery Invest. "I have two of these, a Discovery Retirement Optimiser and an Endowment Plan. They go back to the same principle as life insurance - the Retirement Annuity makes sense tax-wise and you only get the full tax benefit if you draw at retirement, so it teaches you to be in for the long haul. "I use my endowment policy to plan for the future."
Discovery Health Medical Scheme plan gives Maema many options
Maema loves being on his Discovery Health Medical Scheme Classic Smart Plan as his co-payments on out-of-hospital healthcare consults, treatments, medicines, nutrients and supplements come to between just R10 and R100.
"It's a step up from using my medical savings previously which I had to dip into eight times in 2016 while recovering from a knee injury ? I guess you could say I was over-insured for the previous 10 years because I only ever used half of those savings."
"I typically use my medical aid to fund physiotherapy, medication like multi-vitamins and flu shots in winter," he adds.
Two and a half weeks without exercise
Asked about the emotional benefits of staying fit, Maema says he noticed that in between leaving his job working for a large financial services company and starting up his athleisure and fitness clothing factory, Supafit Brand in Jeppestown, work became all-consuming. This led to him going for two and half weeks without exercise. "I noticed I wasn't as productive as I could have been. I was irritable and wanted everybody to do things my way, even though I was not well-versed in certain new disciplines and needed guidance - I had a mental fog. When I'm fit, I'm a lot more alert and creative. I find my number-crunching abilities are vastly enhanced and I solve problems a lot quicker," he says.
Vitality Diamond status gives Maema more benefits
"I am particularly excited about the benefits that accrue from my Vitality Diamond status," says Maema. This status gives him a 35% discount at all Vitality travel partners which include Emirates, Qantas, British Airways, kulula.com and more. There are two additional sweeteners. The one is Flight Booster, which, if he reaches six of his weekly Vitality Active Rewards goals, he can potentially fly for free with kulula.com. For accommodation at sporting events outside of Gauteng such as the Old Mutual Two Oceans Marathon in Cape Town or the Comrades Marathon in Durban he also gets the standard 35% Vitality Diamond status discount.
"I just love running and this set-up works really well for me. Without Discovery the total big sporting event costs would be out of reach," he adds. Maema says he eats really well, using his Vitality HealthyFood benefit to get cashback rewards for buying healthy food from Pick n Pay and Woolworths. "Things like bananas, certain kinds of complex carbohydrate foods, lean fat foods ? they all benefit my training hugely," he says. He also pre-hydrates for big events, using electrolyte drinks or magnesium from Dis-Chem outlets where he gets 25% off and through which he can increase his Discovery Miles by up to 10 times.
Get up to 50% of your premiums back in cash for living a healthier life
By simply linking your Discovery Life Plan with your other Discovery products, you can receive a percentage of your premiums back every five years for managing your health and wellness.
Integration allows you to receive up to 50% of your premiums back every five years
FIND YOUR LIFE PLAN
Disclaimers
Discovery Life Limited. Registration number 1966/003901/06, is a registered long-term insurer, and an authorised financial services and registered credit provider, NCR Reg No. NCRCP3555. This article is meant only as information and should not be taken as financial advice. For tailored financial advice, please contact your financial adviser.
Discovery Health Medical Scheme is an independent non-profit entity governed by the Medical Schemes Act, and regulated by the Council for Medical Schemes. It is administered by a separate company, Discovery Health (Pty) Ltd, an authorised financial services provider.
Discovery Vitality (Pty) Ltd is an authorised financial services provider. Registration number: 1999/007736/07. Limits, terms and conditions apply.
Nothing contained herein should be construed as financial advice, for any advice related matters please contact your financial advisor. Discovery Life Investment Services Pty (Ltd): Registration number 2007/005969/07, branded as Discovery Invest, is an authorised financial services provider. All life assurance products are underwritten by Discovery Life Ltd. Registration number: 1966/003901/06. An authorised financial service provider and registered credit provider, NCA Reg No. NCRCP3555. Product rules and Terms and Conditions Apply.
How to stay youthful at any age
Photo app filters are handy at helping us look younger than we actually are, but chances are, some days, you feel a lot older than you are. Your body is the more accurate judge. Here are ways to keep your body youthful, throughout the ages.
Ultra-marathoner Redi Tlhabi finds her peace in running
While the rest of the world sleeps, Redi Tlhabi can be found taking in lungfuls of cool morning air as she completes yet another training run. This is how she recharges her brain and meditates ahead of another busy day ? and gets the most out of her day.