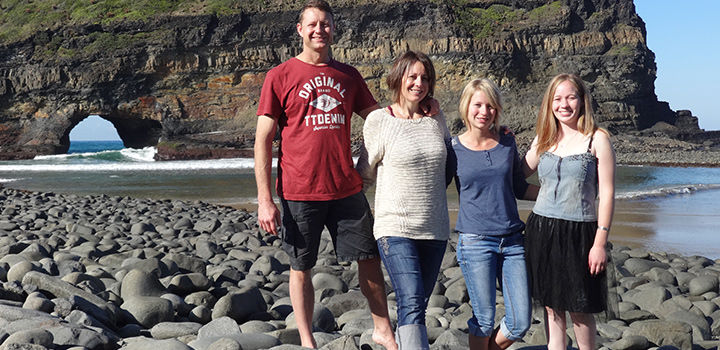 Bloemfontein architectural designer and DIY enthusiast Etienne Labuschagne, 45, cannot wait for 2018 when he will start his newest building project - his own home. Even more so now that he's just won the cash equivalent of R100 000 in Discovery Miles.
Etienne was overjoyed when, a week after his birthday, he got a call from the Discovery team, congratulating him on becoming a Discovery Miles Millionaire. "I said rerig, is this for real? I got very excited," he enthuses. "I had my birthday on the 20th of September 2017 and the next day I filled up at a BP service station with my Discovery Card. That was the winning number. That turned out to be a pretty big birthday present - R100 000!"
He's going to spend it buying a host of building appliances and tools that will turbo boost his family's dream project - a self-styled and self-built country home. Etienne and his wife Ansa have two daughters, Cicile, 21 and Marizaan, 20, currently completing their degrees at the University of the Free State. They hope to share many a weekend with them at what will eventually become their retirement country home. Ansa does the administration and planning for their small architectural design business.
Etienne already felt life had gifted him hugely by enabling him to do a job that he simply loves. He began by revamping two homes a decade ago and from there built the house his family now lives, in from scratch. "Designing houses, additions, DIY and solving practical problems is in my blood. I'm mad about design. I've got greywater systems, rain harvesting tanks, you name it - all at my Bloemfontein home. I just love this stuff," he says. Now he's doing it for his own family and constructing their second home.
Using his win from Discovery Card and BP to do what he loves most - build
"This win is funding a major part of my home building project. It's going to make quite a dent in my costs, I tell you," he adds. He and Ansa have a very active lifestyle, attending gym two to three times a week and jogging five kilometres on the other days. Sunday is their only official day of rest. He wears a Samsung Gear Fit 2 fitness watch and Ansa a Fitbit Alta HR to monitor their progress and claim Vitality points. They have been on the top-ranking Vitality Diamond status for three years running which gives them ten times Discovery Miles when they shop in the Discovery Card partners and retail outlets. They're confident this will continue, given their healthy lifestyles.
Etienne says he immediately started thinking about which Discovery partner he could purchase building tools from and realised that most of the handy appliances he was still after were stocked by his local Pick 'n Pay Hypermarket. His grocery bill is also very modest, given that he can also use his Discovery Miles there.
Another thing he loves about being a Discovery member is the peace of mind his Discovery Insure DQ Track - which gives him reward points for driving safely and responsibly. "Once I had just turned off the highway onto a fairly rough gravel road. Discovery Insure immediately called me to say there was unusual disturbance being recorded for my car. I told them I was fine and explained. Because of the GPS tracking, they also knew exactly where I was. As a client that's very important to me, in case of an accident," he adds.
"You must understand the Discovery shared-value system. You have to give a little to get a lot back. What I get back totally outweighs what I pay towards my fees. And, being on Discovery Vitality means I put in a little every month but I get a huge amount back. The cash back on petrol alone is enough to fund my Discovery car insurance debit order. I get 50% cash back on BP petrol for all my cars. It goes straight back into my account. I mean who doesn't want to chuck in R1000 of petrol and get R500 cash back? Basically, it cancels out my car insurance costs."
"I get 50% cash back on my BP petrol spend for all my cars. It goes straight back into my account. I mean who doesn't want to chuck in R1000 of petrol and get R500 cash back? Because I'm with Insure they also put a tracker in my car, to monitor how I drive. If I drive safely I get points. I can also get major discounts at selected stores. Discovery works brilliantly for me."
Discovery Miles: Helping you to take your money further
Did you know that you can earn Discovery Miles every time you swipe your Discovery Credit Card? You can earn up to 10 times more Discovery Miles by shopping at the wide range of partner stores in the Discovery Miles Multiplier Network. This network covers everything from electronics to toys, sports and outdoor equipment and even convenient daily essentials like your fuel at BP filling stations and daily grocery items from Pick n Pay, Clicks and Dischem.
Spending your Discovery Miles digitally is also easy. You can use them to shop online at partners like Pick n Pay, Dischem and Sportsman's Warehouse, or use them towards your next holiday.
Find out more about Discovery Miles
More partners and more rewards with Discovery Card this November
There is nothing better than finding a good deal. And, with the festive season around the corner, we're excited to share the good news that we've added more partner stores to the Discovery Miles Multiplier Network. So, now you have even more opportunities to earn and spend Discovery Miles!
Do you know your credit behaviour patterns?
If you're thinking about borrowing money for a big life purchase like a new home, a car or an overseas family holiday, it's important to know your credit score. Why? Because knowing where you are on the scale can have a huge effect on the interest rates you'll be offered.