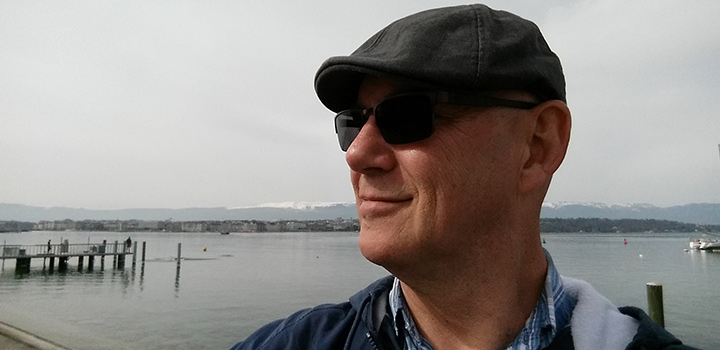 For Fred Thom, a global product verification specialist based in Sandton, a new laptop and a birthday present for his daughter, Belle-Mari, when she turns 13, are top priorities for his one million Discovery Miles win.
"It was really nice when Discovery phoned me in September this year to say I'd won - it's still a very nice bonus indeed. I could buy a new laptop, I can buy presents for my daughter for Christmas and her birthday in January - she'll appreciate that. I use the Discovery credit card a lot, mostly to fill up with petrol and for maintenance on my car. I'm just very happy and want to thank Discovery and BP for this. I'll have to think about how else I'm going to spend it. When I allow myself to dream? I actually haven't got so far yet. I'll look at the website where they've got partners online. I'll probably use it to fly domestically for holidays. I suppose I can go and buy some nice clothing and a nice laptop - an upgrade to my existing one - that would be really nice."
Fred says he's never won anything remotely this big in his life. The closest he came to it was a decade ago when he won R7000 in the Lotto.
Being a Discovery Card Miles Millionaire will enhance Fred's mountain biking
An avid mountain biker and member of two biking clubs, he's also considering buying some mountain bike apparel. Asked whether he'd perhaps also consider buying a new mountain bike, he quipped that top of the range mountain bikes cost the equivalent of a small car. One thing is for certain though - whatever Fred buys it will be of the highest quality and exactly what he's after. After all that's how he makes his living. His Geneva-based company tests, inspects and certifies a wide range of products globally, making certain that any buyer gets exactly what they're after and in the price range they've targeted.
Value for money is his game and you can bank on him spending his million Discovery Miles worth the equivalent of R100 000, wisely, using Discovery's wide range of retail partners. Discovery clients can earn Discovery Miles each time they swipe their Discovery Card (gambling and gaming excluded). BP is one of Discovery Card's Miles Multiplier Network partners where clients can earn up to 10x more Discovery Miles based on their Vitality status - all year round.
"I'm just very happy and want to thank Discovery for this. I'll have to think about how I'm going to spend it. When I allow myself to dream...well I actually haven't got that far yet. I'll look at their website where they've got lots of partners online. I'll probably use them for holidays."
Discovery Miles: Helping you to take your money further
Did you know that you can earn Discovery Miles every time you swipe your Discovery Credit Card? You can earn up to 10 times more Discovery Miles by shopping at the wide range of partner stores in the Discovery Miles Multiplier Network. This network covers everything from electronics to toys, sports and outdoor equipment and even convenient daily essentials like your fuel at BP filling stations and daily grocery items from Pick n Pay, Clicks and Dischem.
Spending your Discovery Miles digitally is also easy. You can use them to shop online at partners like Pick n Pay, Dischem and Sportsman's Warehouse, or use them towards your next holiday.
Find out more about Discovery Miles
More partners and more rewards with Discovery Card this November
There is nothing better than finding a good deal. And, with the festive season around the corner, we're excited to share the good news that we've added more partner stores to the Discovery Miles Multiplier Network. So, now you have even more opportunities to earn and spend Discovery Miles!
Do you know your credit behaviour patterns?
If you're thinking about borrowing money for a big life purchase like a new home, a car or an overseas family holiday, it's important to know your credit score. Why? Because knowing where you are on the scale can have a huge effect on the interest rates you'll be offered.