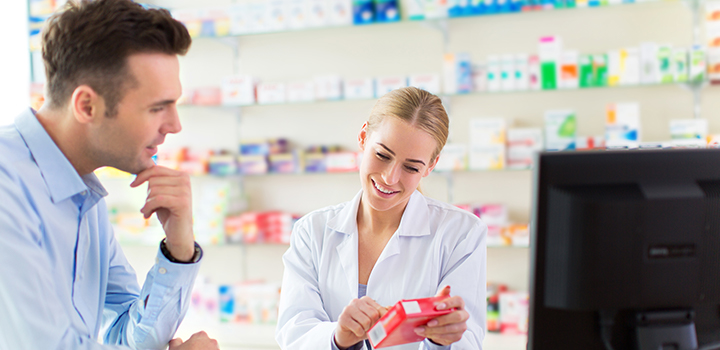 Do you anticipate a hospital admission or do you just need to swing by the pharmacy to pick up your meds? Our smart Health Banking solution makes healthcare trips as 'in-and-out' as possible. Learn how to make the most of digital banking here!
Time is your most valuable asset, and if you've ever waited at a pharmacy checkout queue or in a hospital waiting room, you'll know the value of getting the healthcare you need, quickly and efficiently.
That's why Discovery Bank is offering a smart payment solution to help you instantly settle medical co-payments at pharmacies like Clicks and Dis-Chem, hospitals and medical service providers.
With Health Banking, you can link your Discovery Health Medical Scheme membership to your Discovery Card or your Discovery Debit Card. This means you won't need to manually pay anything at a counter – simply pick up your meds and we'll do the rest.
How does it work?
Health Banking lets you choose a limit on an amount that can be paid automatically, so when you visit a pharmacy or hospital, you can just check in or collect, then be on your way. Even if you prefer to get your medicine delivered, you can still use Health Banking to settle the co-payments. We'll already have your details on hand, so we can debit your selected bank card for your co-payment and send you an instant notification – letting you get what you need, fast!
Who can use it, and where?
You can set up Health Banking if you're a primary Discovery Bank accountholder and a Discovery Health Medical Scheme member or dependant over the age of 18. Then pay the smart way at pharmacies like Clicks and Dis-Chem, hospitals and medical service providers.
What can and can't I use Health Banking for?
Co-payments can be settled automatically for these healthcare services:
Pharmacy payments
Pathology (including blood tests)
Radiology (including X-rays, but excluding MRI and CT scans)
Hospital admissions
What does it cost?
Health Banking is free for clients with a Discovery full banking suite (of any card colour).
The service is R10 a month for clients with just a Discovery Card account or Discovery Transaction Account of any colour.
Great idea! Show me how to activate Health Banking
If you're keen on making future healthcare trips quicker and more convenient than ever, follow these easy steps to activate Health Banking:
Log in to the Discovery Bank app and tap More.
Tap Health Banking, and then Next.
Accept the terms and conditions, and tap Set up.
Select the card you want to link and your transaction limit. Remember, if you would like co-payments to be settled from your transaction account, you need to link to the Discovery Debit Card associated with it.
Tap Next, and then Complete.
Discovery Bank Limited. Registration number 2015/408745/06. An authorised financial services and registered credit provider. FSP number 48657. NCR registration number NCRCP9997. Limits, terms and conditions apply.
Explore our products
and collections
Are you looking to upgrade your bank and join Discovery Bank, the bank that rewards you for managing your money well? Or are your already a happy Discovery Bank client looking to upgrade your accounts for even better rewards? Either way, take a look at our wide range of banking products with personalised features and exclusive benefits designed with you in mind and find the one that is right for you.



Bringing science to the world of banking
Discovery Bank is not just a digital bank, it's a fintech evolution that gives clients market- South Africans who bank better, grow wealth and earn rewards. It's all possible with the science behind behavioural banking. With technology that enables behaviour change, you'll soon have a healthier financial outlook.