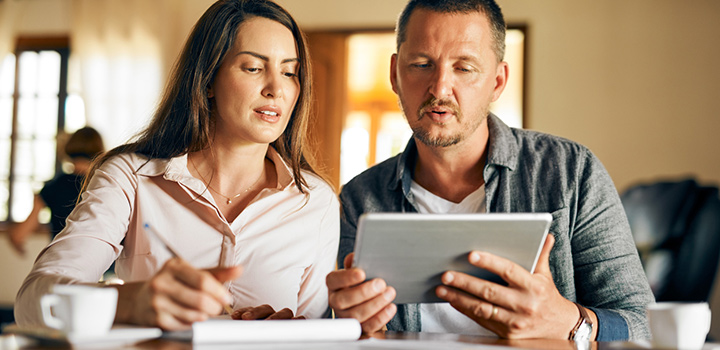 Financial responsibility starts in the home. See for yourself how having a budget can make you dramatically more mindful of your everyday expenses.
Many of us are reluctant to start following a monthly budget because we know it means we may need to cut down on some unnecessary spending. But managing your household's expenses should be more motivating than daunting!
Budgeting doesn't mean you can't spend money on anything fun or treat yourself now and then, it just means that you're keeping track of what you're spending. Being aware of where your money is going will help you make smarter financial decisions and ensure you don't fall unwittingly 'behind' or into debt.
Creating a good household budget can be rewarding. It can help you pinpoint those items or activities that are unnecessary and rather redirect valuable funds for better use - like into a home, an unexpected medical expense or a good holiday! Here are some tips to get you started:
1. Decide on the goal of your budget
What are you trying to achieve by creating your budget? You could be trying to:
have a clear and accurate view of the money coming in and out, to avoid running out cash before your next income is due
find out how much you can save or invest for future events like your children's higher education, or your retirement (get an investment quote here)
free up some money to pay off a holiday trip (don't forget that Discovery Card holders enjoy up to 20% cash back with travel partners World Leisure Holiday, Royal Caribbean International and Contiki)
simply make sure you have enough savings for that 'rainy day'
Defining your goals will help your order your expenses according to priority. In other words, by really examining and deciding what's most important to you and your household, you can shape your lifestyle and income around these things.
2. List all your expenses alongside your total household income
We often make the mistake of ignoring small amounts, but these add up, and we end up feeling like we don't know where our money went or what it was used for. Make sure you take every expense into account, no matter how small - even a stick of chewing gum and parking tips are expenses.
A visual representation of your total income and expenses is necessary to have a realistic understanding on your financial position. By listing every rand, you'll have an accurate idea of how much you spend a month and how much to budget for 'small' or miscellaneous expenses.
3. Keep it simple
If you're the designated finance manager in your household, remember to include your loved ones in the budgeting process so you can get their buy-in on family and financial priorities. Then ensure the budget you've created and the template you use is not unnecessarily complicated.
Use colours and tables to make the layout basic and clear, and then share the budget with the members of your household. The easier it is to understand, the more support you'll get from your loved ones, especially if they have to change their lifestyles to achieve the desired results.
This is also a great time to share your visions of what you'll be able to achieve as a family and plan how to reward yourselves, for example, by setting aside some savings for a dream holiday, that sporting equipment you've always wanted or even a kitchen makeover. (Remember, Discovery Card holders earn up to 10x more Discovery Miles when they use their Discovery Card at partners like The Golfer's Club, The Pro Shop, @home and @homelivingspace.)
Budgeting can also make you more aware of the value of your money, and encourage you to be more mindful of using it carefully. Remember - when you take better care of your money, it takes better care of you.
Be money-wise by earning up to 10x Discovery Miles on shopping
Life is full of planned and sometimes unexpected expenses, but with Discovery Card, you can get rewarded every time you spend. Simply activate the Discovery Miles benefit for a yearly linkage fee and earn Discovery Miles everywhere you shop.
Not only can you earn and spend Discovery Miles at leading retailers in South Africa, both in-store and online, you can also get up to 10x Discovery Miles if you shop at partners in our ever-expanding Discovery Miles Multiplier Network.
Discovery Card rewards you for living well, so if you haven't yet, apply for one today! Limits, terms and conditions apply.
Spring cleaning? Refresh your credit card know-how too!
Welcome Spring! We're all celebrating a season of renewal and, as warmer days return, we're dusting off the cobwebs and sprucing up our homes. The 'New You' will also make time to check in on your financial fitness - and particularly refreshing your understanding of how to make your credit card work for you.