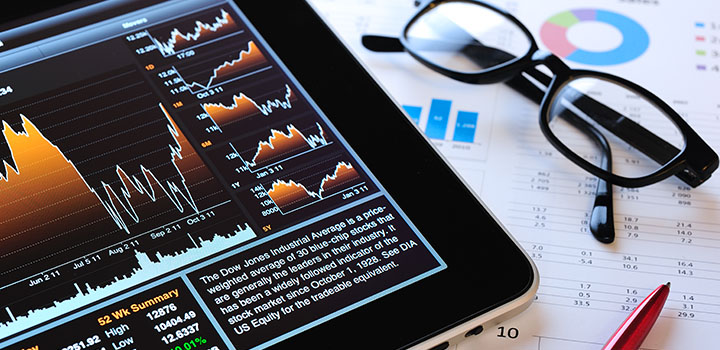 Depending on the definition of 'bull market' you subscribe to, the S&P 500 is currently in the longest-running bull market in history.
With many commentators pointing to the robustness of the US economy, growth doesn't seem to be abating. However, one thing we can be sure of, when the time comes, bull markets tend to end dramatically.
We turn to Warren Buffett for guidance
His letters to Berkshire Hathaway shareholders are legendary. They impart financial wisdom and have none of the dense, technical style of annual reporting common in many other shareholder letters. They contain life lessons, humour and personal anecdotes. More importantly, his shareholder communications provide invaluable investment advice, insights and guidance from undeniably one of the world's best investors.
During tough financial times, Warren Buffett often makes a lot of money. After the 2008 credit crisis, Berkshire Hathaway lost only 9.6%, while the S&P 500 was down 37%.
The following interesting take-outs from his letters between 2008 and 2011 offer investors key investment lessons.
1. Stay positive
Possibly the most important asset one could have during a financial crisis is a positive mindset. People tend to latch onto the negative. But not Warren Buffett. In his 2009 letter, in the wake of the 2007-2008 financial crisis, he reminds shareholders that all is not lost, and that the company has been through worse, and survived.
"In the 20th Century alone, we dealt with two great wars […]; a dozen or so panics and recessions; virulent inflation that led to a 21 ½% prime rate in 1980; and the Great Depression of the 1930s, when unemployment ranged between 15% and 25% for many years. America has had no shortage of challenges. Without fail, we've overcome them."
Buffett also approaches bad news with a sense of humour. In the same letter, he says that 2008 was the worst year in a 44-year history for both S&P and Berkshire Hathaway, and devastating for corporate and municipal bonds, real estate and commodities. "By yearend, investors of all stripes were bloodied and confused, much as if they were small birds that had strayed into a badminton game."
2. Don't panic and sell - buy
Part of keeping a positive mindset means not making the mistake of panicking when times get tough. According to Buffett, this is the worst thing you can do. In times of chaos, Buffett is invariably a net buyer of stocks.
In 2008, he writes: "When investing, pessimism is your friend, euphoria the enemy". He also says: "long ago, Ben Graham taught me that 'Price is what you pay; value is what you get.' Whether we're talking about socks or stocks, I like buying quality merchandise when it is marked down."
He reiterates this strategy in 2010, noting: "A depressed stock market is likely to present us with significant advantages. For one thing, it tends to reduce the prices at which companies become available for purchase at attractive prices. So when the market plummets – as it will from time to time – neither panic nor mourn. It's good news for you!"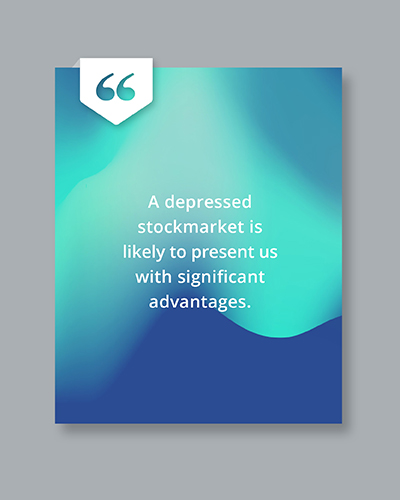 3. Liquidity is paramount
For Buffett, liquidity has been central to how he has managed to jump at opportunities when they arise.
In 2011, he told a story about his grandfather Ernest, who taught him the importance of always having at least $1 000 cash on hand, and he explains how he still applies the principle – albeit on a much larger scale. "…we customarily keep at least $20 billion on hand so that we can both withstand unprecedented insurance losses… and quickly seize acquisition or investment opportunities, even during times of financial turmoil."
In 2012, he stressed the point again, saying: "Charlie and I believe in operating with many redundant layers of liquidity, and we avoid any sort of obligation that could drain our cash in a material way. That reduces our returns in 99 years out of 100. But we will survive in the 100th while many others fail. And we will sleep well in all 100."
Being able to sleep soundly is a recurring theme. In 2009 he tells shareholders: "I have pledged – to you, the rating agencies and myself – to always run Berkshire with more than ample cash. We never want to count on the kindness of strangers in order to meet tomorrow's obligations. When forced to choose, I will not trade even a night's sleep for the chance of extra profits."
4. Don't follow the sheep
Warren Buffett is not swayed by what others are doing or saying. In fact, he strongly recommends following your own way. "Investors who buy and sell based upon media or analyst commentary are not for us. Instead we want partners who join us at Berkshire because they wish to make a long-term investment in a business they themselves understand and because it's one that follows policies with which they concur."
In 2004, he wrote the now-famous words: "Try to be fearful when others are greedy and greedy only when others are fearful". Investors frequently sell low in times of financial crisis, largely because of the psychological need to follow the herd. Contrarians like Buffett use the opportunity to buy quality stocks from that herd.
Nine years later, in 2013, he writes: "Forming macro opinions or listening to the macro or market predictions of others is a waste of time. Indeed, it is dangerous because it may blur your vision of the facts that are truly important."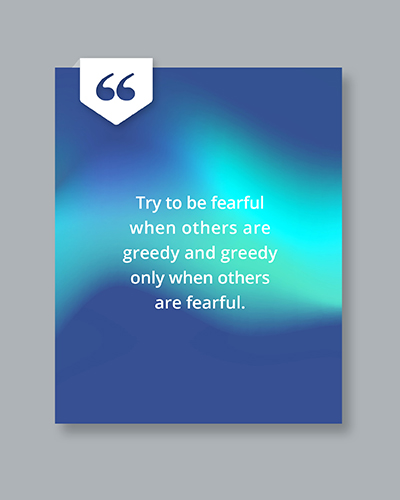 5. Think long-term
Almost 94% of Buffett's personal wealth is from after his 60th birthday, proof that his long-term investment strategy works.
In annually compounded returns, Berkshire stock gained 20.8% between 1965 and 2016, while the S&P 500 gained only 9.7% over the same period. One dollar invested in the S&P in 1965 would have grown to $112.34 by the end of 2016, while a dollar invested in Berkshire stock would have grown to $15,325.46. In 2012, Buffett explained the importance of staying invested: "Since the basic game is so favorable, Charlie and I believe it's a terrible mistake to try to dance in and out of it based upon the turn of tarot cards, the predictions of 'experts,' or the ebb and flow of business activity. The risks of being out of the game are huge compared to the risks of being in it."
A good example of this is his investment in IBM. Buffett's 2011 letter to shareholders explains that he believed the stock would eventually generate billions of dollars in dividends and repurchases over the long-term, enough to compensate for short-term drops in stock price. "The lesson is don't give up on a stock just because it's down. A well-researched investment should be worth holding onto. The intrinsic value of an investment materializes over time."
This has long been one of his investment principles. 30 years ago, in his 1988 letter, he said: "Our favorite holding period is forever".
Warren Buffett's advice provides a sage reminder to investors at any stage of the investment cycle of the pertinent principles of sound investment strategy: stay positive, don't panic and sell, take advantage of opportunities to buy wonderful businesses at good prices, liquidity is key, and remain focused on the long term.
This article is meant only as information and should not be taken as financial advice. For tailored financial advice, please contact your financial adviser. Discovery Life Investment Services Pty (Ltd): Registration number 2007/005969/07, branded as Discovery Invest, is an authorised financial services provider. All life assurance products are underwritten by Discovery Life Ltd. Registration number: 1966/003901/06. An authorised financial service provider and registered credit provider, NCA Reg No. NCRCP3555. Product rules, terms and conditions apply. The views expressed in this article are those of the author and may not necessarily represent those of Discovery Invest.