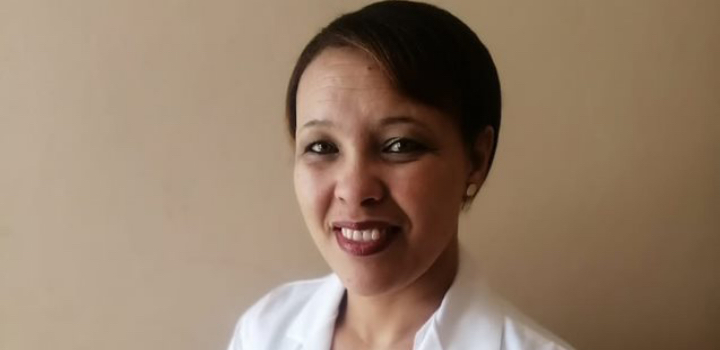 Dr Illana Links, a psychiatric registrar at Dora Nginza Hospital, was one of the first front-line doctors to get the COVID-19 vaccine in February. She tells us what taking the vaccine means to her, and encourages us all to have our vaccine when our turn comes.
"I want South Africans to know that while the COVID-19 vaccine may have some minor side effects, a lot of us are really doing well after having the vaccine," says Dr Illana Links, a psychiatric registrar at Dora Nginza Hospital in Gqeberha, formerly known as Port Elizabeth. "If you should be offered the vaccine, go for it," she says to the public at large.
Dr Links says, "I had flu-like symptoms for one day - runny nose, fever, a sore throat. After that I was fine. Almost six weeks after the vaccine, I'm still fine."
Dr Links explains what having the vaccine means to healthcare workers: "It helped us psychologically, it helped us medically, and just knowing that you have something that can offer you enhanced protection you against the virus makes a huge difference to your outlook."
"The vaccine came as a sign of hope for us"
The 35-year-old received her vaccine on 19 February 2021. "Before that, I had a lot of mixed thoughts. It's something new, something I hadn't been exposed to before," she says. "However, this was a new chapter in our fight against COVID-19. We healthcare workers were so burnt out and the vaccine came as a sign of hope for us."
Dr Links reflects on the early days of the COVID-19 virus
"When COVID-19 hit South Africa, I was working in Cape Town, rotating between child and adolescent psychiatry. I was away from my home and my family in Port Elizabeth," she says.
Under lockdown level 5, Dr Links stopped her rotation and returned home. "I had to go back to my unit [at Dora Nginza Provincial Hospital] and we had to put protocols in place on how we were going to manage patients with COVID-19, those who have tested negative and patients under investigation. It was a struggle. We didn't have the space to treat different groups of patients."
"That put a lot of stress on the unit and on me, and I still had to think about when I would go back to Cape Town to complete my rotation," she adds.
Under level 4, she drove back to Cape Town, which by then had become a COVID-19 hot spot. "I spent two months in Cape Town without seeing my family. I'm a mother of three kids and I had to be without them for two months straight. At that time the airport was also closed. If I wanted to come home, I had to drive home by myself which wasn't easy for me, alone on the road for hours."
After two months, Dr Links went back home - by then also a COVID-19 hot spot. "I was back at my unit, but now I feared something happening to my family because I was potentially bringing the virus to my home each day" she says. "It brought a lot of responsibility, feelings of guilt and anxiety."
Despite these tumultuous times, Dr Links received a Discovery Foundation Rural Individual Award in 2020. Her research focuses on the prevalence of HIV in mental health units, and the full range of the common mental health conditions associated with HIV. Dr Links says there are key links between mental health conditions and HIV. "Early intervention is beneficial in patients with HIV or mental illness." The Discovery Foundation Rural Individual Award will help her to complete her research project for her MMed degree, and to qualify as a psychiatrist.
"I couldn't change the disease but I could control my feelings"
How did she cope with the pressure? "At our unit, we came up with psychological preparedness protocols, which we had to explain to all the staff members to prepare them for what was coming," Dr Links explains. "The psychological preparedness programme called Sisonke was an initiative from our Professors at Walter Sisulu University."
"We did that during level 5 lockdown and I was one of the people teaching and coaching the staff. That helped me cope as well, because I had to go back to my basis of knowing some things you have control over and other things you don't have control over."
"I couldn't change the disease. It was coming and at a speed that we couldn't have predicted. I couldn't change how people were going to respond to the disease. But I could control my feelings, my thoughts, my emotions," she adds. "So, I started with positive thinking: the disease is coming but I am healthy, I am young, I'm still alive, I can still fight it."