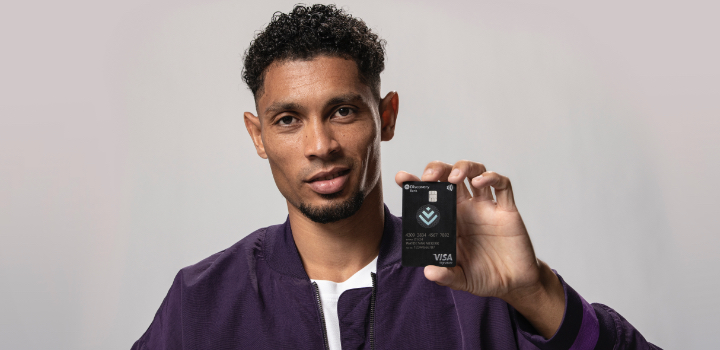 A healthy lifestyle and sound money management have a direct improvement on the quality of our lives - something we can all benefit from. What if you could add a little more value to your quality of life? With Discovery Life's Bank Integrator Benefit, you can.
To best benefit from your money management efforts, the attitude you have towards finances needs to start off on the right foot. The general attitude you have towards money often determines how you handle your finances every day.
So, what is 'financial attitude' and 'financial behaviour'?
Financial attitude: This refers to a person's state of mind about money and financial matters, which stems from past learnings.
Financial behaviour: Quite simply, financial behaviours are a product of your financial attitude. This refers to the actions you practice, including how you practically use money on spending, saving and investing, among other things.
How we were introduced to money matters has an influence on the attitude we develop about finances. This begins to take shape during our childhood and, to a large extent, is rooted in how we observed a parent or guardian managing money during those years of our lives. This too has an influence on the extent to which we associate money with lifestyle and 'quality of life'.
We either learn how to manage money responsibly or not, as well as how various factors contribute to its availability in a household. We may learn to handle money cautiously, aggressively or even with a growth-oriented mind-set. How we were exposed to money matters in our youth plays a significant role in how we eventually manage our own finances when we become responsible enough to earn our own income.
What can behavioural finance teach us?
With financial attitude directly linked to financial behaviours, the mind-set that we have in managing our finances has a direct impact on our overall quality of life. Life is unpredictable and fraught with shades of light and dark, and financial behaviours that mirror the ups and downs we go through will result in instability. If you can adopt healthy behaviours on a consistent basis, quality of life can be well maintained and even improved upon, no matter what curve balls life throws your way.
Healthy financial behaviours teach us to maintain a clear picture of expenses in relation to our income, how best to afford the things we need, and enable us to better plan for the future. It is essential to be realistic with how you prioritise your needs in order to understand your true financial position and avoid falling into debt. When you do that, you can budget appropriately; creating a plan that adequately caters for both your needs and those of family who are dependent on you.
It also enables you to better position yourself in building a reserve, ensuring financial resilience in tough circumstances. Another way to add resilience to your overall financial plan or portfolio is through life insurance, which can be an important part of a sound financial plan.
Discovery Life Plans are designed to protect you at every stage of your life. They provide you with benefits that change throughout your policy term, ensuring that the Life Plan stays relevant to your needs, regardless of your circumstances. Living a healthy lifestyle and managing your money well provides you with a valuable opportunity to save in a way that can help to add real value to your life - both now and later.
Get the discount that offers the best of both worlds
Ups and downs, challenges and changes do happen, creating road blocks in our path to quality living. This is a fact of life, but we as individuals have an opportunity to put in place safety nets equipped to handle any potential fall-out. This is where we can proactively take care of our own futures and Discovery Life has an array of products to help you achieve just that.
Discovery Life's product offers you not only market-leading and award-winning comprehensive cover, but also rewards you for taking proactive steps to improve the quality of your life. One such value-added benefit on offer is the Bank Integrator.
By taking out a new life policy and activating the Bank Integrator on your Discovery Life policy, you can save as much as 15% on your qualifying premiums, with this discount being sustainable for the entire policy duration.
In addition, between 1 April 2021 and 30 June 2021, all new Discovery Life policies that include the Bank Integrator will receive the added advantage of the Bank Fee PayBack limited offer, allowing you can get back up to 100% on your Discovery Bank account fees for the first three years of your Discovery Life policy.
Market-leading insurance cover that rewards proactive living
When you link your Discovery Life and Discovery Bank products, you also gain access to the Vitality Fund. This gives you extra life cover for no additional initial premium, allowing you to create a safety net you may need at some point in life's journey. It's a rewarding benefit that gives you real value for proactive health and financial behaviour.
"With its roots in Vitality, by living better, banking healthier and proactively taking an interest in preserving your quality of life for the long-run, the Discovery Life Bank Integrator creates an opportunity for you to really benefit from the very best of both worlds," says Discovery certified financial adviser, Claire van Wyk.
"With the Vitality Fund that this creates, you can earn additional life cover with no added underwriting necessary, at no additional initial premium. Now, that's real value anyone can benefit from," she adds.
How does the Discovery Life Bank Integrator work?
The Bank Integrator provides an upfront premium discount of up to 15%, access to the Vitality Fund and, between 1 April and 30 June this year, includes access to the Bank Fee PayBack limited off. The Vitality Fund consists of two, three-year periods where you can benefit from rewarding discounts.
"During the initial three years of a new policy, you receive 20% more life cover on top of your base life cover amount at no additional cost to you," explains van Wyk. "In addition, you stand to save on banking fees for your accounts with Discovery Bank, with the limited offer."
"At the end of the initial three-year period, you can elect to retain this whole-of-life cover at an affordable premium," she adds. "If you do, during the next three-year period, a new portion of the active Vitality Fund is unlocked, giving you up to 26% extra life cover based on how well you are managing your overall physical health, mental wellbeing and money on the Vitality programme. Again, a premium becomes payable at the end of the three-year period, guaranteeing you whole-of-life cover."
The Vitality Fund is structured to ensure that you have the opportunity to earn additional cover of up to R2 million, should all of the qualifying criteria be met.
Get the reward now that you'll be thankful for in your later years
"Unlocking this additional cover in three-year cycles offers our customers brilliant value" says van Wyk. "We strive to encourage you to live well and manage your money in healthier ways for the duration of our life, and when you do, we reward you with the kinds of savings benefits that make it so much simpler for you to lead a quality life. The control is actually in your own hands."
Premium discounts apply on an ongoing basis with upfront benefits too. "This is ideal. We live in the moment, as well as strive to maintain a healthy and balanced life well into older age. Our structure mirrors this reality really well," says van Wyk.
Speak to your financial adviser today about the Bank Integrator limited offer.
Find out more about Discovery Life's rewards and offers.
This article does not constitute financial advice. Discovery Life Limited. Registration number 1966/003901/06, is a licensed insurer, and an authorised financial services and registered credit provider, NCR Reg No. NCRCP3555. Product rules, terms and conditions apply.
Related articles
Efficient ways to achieve a pandemic-proof year
Through a global pandemic, we all instantly came face to face with our own mortality in a starkly new way. Many of us have not lived through such an impactful event before; and as we head into 2021, we can almost be sure that this new crisis is now very much entrenched in all of our lives.
What is Estate Planning and why do you need it?
It's a serious subject - but how many of us take it all that seriously? So, what is estate planning really all about and why should it matter in your life, perhaps even a lot sooner than you think it should?
Your pre-holiday life insurance checklist
Insurance cover acts as a protective umbrella for the rainy days; a safety net for fallouts when unexpected things happen. These events can happen while you're on holiday too. Here's how to stay as stress-free as possible this coming 'silly season' while basking under the glorious summer sun.