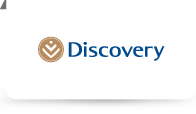 Discovery Health Medical Scheme

Medical aid plans on offer
Benefits and cover

How to save
Needs your insurance policy should meet
Choose your investment

Choose your funds
How it works

Know your health

LivingVitality
Improve your health

Points and status

Rewards
Login
You are not currently logged on. Please login to view the selected content.
More from Discovery
Join the conversation
Whatever your wellness needs, you can find it on Discovery Vitality!
Join our vibrant community
and get access to expert knowledge and information and all things health.
Copyright 2014 Discovery. Discovery is an authorised financial services provider.