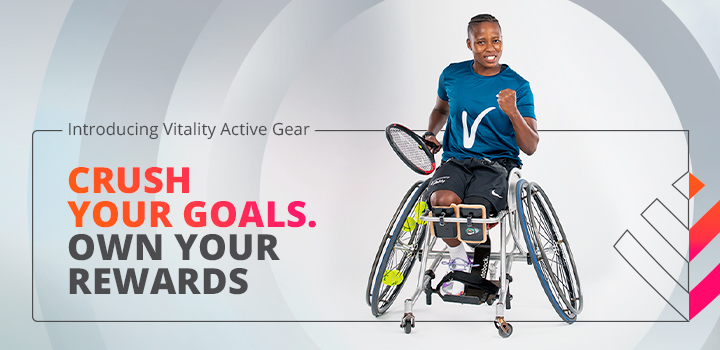 Now that you have Vitality Active Gear, do you know how to get started? Learn more about your new benefit right here. Then, put your knowledge to the test in our #MoveForYou social media competition for a chance to WIN great fitness prizes.
Say hello to Vitality Active Gear
Welcome to Vitality Active Gear, our revolutionary new benefit where you can get up to 25% upfront discount on sports gear and equipment. Plus, get up to 75% off your next fitness device and Nike performance gear.
How does it work?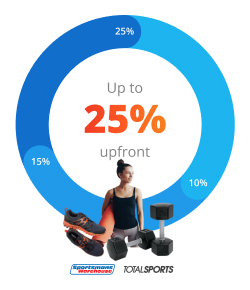 With our new sports gear and equipment benefit, you can get as much as 25% upfront discount on the first R2 000 you spend on qualifying purchases every month at Sportsmans Warehouse or Totalsports. You need to complete your Vitality Age and Vitality Health Check assessments to get your maximum discount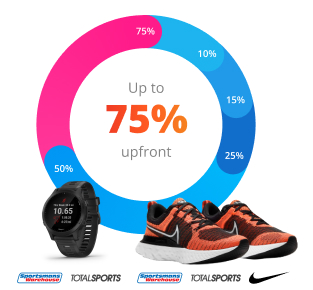 Our new fitness device and Nike performance gear benefit gives you as much as 75% off on a fitness device, Nike performance footwear and Nike apparel every 12 months.
To get your maximum discount, you need to complete your Vitality health assessments, achieve 25 exercise goals on Vitality Active Rewards, and have a Discovery Bank account with Vitality Money.
Here's how you can maximise your upfront discount:

You don't even need to activate Vitality Active Gear or wait for a card. All you need is to activate Vitality Active Rewards. Remember, your HealthyGear benefit has ended, so your card won't work with your new benefit.
Watch our video on how to get started with Vitality Active Gear
Test your knowledge and WIN exciting fitness hampers
Are you the ultimate Vitality Active Gear genius? Let's put your knowledge to the test. Join our weekly #MoveForYou social quiz from 28 June to 23 July 2021 and find out who's the best. You could be the lucky winner of an incredible fitness Prizes!
You have just over a month to do everything you can to get to know our new benefit.
Visit our Vitality Active Gear webpage
Keep an eye on our Facebook, Twitter and Instagram pages
Follow the hashtag #MoveForYou for tips and competition updates
Phone Vitality old school on 0860 000 628
Ask Discovery 0860 756 756
When you answer a #MoveForYou question on social media each week from 28 June, you'll enter a draw to win a Suunto 3 Fitness training watch, a Huawei Band 6 Fitness training watch, plus great gift cards to spend at Totalsports, Sportsmans Warehouse or Nike Concept Stores.
Get active. Get rewarded. Get Vitality Active Gear.