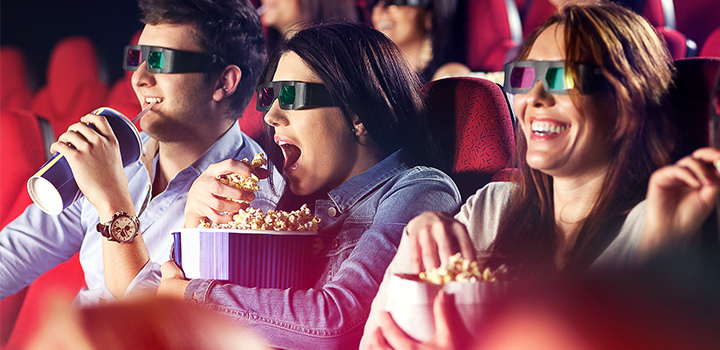 As a Discovery Vitality member, you get to experience the latest Ster-Kinekor movies for half the price when you activate your Vitality Ster-Kinekor movie benefit.
Round up the girls for a night out this August
Activate your Vitality Ster-Kinekor movie benefit this August, round up your coolest girlfriends and book your seats for the next Ster-Kinekor Girlfriends Getaway which includes the upcoming American action packed movie, The Spy Who Dumped Me. The movie releases on 08 August 2018, just in time for Woman's Day and stars the leading lady Mila Kunis, supported by Kate McKinnon. The benefit is available for a 2D, 3D as well as a Cinema Nouveau ticket. You also get an exclusive 25% off a Cine Prestige, NT Live or IMAX movie ticket.
In this action packed comedy; Audrey (Mila Kunis) and her friend Morgan (Kate McKinnon) are going about their humdrum lives when Audrey?s unassuming ex-boyfriend Drew shows up at their apartment with a team of deadly assassins on his trail. Surprising even themselves, the two friends jump into action when two men are shot dead on their floor..
For more information on the Vitality Ster-Kinekor movie benefit, please refer to the benefit guide here.
See you at the movies!
Catch all the latest movies
The Spy Who Dumped Me
In this action comedy; Audrey and Morgan are best friends who unwittingly become entangled in an international conspiracy when one of the women discovers the boyfriend who dumped her was actually a spy.
As Scott Lang balances being both a Super Hero and a father, Hope van Dyne and Dr. Hank Pym present an urgent new mission that finds the Ant-Man fighting alongside The Wasp to uncover secrets from their past.
Four young men mistake their lives for a movie and attempt one of the most audacious heists in U.S. history.
The life of a foster family in South Central Los Angeles, a few weeks before the city erupts in violence following the verdict of the Rodney King trial.
Plot kept under wraps. Described as a hostage-action-thriller set in China.
Mamma Mia: Here we go again!
In this sequel to Mamma Mia! Sophie learns about her mother's past while pregnant.
Mission Impossible: Fall Out
Ethan Hunt and his IMF team, along with some familiar allies, race against time after a mission gone wrong.
A villain's maniacal plan for world domination sidetracks five teenage superheroes who dream of Hollywood stardom.
Based on the true story of survival, a young couple's chance encounter leads them first to love, and then on the adventure of a lifetime as they face one of the most catastrophic hurricanes in recorded history.
The rare gift of getting into all kinds of trouble is their family trait. What else can you expect from the ones raised among trolls in snowy lands? But now Kai and Gerda have grown up and entered a new stage - this time they are going to cause a global disaster...