Here's how we're making sure you eat well during this stay at home period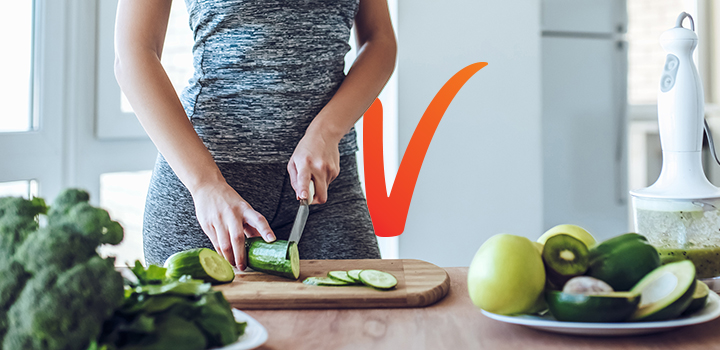 Eating well can be a challenge at the best of times. Which is why we have enhanced our Vitality HealthyFood benefit to help you maintain a healthy, balanced diet while staying at home.
Staying healthy and keeping others safe should be your number one priority right now. Vitality's key principles have never been more relevant: eat healthy food, exercise if you're well and take preventive measures, like washing your hands and maintaining social distancing.
We recognise that during this time, our members are not only restricted in their ability to use our incentives but may be under financial strain. Healthy eating, staying active and ensuring that you are protected in case of illness has never been more important – but this comes at a cost. Here's a word from our founder, Adrian Gore:
Here's how we have made it easier and more rewarding for you to buy HealthyFood items.
Get up to 100% back on HealthyFood during this stay at home period
With all meals needing to be prepared at home during the stay at home period, it's important for you to keep eating healthily. Discovery Vitality is giving you double your regular rewards back on HealthyFood items at Pick n Pay or Woolworths which means Discovery Bank clients will be able to get up to 100% back on their healthy food purchases. Only the Vitality Health HealthyFood reward will be doubled and not the Vitality Money HealthyFood rewards. Learn more about Discovery Bank. For a limited time, we are also turning exercise into money, Vitality points into Discovery Miles – for every exercise point earned, you will earn corresponding Discovery Miles learn more.
Keep a look out for the Vitality HealthyFood indicator to identify Vitality approved HealthyFood items. Plus, you can always have a look at our
Pick n Pay and Woolworths HealthyFood catalogue for a list of these items as well.
Order your groceries online and pick them up without leaving your car:
Woolworths has expanded their shopping options to customers through a new contactless, 'click & collect' drive-through service. Woolies shoppers now have the option to do their grocery shopping online and collect it without having to leave the comfort and safety of their cars. The 'click and collect' drive through service is available at selected Woolies stores. To find out more about this service, you can read more here.
Get FREE delivery on HealthyFood with Pick n Pay until the end of May 2020
As a Discovery Vitality member, you get one FREE Pick n Pay delivery voucher to use on your next Pick n Pay online shopping experience. Your exclusive single use FREE Pick n Pay delivery voucher code is available under your HealthyFood benefit once you have logged into your Discovery profile.
Due to the high volume of online shopping taking place at the moment, please visit the Pick n Pay website to see available delivery slots in your area before you start shopping. If you have forgotten something, you can easily amend your order until the day before your delivery is booked for.
The FREE Pick n Pay delivery voucher offer is in addition to the boosted HealthyFood reward of up to 100% back.
Link your Pick n Pay Smart Shopper card to your Vitality HealthyFood benefit
If you have lost or misplaced your Pick n Pay HealthyFood card, you can now link your Pick n Pay Smart Shopper card to your Vitality HealthyFood benefit.

Here's how:
Log in to your profile.
Select 'Vitality' in the main navigation bar.
Click on 'Rewards' and scroll down to your HealthyFood benefit.
Click 'Learn More'.
Scroll to 'Under HealthyFood partner cards' and click link your card.
Activate all your HealthyLiving benefits in one simple click
We're living in unprecedented times, Vitality plays a central role in helping you stay healthy, with benefits and rewards tailored to our present reality. Our HealthyFood and HealthyCare benefits are more valuable than ever, giving members valuable discounts on all HealthyLiving items.
As a Vitality Health member, with a qualifying Discovery Bank account, making healthier choices has never been more rewarding. You can get up to 100% back on HealthyFood items and up to 75% back on HealthyCare items.
Stay home. Eat well. Stay rewarded.
How to become a morning exercise person
You don't have to catch worms to enjoy the merits of being an early bird. Exercising in the mornings has many advantages, so it's worth rearranging your daily schedule to fit it in. Here's why and how to give it a go.
Get ready to run - a beginner's guide
Busy? We understand. Haven't exercised in a while? Don't worry – starting running (and sticking with it) is easier than you think. But first things first: you need to get your body and your mind prepared for running.