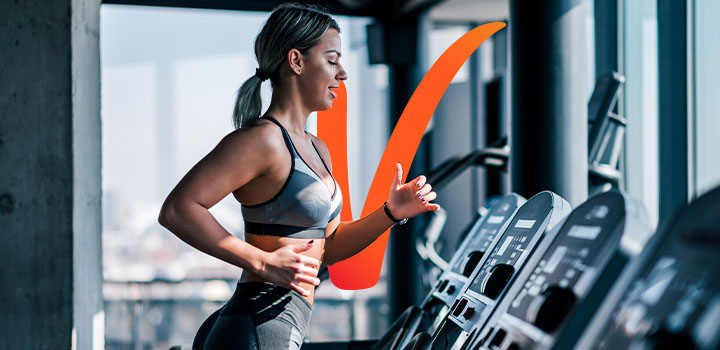 The more you train, the more rewards you gain with Vitality. When you go back to gym, remember, it's safety first. Here's how you can keep getting active and rewarded at the gym with Vitality and Discovery Bank in 2021.
ALERT!!!:Getting your Vitality points for gym visits
Your Vitality points for gym visits: While Virgin Active's systems are down, we will be awarding you Vitality points every Monday in time for your weekly Vitality Active Rewards goal. This will be based on your weekly average gym visits for April in addition to your workouts captured manually at the gym. Please ensure that you record your Name, Surname, ID number, cellphone number, date of the visit and the name of the branch when logging your visits at the gym. If you're still missing gym visits after our allocation on Monday, please send an email to virginactivevisits@discovery.co.za with the same details to have your points awarded.
Virgin Active and Planet Fitness are welcoming Vitality members back to the gym. They've put strict safety and hygiene protocols in place to keep you safe and would like to encourage you to include gym workouts in your fitness routine.
Remember, keep yourself and others safe by wearing a face mask, maintaining a safe physical distance of 1.5 m or more, and washing and sanitising your hands regularly. Only exercise if you feel well enough to do so.
Earn 50 Vitality points for your home workouts
Not ready to return to the gym? You can still earn 50 Vitality fitness points a day for doing online workouts. You can earn up to 1 200 Vitality fitness points a month for your home workouts and tracking your daily steps with a Vitality-linked fitness device, so get moving today!
Here's how you can access online workouts with Virgin Active or Planet Fitness:
We will continue to top up your gym workouts until further notice. Keep an eye on the Vitality latest news page for regular updates and information.
If you are over 60 years old or living with a chronic condition, speak to your doctor about where and how to exercise safely to minimise your exposure to COVID-19.
For any questions on freezing or unfreezing your gym membership, please contact your gym directly.
2021 updates to the Vitality Active Rewards gym booster benefit
When you exercise well and bank well in 2021, you can get up to 100% back on your monthly gym fees with Vitality Health and Discovery Bank.
Currently, as a Vitality Health member, you can get up to 75% off your monthly gym fees with the Vitality gym benefit. To boost your gym saving up to 100%, simply upgrade to Discovery Bank today.
Here's how it works:
You need a Discovery Bank Suite, Discovery Bank Card Account, or Discovery Bank Transaction Account on the bundled fee option.
All your Discovery Bank accounts must be in good standing.
Maintain a monthly qualifying spend on your Discovery Bank card of at least R2 500.
Have an active Vitality gym benefit with Virgin Active Club or Planet Fitness Local.
Work out at the gym at least 36 times in a rolling 12-month period.
Achieve at least three Vitality Active Rewards exercise goals in a calendar month.
If you are not an existing member of the Vitality Active Rewards gym booster benefit you will need to join Discovery Bank with Vitality Money to save up to 100% on their gym fees.
Updates to the post-2010 Vitality gym benefit
As the main member or spouse on the post-2010 Vitality gym benefit, you will now save 50% on your gym fees at Virgin Active Premier or Planet Fitness National. If you joined the gym in 2020, this update will only apply once your initial gym contract period is over.
Get active, drive well and earn up to 60 000 Discovery Miles a year
Discovery Bank clients with Vitality Money can earn up to 1 Discovery Mile for every Vitality fitness point you earn in a week. That's up to 1 000 Discovery Miles a week for getting active.
For more information on how to get rewarded for getting active and driving well, follow the link below:
PLUS, all Vitality members who join Planet Fitness during March 2021 will get a free black tag for the year. What can you do with a black tag? Well, it allows you to bring a friend, partner or family member to the gym with you at no extra charge. And, when you and your black tag buddy tag in, you'll get one training towel and one bath towel each. Towel service depends on your club and availability.
Get active. Get rewarded.