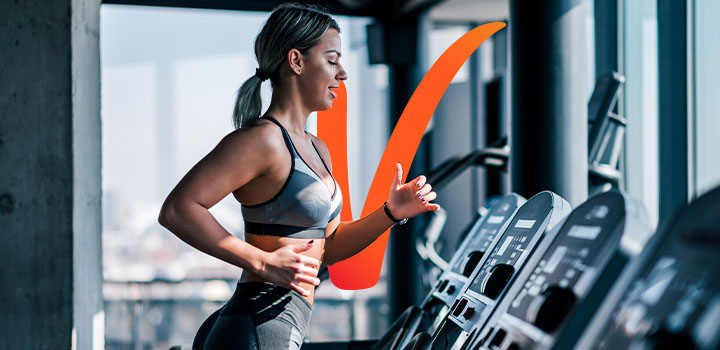 Vitality still has you covered. Everything you need to know about your Vitality gym benefit during lockdown level 3
ALERT!!!:Getting your Vitality points for Virgin Active gym visits
We're now receiving gym visits regularly from Virgin Active, but should you still have a missing gym visit query after two days, email us on virginactivevisits@discovery.co.za with your Name, Surname, ID number, cellphone number, date of the visit and name of the branch and we will gladly award your visits and points.
Staying healthy and keeping others safe should be your number one priority right now. During these unprecedented times, we have important updates to our Vitality gym benefit to make it easier for you to stay healthy and safe.
In line with current level 3 lockdown restrictions, the gyms are open but at a reduced capacity. You can still visit the Vitality Home-Workout channel or your online gym partners to earn Vitality points for doing online workouts. Your Vitality gym discount is safe: If you've been going to gym regularly until now, your discount won't be affected by gym closures. We will continue to top up your gym visit so that you continue to maintain your current discount. To help you stay motivated and maintain your Vitality status, your maximum weekly Vitality Active Rewards goal will be adjusted to 600 Vitality points from Saturday, 31 July 2021 for the duration of level 3 lockdown.
Earn 50 Vitality points for your home workouts
Not ready to return to the gym? You can still earn 50 Vitality fitness points a day for doing online workouts. You can earn up to 1 200 Vitality fitness points a month for your home workouts and tracking your daily steps with a Vitality-linked fitness device, so get moving today!
Here's how you can access online workouts with Virgin Active or Planet Fitness:
We will continue to top up your gym workouts until further notice. Keep an eye on the Vitality latest news page for regular updates and information.
If you are over 60 years old or living with a chronic condition, speak to your doctor about where and how to exercise safely to minimise your exposure to COVID-19.
For any questions on freezing or unfreezing your gym membership, please contact your gym directly.
2021 updates to the Vitality Active Rewards gym booster benefit
When you exercise well and bank well in 2021, you can get up to 100% back on your monthly gym fees with Vitality Health and Discovery Bank.
Currently, as a Vitality Health member, you can get up to 75% off your monthly gym fees with the Vitality gym benefit. To boost your gym saving up to 100%, simply upgrade to Discovery Bank today.
Here's how it works:
You need a Discovery Bank Suite, Discovery Bank Card Account, or Discovery Bank Transaction Account on the bundled fee option.
All your Discovery Bank accounts must be in good standing.
Maintain a monthly qualifying spend on your Discovery Bank card of at least R2 500.
Have an active Vitality gym benefit with Virgin Active Club or Planet Fitness Local.
Work out at the gym at least 36 times in a rolling 12-month period.
Achieve at least three Vitality Active Rewards exercise goals in a calendar month.
If you are not an existing member of the Vitality Active Rewards gym booster benefit you will need to join Discovery Bank with Vitality Money to save up to 100% on their gym fees.
Updates to the post-2010 Vitality gym benefit
As the main member or spouse on the post-2010 Vitality gym benefit, you will now save 50% on your gym fees at Virgin Active Premier or Planet Fitness National. If you joined the gym in 2020, this update will only apply once your initial gym contract period is over.
Get active, drive well and earn up to 60 000 Discovery Miles a year
Discovery Bank clients with Vitality Money can earn up to 1 Discovery Mile for every Vitality fitness point you earn in a week. That's up to 1 000 Discovery Miles a week for getting active.
For more information on how to get rewarded for getting active and driving well, follow the link below:
Get active. Get rewarded.