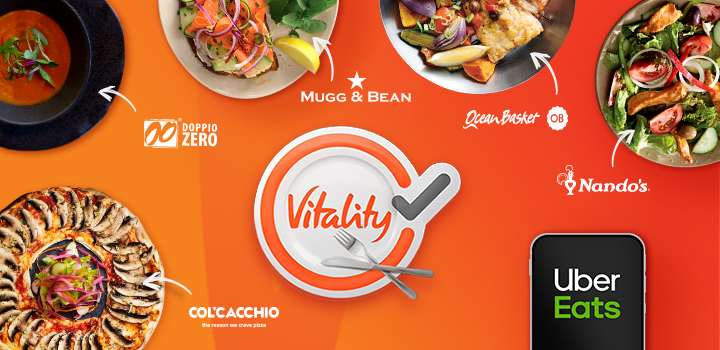 We know life is different right now with social distancing shaking up your routine. Here's one less thing to think about during the COVID-19 pandemic: providing your family with healthy, nutritious meals from our restaurant partners through Uber Eats.
Eating healthy and nutritious meals is extremely important for your health and wellbeing, especially now as we stay home to help contain the spread of COVID-19. That's why Discovery Vitality is bringing back the special offer that we ran before the stay-at-home period started:
10% HealthyDining boost PLUS free delivery from Uber Eats
Get 10% more when you order HealthyDining meals
To keep you and your family eating healthily, Discovery Vitality members will get up to 35% back on all qualifying HealthyDining meal options plus 60% back on Vitality kids' healthy meals for children under 12. That is a 10% increase from your regular benefit to help you eat healthily while you stay home. Remember, Discovery Bank clients will receive their reward in Discovery Miles to spend on everyday essentials and entertainment.
Our restaurant partners and Uber Eats are here for you
Vitality's HealthyDining benefit through Uber Eats offers nutritious options from our restaurant partners Col'Cacchio, Doppio Zero, Nando's and Mugg & Bean. Our partner restaurants will open a limited number of their stores nationwide and we urge you to support them during this uncertain time.
Mosima Mabunda, Head of Vitality Wellness, says: "As much as Discovery Vitality's focus is on encouraging the better dietary choices, particularly through the purchase of healthy foods to be prepared at home, we also recognise that many people consume convenience and fast-food meals. Particularly in this time of social distancing, it is vital that we continue to eat as healthily as possible. It may not always be possible to prepare healthy meals at home, so this benefit gives you a healthier option when ordering in."
Activate the benefit today:
Step 1:Download the latest version of the Discovery app and log in with your username and unique password.
Step 2: Select 'Vitality Health' and click on 'HealthyDining' to activate the benefit.
Step 3: Scroll to the Uber Eats section, click 'Link Uber Eats account' and click on the Uber Eats tab at the bottom of the screen. Select 'Open' and it will automatically open the Uber Eats app. Click 'Add promo' to link your account.
Special offer: Get free delivery until 31 May
What's more, if you order from our restaurant partners through Uber Eats, you can get unlimited free delivery until 31 May. This special offer is UBER helpful if you are engaging in social distancing and working from home. It also supports restaurants that have fewer/no sit-down guests where social interactions and gatherings have been restricted and evening meals are restricted by government regulations.
Use the promo code UNLTDZA to get your free delivery here.
That's a 10% boost on your regular HealthyDining reward and free delivery to help you and your family eat healthily while you stay home.
Stay home. Eat well. Stay rewarded.