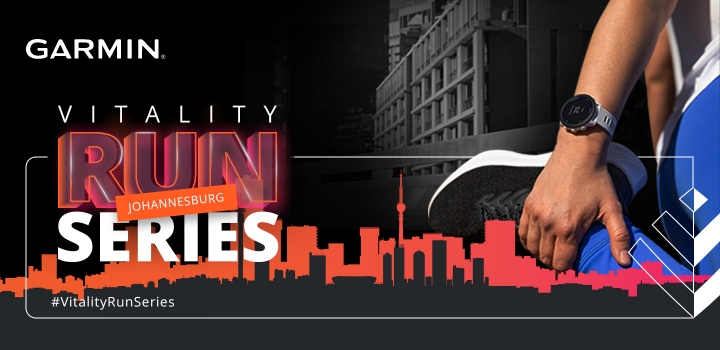 That's right, Joburg runners, we've stayed home long enough! This year the Vitality Run Series is bringing you five incredible in person races across the city of Johannesburg from 12 June to 14 August 2022.
Joburg runners, we're coming to you! Get ready to paint the streets of Johannesburg orange in the next Vitality Run Series.
Moving swiftly to the points
Vitality members can earn 300 Vitality points for completing a 5 km fun run, 600 points for running 10 km and 1,500 points for completing a 21.1 km run.
Plus, because we can't wait to paint Joburg orange with you in person, you're getting an extra 500 booster points. That's a maximum of 2,000 Vitality points that you can earn at each race event!
Beat yesterday with fitness prizes from Garmin
Plus, in addition to your Vitality points and awesome physical medal, you can stand a chance to win one of five Garmin Forerunner® 55 Black fitness devices worth R4,099. That's one at each event!

The Garmin Forerunner® 55 is an easy-to-use GPS smartwatch designed to help people of all skill levels track their stats and chase their exercise goals.
Competition terms and conditions apply.
Join the Johannesburg Vitality Run Series today!
Vitality Run Series terms and conditions apply. COVID-19 protocols apply.
Cool down and get healthy after each race
Once you've completed your run, follow the orange markers to a free cooldown session with the awesome trainers from Virgin Active.
Plus, pop in for a quick Vitality Health Check and earn up to 22,500 Vitality points at our Vitality wellness pop up stands.
Enjoy even more perks with Team Vitality
Team Vitality members enjoy incredible perks at the Johannesburg Vitality Run Series, like 50% back on their race entry fees.
Plus, join us after the race at our VIP hospitality for refreshments and relaxation. Your orange Team Vitality race kit gets you in. So, send an email to RSVPTeamVitality@discovery.co.za to let us know if we can expect you.
Not a Team Vitality runner yet? You're missing out!
Get healthy. Get rewarded. Live life with Vitality.